The 140 Amp MIG Wire Welder is reliable and durable. The 140AMP welding current output  is perfect for welding stainless steel, mild steel and aluminum and other metal materials.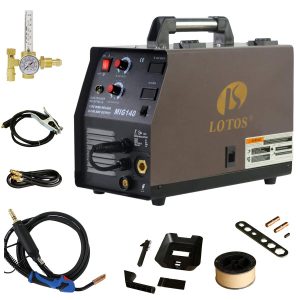 It features an  aluminum wire feeder to give you stable and better user experience. Further, this 140-amp welder is based on a transformer technology, which is proven to be reliable. It can easily be connected to an existing 110V wall outlet and can be setup quickly within few minutes.
The Wire Feed Welder comes with a ground cable quick connector. An advanced connector is good to switch from plus to minus or vice versa.
Further, 140 Amp MIG Wire Welder comes with full adjustment capability. Thanks to the drive system with the best wire speed display that minimizes crushing related possibilities.