25Ft Welder Extension Cord by BougeRV is a safe and quality product without any doubts. It is all-copper wire with industry standard Nema 6-50 plug and receptacle. You can easily use it with any welder or plasma cutter with a 6-50 NEMA plug.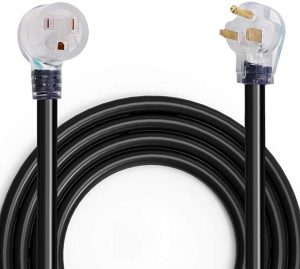 The highlights of this welder extension cord are 40 Amps, 250 Volts and 10,000 watts. Lighted receptacle and indicates when power is on. It has molded ends that offer utmost safety and convenience on the job location.
25Ft Welder Extension Cord comes with an STW jacket for the best performance and flexibility and insulation. It is both abrasions and chemical proof.
Of course, this branded product will surely give you more portability to welding machines. It can easily be used with MIG welders from top manufacturers such as Lincoln, Hobart and Miller. Read more…