Antra AH7-X30P-001X Digital Controlled Solar Powered Auto Darkening Welding Helmet is perfect for many welding types including Arc, MIG, TIG and plasma cutting.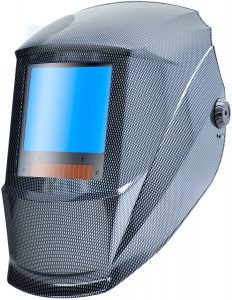 This Antra welding helmet comes with a great visibility capability that is very easy to see even in a dark environment. It also comes with a large LED shade, bright sensitivity capability and delay settings for all your welding convenience.
There is no doubts to its versatile capability, it can easily be used on grinding, welding and cutting applications. Antra Solar Powered Auto Darkening Welding Helmet can also be a good upgrade for goggles and fixed shade glass welding helmet or regular control auto helmets at a fraction of cost.
Further, it has fully automatic power on/off feature, digital controlled sensitivity and delay setting with LED display, UV/IR protection and 30 minutes power off delay. Read more…