Antra is considered one of the best brands for making a wide range of skin and eye protective wears. It makes advanced and protective welding helmets, gloves, magnifying lenses, flame resistant jackets and many other industrial tools.
In case, you need an auto darkening welding helmet, please check Antra AH6-260-6218 welding helmet. This can be the best helmet for all welding processes including MIG, TIG, and MMA, plasma cutting, grinding and others. It is powered by solar-based lithium batteries.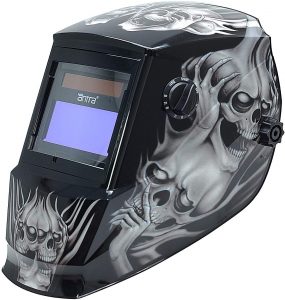 Lightweight and Convenient
Of course, Antra AH6 is a lightweight welding helmet, which will surely get rid of head and neck pain. Additionally, it comes with fully auto-darkening lens, which means you don't have to flip the hood up and down. Further, the headgear provides the utmost flexibility because it features a lightweight shield, multiple positions for the adjustment ease.
User Friendly Interface of Antra Welding Helmet
Antra welding helmet is advanced enough. The lens switches ON by itself when solar cell detects ambient lights. It will switch OFF in 15 minutes in dark. Further, the welding helmet features Weld and Grind modes, which can be accessed externally. The lens becomes irresponsive to the arc when it is in the grind mode and vice versa. The Antra welding hood also features a delay dial for setting the delay time. This setting is very useful to come from dark to light status. You may need higher amount of delay time for the higher Amp usages or TIG welding process.
Versatility & Reliability
The highly popular Antra auto darkening welding helmet is good for multiple purposes. You can undoubtedly use it for AC/DC TIG, MIG, stick welding, plasma cutting and grinding. Whether you are a professional or DIY welder, this Antra welding helmet is perfect for you. Such welding helmets are widely used in metal fabrication shop, manufacturing industry and repair workshops.
Since, the Antra welding helmet uses Interference Suppression Technologies, so it delivers greater level of accuracy. Consequently, the sensitivity level is very less in sunlight or electricity lights and it is responsive to welding arc. Even it can handle the toughest DC TIG arc. Of course, you are going to get reliable performance from this wonderful auto-darkening welding helmet.
Pros
Best price
Wider application
Sensitivity and delay settings
Decently built
Comfortable to wear
No flip-up and flip-down
Clear view
Good auto darkening capability
Very responsive to toughest-to-detect arc
Cons
A little assembly is required.
Well, all the pros and cons are in front of you. Now is your turn to decide whether you want to purchase this Antra welding helmet or not. From my side, it looks very promising. I see it has only pros and pros, which means it is a strongly buy-buy product without any confusions.
I read several reviews on Amazon and I found that most of the reviewers were happy with the purchase. They have described this auto darkening welding helmet in their reviews. In case, you have some time, please try reading on Amazon. You will be in a better position to decide yourself whether this Antra auto darkening welding helmet is perfect for your requirements or not.
Conclusion
In short, this is a good-price welding helmet that has too many advantages. Since, this auto darkening welding hood comes from Antra, so there shouldn't be any doubts to the quality and performance. If you have any doubts, please try reading reviews on various top reviews websites, or please read reviews posted by existing customers on Amazon. The Antra welding helmet passes all the tests such as sensitivity level, responsiveness to arc, quality of lens and wider applications. This product deserves a strong buy rating according to my research.