For any sort of welding, a welding helmet is the must-have tool, without which one can't perform welding. Luckily, wide ranges of welding helmets are available on the market. There are numerous popular brands of welding helmets. One of them is Antra. It is the most popular manufacturer for making auto darkening welding helmet, which can be purchased at a competitive price.
You can check Antra auto darkening welding helmet, which has attracted countless customers on Amazon, Walmart and numerous other platforms. Well, the Antra welding helmet is very popular because of many factors. Some of them are good protection, convenience, high performance, dependability and versatility.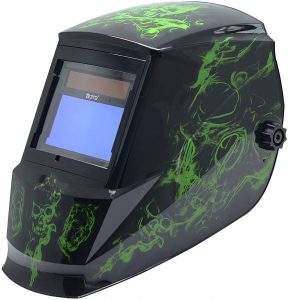 Good Performance
Notably, the lightweight welding helmet features four arc sensors. Because, it has a great light detection capability, so it becomes responsive in regards to the switch time. Yes, it has fast switching time with a high-level of accuracy. It will surely provide the utmost eye stress because it aptly minimizes the dangerous radiant.
Impressively, you have the flexibility to customize the level of darkness, sensitivity and delay time as per your welding requirements. Additionally, it features an advanced UV/IR filter to manage the harmful lights.
Definitely, you can use this solar-power welding helmet for all welding processes such as MIG, TIG, Stick and plasma cutting. Because, it comes with a fast detection and response capability, it can work with even low amperage DC welding. Since, DC welding requires high sensitivity, so you need to set it at 80% and 60% for delay setting.
Full Protection
For the safety, the best Antra welding helmet aptly protects your neck, head and eyes very well. Of course, you don't have to worry from the harmful sparks, particles and the abnormal light because it carries a protective design. The helmet's shield is very good to get rid of the UV/IR radiant.
On the other hand, it features a blue light suspension lens, which impressively provides light clarity at the time of welding. Additionally, the auto-darkening capability is also very helpful for a clear vision at the time of welding.
FAQs
Q: Does this Antra welding helmet works with a cheater lens?
A: Yes, it is compatible with a cheater lens.
Q: Is Antra AH7 better than AH6?
A: Both AH6 and AH7 are good. However, AH7 is better than AH6 for clarity and viewing size.
Q: What material is it made of?
A: The shield is made of plastic.
Q: How long does the battery last?
A: It will last approx. one year.
Q: Is it easy to replace the battery?
A: Yes, it is easy to replace the battery. The may get the instruction manual with the purchase of this welding helmet.
Frequently asked questions have been answered above, please give a look at the FAQs, which will surely answer some of the general questions related to this welding helmet. Many general questions have been answered related to materials used, battery replacement, cheater lens compatibility and many others.
Pros
Auto darkening lens
Four arc sensors
Less sensitive to sunlight
Perfect for all welding processes and plasma cutting
Low price
Cons
Not good for plasma cutting
For heavy welding, this is not a good helmet.
In short, the Antra welding helmet review is based on what users say on various shopping platforms including Amazon. You can check the pros and cons, which will surely describe this welding helmet in short. Since, thi is a low price welding helmet, one's expectation should be according to the price. A low price welding helmet may not compete with a $250 welding helemet. However, this auto darkening welding helmet comes from the popular Antra brand, which makes good quality welding helmets. Read more…