Previously, I reviewed Antra AH7-360-7312, which carries many positives that may not be available in the same price range from other brands. Now, please check another Antra welding helmet, i.e., Antra AH7-860-001X auto darkening welding helmet. The Antra welding helmet provides the required protection, comfort and versatility.
Safety first, the Antra welding helmet is made under ANSI Z87 regulation to pass all the safety parameters. Additionally, the helmet is designed in a way that it can cover face and neck completely. Which means the welder is fully protected from dangerous radiant and welding spatters. For greater viewing accuracy, Antra AH7 features an LCD shutter with dual layers.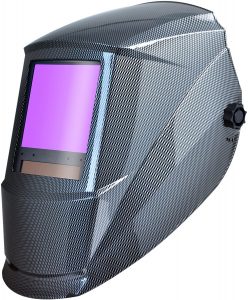 Utmost Relaxation
In case, you are looking enormous view-area in your welding helmet, this is made for you. It comes with large viewing area along with 3.8 x 3.5 inches reflexive lens. Such parameters are very good to provide utmost viewing ease and good control on varied types of welding. Apart from the greatest ease and control, the lightweight welding helmet gives you less fatigue when you wear it. The settings are inside, not outside, which is good to get rid of any sort of unintentional changes. Amazingly, you can undoubtedly use this welding hood in tight spaces because it is lightweight and compact.
Since, it features an advanced lens; so it provides both comfort and viewing clarity. You can easily work with joints and welding puddle with an impressive control. Consequently, you get good-looking beads in various welding processes.
Performance & Versatility
The Antra AH7 auto darkening welding helmet is made to deliver the performance. Because, it features four arc sensors that are responsive and controllable, you get fast switch time and good shading accuracy. Not only this, the welding helmet is also very good to reduce the harmful lights and fatigue.
Most importantly, the helmet is powered by IST (Interference Suspension Technologies), which is less responsive to sunlight and more responsive to welding arc. The advanced technology is very responsive to the hardest-to-detect DC TIG arc also.
Undoubtedly, you can use this Antra auto darkening welding helmet for most of the welding, cutting and grinding purposes. Whether you need to perform DC/AC TIG, MIG and Stick, the welding helmet is very applicable for such purposes. This is the best welding helmet for repair & maintenance shops, welding training, fabrication industry, shipbuilding and DIY projects.
The Headgear
For the comfort, the headgear features thin shield with various joints. It can also be positioned for the adjustments. The ratchet gear has fastening spring for the operation flexibility. For the flip, the upper position can remember the settings to keep the helmet well positioned.
 FAQs
Q: Is this Antra helmet made in USA?
A: No, it is made in China. However, this is not the so-called low-quality Chinese product. It is made with quality.
Q: Does this Antra welding helmet fit a hard hat?
A: To fit a hard hat, you need adaptors for it. It will require adaptors for MSA hardhat or Fibre metal depending on the version of the headgear.
Q: What size magnifier can I use with this welding helmet?
A: Not sure, however, some users at Amazon say that they use 2.0 power safety glasses under the helmet.
Q: Can I buy a magnifying lens for it?
A: Yes, you can search Antra magnifying lens on Amazon or Google. I'm sure it will be available?
Q: What color do you see at the time of welding?
A: It is green. This can be a good color in a backlight environment. However, the shade of green can be changed with the control button.
Q: Is the helmet comfortable?
A: Yes, it is very comfortable.
To answer frequently asked questions, please refer to the FACs provided above. It covers most of the general questions related to this Antra auto darkening welding helmet. It has questions and answers, which are frequently asked such as the origin of product, fitting, comfortability, lens compatibility and many others.
Pros
Wonderful controls
Easy to see
It darkens well.
Very comfortable
Good battery performance
Large viewing area
Separate position for cutting and grinding
Low price
Good darkening range for MIG, TIG, Stick
Lightweight, durable and flexible
Cons
Low-quality headgear
It lacks adjustment related information.
Conclusion
To conclude, the Antra welding helmet poses all the qualities and features to facilitate easy welding without any doubts. The Antra AH7 Welding Hood Review says that it can be used for most of the welding processes such as MIG, TIG, Stick, Plasma Cutting and Grinding because it has a large-view area with a high quality lens. Most importantly, you are going to buy a low-price welding helmet. It seems impossible to buy a same quality-welding helmet from other brand in the same price range. Just for a precaution, I would like to say that this Antra welding helmet is made in China as per my research. However, this product is totally apart from the typical low-quality Chinese products; it is made with quality undoubtedly.