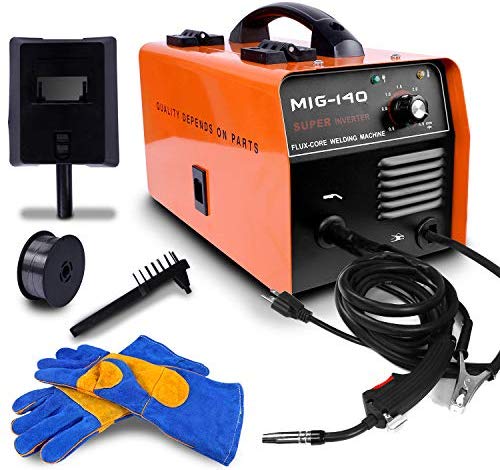 Etosha 140 MIG welder is an affordable machine that comes with all the required features and delivers impressive welding performance. The important feature of this welder is Synergic Adjustment. Since it has synergic adjustment so you will not require to match working voltage and feeder speed separately.
This Etosha 140 AMPs welding machine is very easy to operate. This machine is based on single phase 110V power source and has IGBT inverter MIG 140A welder and wire feed control. Of course, you receive reliable and stable performance without any doubts.
ETOSHA No Gas 140 MIG Welder is capable to deliver reliable and stable performance because it uses IGBT inverting technology. It features electric choke control giving you less spattering, deep penetration and good formation.
If you compare this Etosha welder with traditional welders then you will find that it aptly minimizes the quantity of electrical components used. And it has great capability to improve the reliability of circuit.
If you measure the efficiency of this welder then it will reach approx. 85 percent.
ETOSHA No Gas 140 MIG Welder 140Amp Flux Core Wire Gasless Automatic Feed Welder comes with all the accessories that you require for successful welding. It comes with flux-cored wire, wire brush, welding mask, grounding clamp, metal tip, welding gun and extra two tips.
When we talk of the safety feature, it comes with overload protection. Because it has a cooling fan and built-in thermal overload protection to protect and help heat dissipation.
Product Link: https://amazon.com/dp/B07VYQ35RJ/
Features
★【FLUX-CORED WIRE & GASLESS WELDER】: 140 MIG machine uses 0.8mm.or 1.0mm flux core wire. Powerful—a dedicated 110 AC, 60 Hz power input. Up to 140 Amp output that allows you to weld mild steel and other metal materials.
★【SAFE & PORTABLE MIG WELDER】: Heavy duty stainless steel machine with Electric choke control, less spattering, deep penetration and good formation. Automatic Thermal Safety Protection, overload Safety Protecyion keep you and welder safe. Lightweight 14.77lbs. Easily carried to anywhere you want. Do-It-Yourself, Maintenance, Repair, Metal Fabrication and Hobbyist project.
★【SYNERGIC ADJUSTMENT, EASY TO USE】: MIG 140 welder has Synergic Adjustment Function, no need to match working voltage and feeder speed seperately,easy to operate. 1-110V Power Voltage IGBT Inverter MIG 140A welder and wire feed control, reliable and stable. Good tolerance when in working not stable working voltage.
★【WELDING PROCESS】: The working principle of Synergic Co2 gas shield Mig welder is to rectify AC input current to direct current, and then use high power IGBT to inverter direct current to high frequency Ac current and then reduce voltage and rectify.
★【Wide Applications】: The welder has adjustable wire feed speed and welding current, a comfortable hand grip, easy to start arc, perfect for home DIY and outdoor repairs, rusty metal, farm & road equipment. Adjust the welder to suit your application and weld with different thicknesses.
More Images of ETOSHA No Gas 140 MIG Welder 140Amp Flux Core Wire Gasless Automatic Feed Welder, Free Mask &welding gloves, 110V-Orange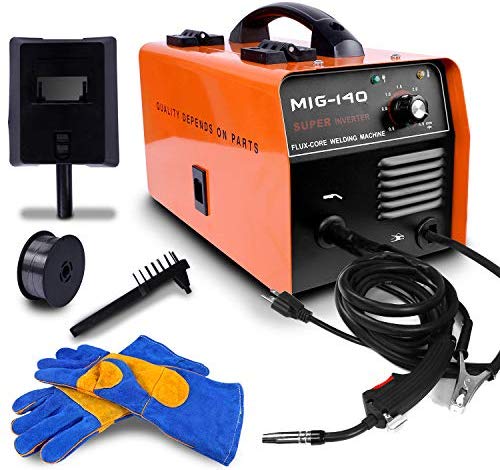 ---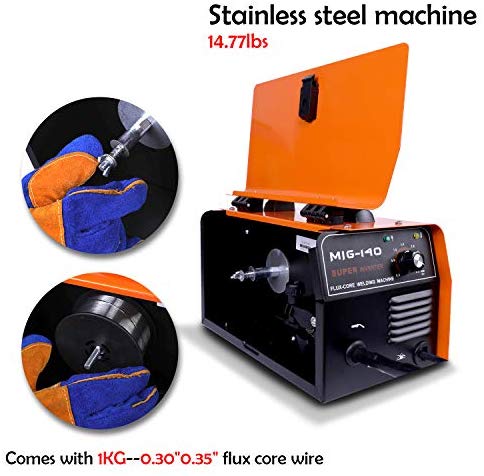 ---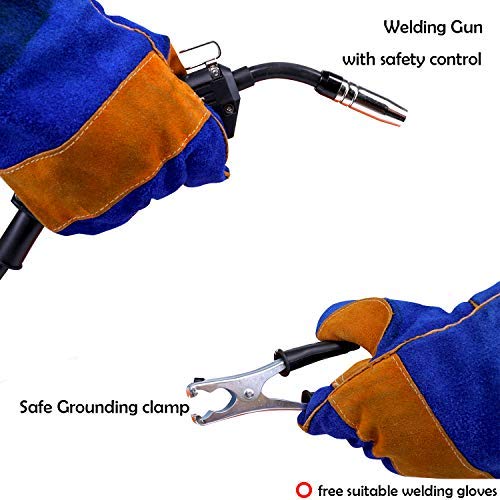 ---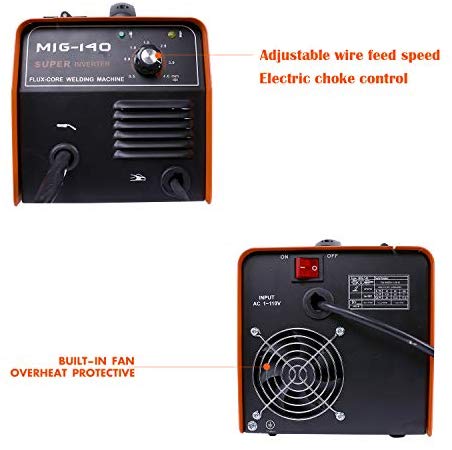 ---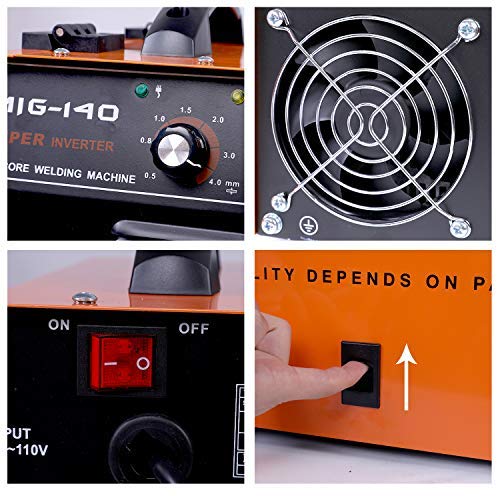 ---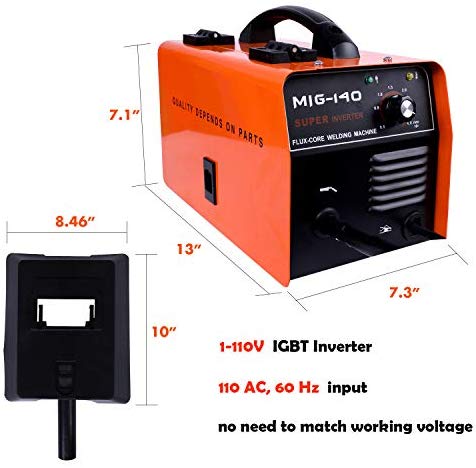 ---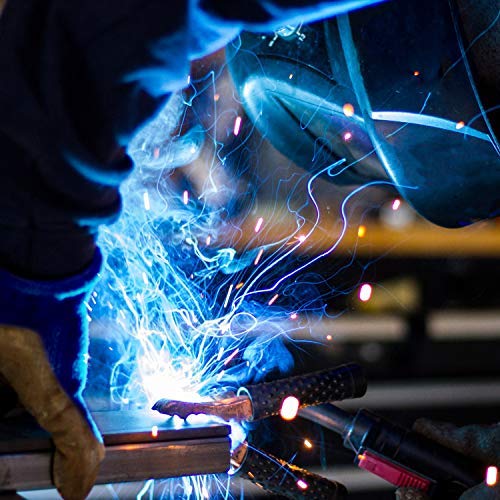 ---