Forney Easy Weld 180 welder is a powerful unit that welds up to 1/2-inch mild steel. It has an impressive welding capability. The dual-voltage welder delivers 10 to 90 Amps  for 120V and 10 to 180 Amp for 230 volts. It requires 120/230 dual voltage input power and comes with an adapter.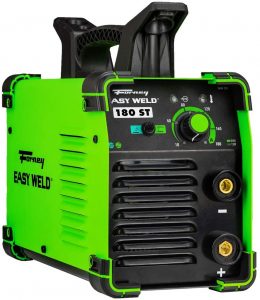 This Forney 180ST welder comes included with an 8-inch electrode holder & clamp, 8-inch ground clamp & cable, 230V to 120V adapter (DC power source) and a 6-inch power cord.
The Forney 180ST welder is a lightweight unit that weighs approx. 14 LBs. This is a great generator friendly unit for the easy welding operations. The small size welder is big enough because it  allows you to weld up to 1/2-inch of mild steel at 180 amps.
This durable Forney welder carries a sturdy metal case that makes it a long-lasting unit. In case you need more power, this welder has dual-voltage so it is very easy to weld in a garage, shop or backyard. This Forney Easy Weld 180 ST welder is ideal for many welding applications for auto body, farm & ranch, light industrial and metal art and various others.