Forney Easy Weld 29801 100ST Welder Start-Up Kit comes with all the things you need to get started. And it is the perfect unit for DIY also. Since this welder is made by Forney, so there shouldn't be any doubts to the quality and performance. You can buy this welder from Amazon.com at a discounted price.
In case, you want to explore more Forney brand equipment, please search Amazon.com. Forney has a full catalog of welders, chain/wire rope, abrasives and various other tools.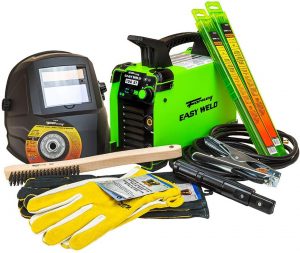 The Package Includes
Forney Easy Weld 100 ST Welder
A welding helmet (auto darkening)
3/32-inch steel electrodes
A 4-1/2-inch grinding wheel (Type 27 metal/steel)
Wire brush 1 piece
Driver gloves and a pair of welding gloves
A beginner's friendly unit
Since the kit includes all the components, so it is the best welding package for the beginners. This is also a portable unit, which is perfect for learners. In addition, the Forney welder comes with a quick-start guide for all your welding convenience. You can start welding the right away with the help of these welding tools, components and the portable welder. Impressively, 1-year warranty is also attached with this kit for the peace of mind.
Additionally, Forney Easy Weld 100ST welder is a lightweight unit because it weighs just 9.65 lbs. With this lightweight and portable unit, you can easily move from one welding project to others without any worries or any sort of damages.