If you are looking to buy a multi-function MIG welder, you can check this HITBOX MIG 200AMP Welder. The 220V Hitbox welder comes with multi-function capability because it is an ideal welder for MIG/ARC/Lift TIG gas and gasless functionalities.
On the other hand, this 200-amp welder carries a portable design that is lightweight and looks robust in the portable size. It is also very easy to carry because of its portable design.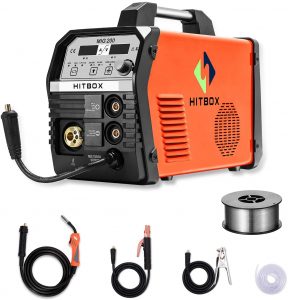 This Hitbox welder is perfect for stainless steel and iron welding with gas or no-gas. It is a great self-shielded welding machine that comes at an affordable price if you buy it from Amazon.com.
It has three main functions such as ARC, TIG and MIG. The multi-function welders supports maximum welding rod up to 4.0mm diameter. It can easily be used with power generator by a beginner. It also comes included with all the required accessories to start the work instantly.