iMeshbean Auto Darkening Welding Helmet is perfect for welding processes like TIG, MIG, Arc, Stick and plasma cutting. It is made keeping greater protection in mind because it provides a UV/IR radiation protection. iMeshbean welder helmet has a larger viewing area of 96 x 48 millimeters, and an adjustable shade control.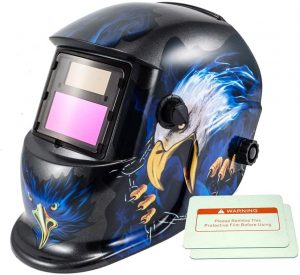 This solar powered welding helmet is made of quality materials that make it a durable and easy-to-use welding helmet. It has full conformity with CE and ANSI Z87 standards. The welding helmet doesn't require electricity power because it is a solar powered welding helmet that takes power from either sun or the welding exposure.
The auto switching time from light to dark is 1/30000 second. Darkness shade control is DIN 9 to 13 and clear shade is 4. The package contains 1x solar power welding helmet and 2x lens.
Highlights
Fully automatic
DIN 16 UV/IR protection
5000 hours battery life
High-grade PP material used
Auto darkening filter
Lightweight and comfortable design
Comes with 2 extra lens
The iMeshbean welding helmet is a full-feature protective equipment for the professionals and beginners welders. From the above mentioned highlights, you can see that it comes with all the capabilities that are only found with a high-price welding helmet. However, this is an affordable solar power welding helmet, which is made of high quality PP material for the long lasting performance. Read more…