We all know Lincoln Electric very well. This is a one of the oldest and popular brand for manufacturing welding machines and other industrial tools. Now, Lincoln Electric offers this flame-resistant leather welding jacket, which has some hidden characteristics that may not be found in jackets from other brands.
The Lincoln Electric leather welding jacket is made for a heavy-duty use because it provides skin protection. Yes, your body, arms, neck are protected from any heavy sparks coming from welding. Additionally, the high-grade leather jacket resistant to flames, weather and welding sparks. The Lincoln jacket features triple stitches, flip-up collar, lined-up front closure and a large-size inner pocket.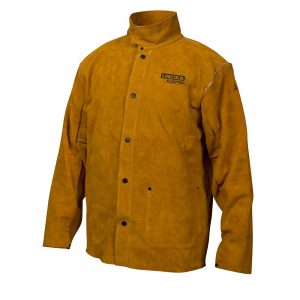 Durable & Heavy-Duty
Because, this is a leather jacket, so it is good for a heavy duty use. Moreover, the Lincoln Electric jacket has received impressive reviews for its long-lasting use. Yes, it is a durable leather wear that lasts for many years. By chance, you need to buy a leather welding jacket, this jacket can be the best wear for you, which is not only protective, but also durable and affordable. Such welding jackets are perfect for welding, plasma cutting, grinding and other industrial activities. Since, it is a leatherwear, will surely provide complete protection to your body, neck and arms.
Fitting
For a good fitting, it is advised to go one-size up. I read many reviews on Amazon and found that many reviewers were suggesting buying one size more than your normal size. Well, for a comfort feel, you need to buy a suitable jacket as per your body measurement. In case, you normally wear a large-size shirt, try ordering X-large size for the best fitting. For an idea, an XL size is perfect for a person measuring 5'11 and weighing approx. 150 lbs.
According to some reviewers at Amazon, the Lincoln Electric leather welding jacket leaves a lot of fuzz on their cloth (above which the jacket was worn). However, they expected that it would stop fuzzing after a month or two.
For welding convenience, one needs to buy a welding jacket, which is a little roomy to move their arms comfortably. So, it is advised to choose one size up to have required flexibility to perform welding, cutting and other industrial tasks.
Performance
The Lincoln Electric KH807XL leather welding jacket does its job very well. In fact, it is protective for both hot metals and sparks coming from welding process. Because, the jacket uses high-grade leather material, so it is naturally protective to use in a welding industry. It prevents all sorts of flames, sparks and spatters from touching the skin.
In case, you are not sure to the size, it is recommended to go one up instead of down. According to some reviewers, it fits a little slim, so it will be good if you buy one size larger than the actual requirement. Please know that, it may leave some leather substances onto your undergarments and it may smell a little as well. Anyways, protection to the skin is main concern, so please understand this. You are not buying this Lincoln Electric leather jacket for a fashion rather protection at work.
Features in a Nutshell
Flame-resistant leather
Stitched seams
Lined flap front closure
X-large size
Flip-up collar
Zipper and snaps on the front closure
Large inner pocket
Lincoln Electric brand
KH807XL model number
Well, the list of features tells that it is a good jacket, which can be used for the protection. Whether you need to do light or heavy welding, this Lincoln Electric leather jacket will surely protect your skin. In fact, a leather jacket is the best wear for an industrial use. Because, it is made with flame-resistant leather, you don't have to worry from any sparks, spatters, heat and flames.
Pros
Superior quality
Competitive price
Suitable thickness
Durable and protective
Flam-resistant leather
Protective Caller for covering neck
No problems for the movement
It provides good protection from sparks and flame.
Cons
It may leave some leather beats on the undergarment.
The jacket smells a little.
It fits slightly slimmer.
In short, the Lincoln Electric leather welding jacket works for the purpose. Which means, it will surely surpass your expectation for durability, protection and fitting. However, it is advised to buy one size more than your actual required size. Because, this is a leather welding jacket, you can undoubtedly use it for any sort of welding jobs. Whether you do MIG, Stick or TIG welding, this heavy-duty leather jacket will surely help you a lot. Read more…