Lincoln Electric is a famous name for numerous industrial products like welding machines, welding helmets and welding wears. Their flame-resistant welding jackets are popular on the market. In case, you want to buy a welding jacket made by Lincoln Electric, please check Lincoln Electric KH808XL welding jacket.
The Lincoln Electric welding jacket is a good work-wear to protect arms, body and neck from the dangerous sparks and spatters. This is a cotton welding jacket to provide breathability. For the convenience, it features an inner pocket that can be used to store some small items. For the utmost comfort, this flame resistant jacket is lightweight and machine-washable.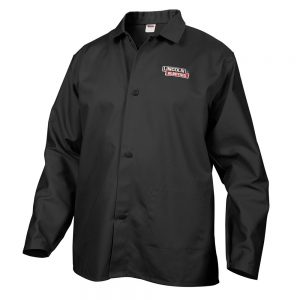 Durable and Protective
Well, this is a rugged welding shirt, which is only good for lightweight welding activities. It will not work at a place of leather jacket. Which means it won't protect from heavy sparks because it is not a leather wear. However, it is good to protect from normal sparks and spatters. Additionally, the durable Lincoln welding jacket uses high-grade cotton material. Undoubtedly, you can use this welding jacket for lightweight welding, grinding and cutting activities. In case, you do welding at a larger level; consider buying a good quality leather jacket.
This is a flame-retardant jacket but thick and heavy sparks can still burn holes in the jacket, which means this jacket is not fully protective. People buy this Lincoln jacket because it is good for certain welding processes such as MIG and TIG but it is not good for heavy stick or flux-core overhead welding. Additionally, it looks nicer and is more comfortable than a leather welding jacket.
Main Features and Capabilities
High-grade cotton material is used for the breathability.
Lightweight & Flame resistant
Inner pocket at the left side
30-inch length (from collar to the bottom)
The Left chest feature the Lincoln Electric logo
X-large size
It provides protection from sparks.
Snap sleeves
The list of features and capabilities describes this Lincoln Electric welding jacket a lot. You can see, this is a fire-retardant jacket, which is good for the breathability and comfortability too. The jacket has an inner packet that you can use as per your convenience. Read more…
Pros
Flame retardant
Good for light welding, grinding and cutting tasks
A nice and handy jacket for the summer season
Comfortable
Competitive price
High quality cotton material used
Good fitting
Cons
Not protective to heavy sparks
The collar is less protective.
FAQs
Q: Is this jacket suitable for a person measuring 6'4"?
A: You need to buy an XL size jacket for the best fitting.
Q: Can I use this Lincoln Electric welding jacket for stick welding?
A: Yes, you can use this jacket because it is a fire-retardant jacket. However, a leather welding-jacket is very good for heavy welding tasks.
Q: Can I use this jacket for MIG and TIG welding?
A: This jacket is good for TIG welding. However, for MIG welding, one needs to buy a leather jacket.
Q: Does it come with an outer pocket?
A: No, it doesn't come with an outside pocket. It comes with an inside pocket located at the lower left side.
At the End
Concisely, the Lincoln Electric Welding Jacket is protective to full body, arms and neck because it is a spark-proof jacket. Since, flame-retardant cotton material is used; it can certainly be used for various welding activities. However, this is a cotton jacket, so it will not work at the place where a leather jacket works. In fact, a high quality leather jacket is more protective than a cotton jacket. Additionally, this is an affordable jacket, which doesn't cost much. If you need to perform occasional or light welding tasks, this Lincoln welding wear is for you.