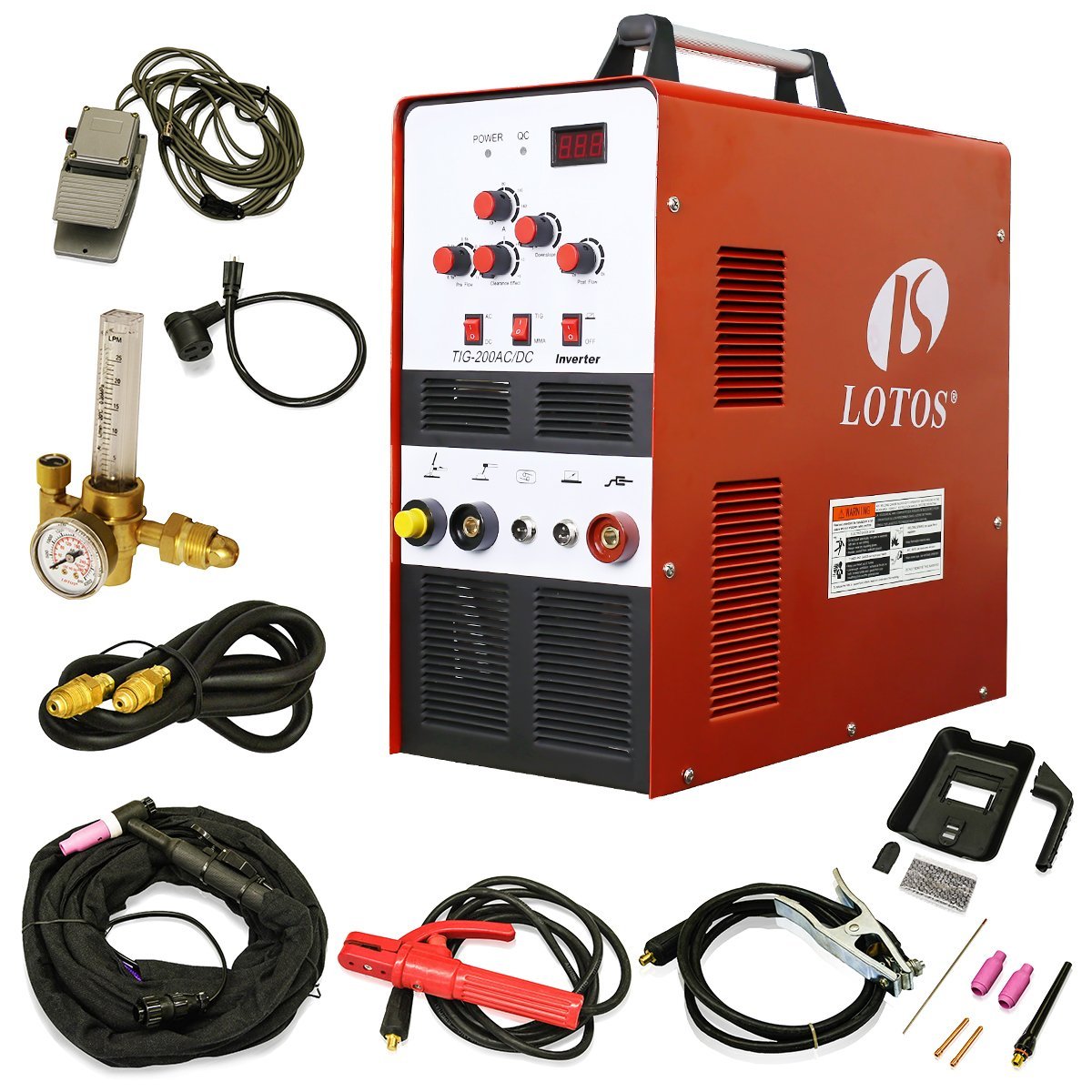 LOTOS TIG 200A AC/DC Welder is an ETL approved product, so you don't have to worry of any kind of difficulties with welder. Apart from ETL approval, it has also gotten certifications from CE, CCC, CSA and ISO-9001. Lotos TIG/Stick welder has IP21 housing protection grade.
Coming to the features, the Lotos 200A welder features AC/DC dual voltage and 50Hz/60Hz dual frequency. With this 110V-220V ac power input, the welding machine has an auto detection capability, no switch is required. The square wave inverter welder comes with a pedal control. Further, the 58 pounds weight make it a portable unit.
Since this welder features an HF start and a foot pedal control, it is expected to deliver accurate welding performance. Lotos TIG200ACDC welder is perfect to weld mild steel, stainless steel, aluminum and other metals. It is also perfect for welding a wide range of acid or basic electrodes. Moreover, it comes with adjustable hot striking arc current for the convenient arc-starting function.
Since it is a Lotos brand welder, no doubts to the welding performance and ease-of-use. This is a dual-voltage portable welder, which has multi-purpose TIG200 capability. The user can enjoy the simplicity it comes with. In addition, the unit is based on a square-wave inverter technology to offer a high-level of welding accuracy. The Lotos dual-voltage welder can be used for varieties of welding conditions. This welder is for both industry-use and home-use because it comes with a multi-purpose capability.
The Package Includes:
MMA/Stick clamp
Power supply cable
TIG torch
Foot pedal
Argon regulator
Ground clamp
A set of consumables
Instruction manual
Product Specifications
58.0 pounds item weight
Aluminum material
TIG welding installation type
AC/DC power supply, torch included components
1H-4HPT-NF6E model number
AC/DC power source type
Voltage: 240V
Pros
Good aluminum welding performance (it can weld thicker aluminum with multiple passes.)
For many users, this is a good price welder.
You don't have to do much for the adjustments.
Precise welding performance
All the required components are included with the purchase.
Advanced PAPST cooling system for the stable performance
Cons
If the machine stops working then it is very hard to repair, only the manufacturer can repair it.
The pedal doesn't function smoothly because it doesn't allow for fine amperage control.
The instruction manual is not helpful if you need to troubleshoot something.
---
Video – LOTOS TIG200 200 Amp AC/DC TIG Welder Quick Setup Guide