The Miller Electric Welding Jacket is from the same Miller brand that is very popular for making high-grade welding machines and other welding related tools. The Miller welding jacket is being reviewed here because it has received exciting reviews on many selling platforms. Yes, it has countless happy users, so I decided to write on this welding work-wear focusing on fittings, safety, comfortability and other factors.
Before I cover its advantages and disadvantages, let me brief about fitting and the materials it is made of. Well, the navy-color welding jacket is made of cotton and nylon materials. It is made of 88% cotton and 12% nylon materials as per the product description. This work-wear is made in a good way to protect your neck along with protecting your body and arms. It has 50-inch chest and 30-inch length. To store something, it features a pocket inside.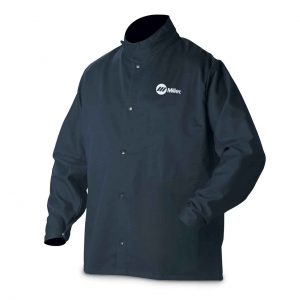 Comfortability, Protection & Weight
Definitely, the lightweight welding jacket by Miller Electric provides the utmost comfort and protection. Because it is a lightweight jacket, so it isn't too thick. Yes, it is a thin jacket, which is good to wear at the time of welding and grinding. Undoubtedly, it will save your skin from sparks and other flame related stuffs. According to some reviewers, the arms are relatively long, which is not bad because your skin is completely covered. Amazingly, when folded it becomes too small, which is good for storage and going with it.
For an extreme comfortability, you can buy one size up, which means you would have extra room for the movement. Naturally, it is not too baggy, which is good for a normal size person. Well, I'm not sure of those persons who are too fat or too thin; they will surely get fitting issues.
Because, it comes from the reputed Miller Electric brand, so it is undoubtedly a quality product. You may not have a chance to complain regarding the stitch quality and workmanship, which are often found in poor quality jackets.
Comparing with an Apron
For movement, this Miller welding jacket is better than a leather apron. However, it may not provide the desired protection for heavy-duty welding jobs. In case, you do small welding stuffs, this is made for you. Because, it resembles a normal jacket, so you can comfortably interact with your clients and customers without taking it off.
Welding in a Miller Electric Jacket
Since, this is a heavy linen welding jacket, so it doesn't withstand heavy sparks. To overcome this problem, you need to get it starched heavily to protect yourself from the dangerous sparks and splatter. It is OK, in case, you need to perform MIG or TIG welding. However, if you need to weld with 6010 rods; you need a leather jacket. This Miller Electric jacket is made of heavy-duty cotton and nylon materials with flame-resistant chemical externally.
Such welding jackets are perfect for light-duty and small welding projects. In case, you are welding as a professional on a daily basis in a high-tolerance welding environment, this jacket is not for you. In this case, you need to buy a leather jacket for welding.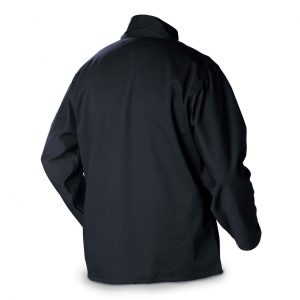 FAQ
Q: What's the sleeve length?
A: 34-inch
Q: Does the jacket protect from sparks and molten metal?
A: It protects from sparks but doesn't protect from molten metal. For the protection from molten metal, one needs to buy a heavily starched leather jacket.
Q: Is the Miller welding jacket good to handle sweat?
A: The lightweight jacket is good to handle sweat related stuffs, it is very comfortable and effective.
Q: If I wear an L size shirt, will it be suitable for me?
A: It is recommended to buy one size up. If you wear an L size shirt, consider buying XL.
Q: According to the product description, nylon material is also used to make this jacket, isn't it synthetic material? Is it protective to sparks?
A: The Miller Electric jacket doesn't appear synthetic according to many users at Amazon. It is more like a heavy cotton.
Pros
Comfortable
Protection from sparks
Lightweight
Low price
Protective neck collar
Looks like a normal jacket
Cons
Not protective to heavy spatters
In short, the Miller Electric jacket looks good from all the aspects. It is comfortable, lightweight and protective. Heavy cotton materials have been used to make this cotton jacket, which is good for welding. You can scan the list of pros and cons listed above. The pros and cons say that this is a high-quality welding jacket. Indeed, this is a high-grade work-wear, which is made by the reputed Miller Electric manufacturer. Read more…