We all are well familiar with the Miller brand. It is a famous brand name of numerous welding machines and accessories including welding helmets. In case, you decided to buy a welding helmet, which is made by Miller, I appreciate your decision because Miller makes feature-rich welding helmets without any doubts.
The Miller Electric welding helmet with auto darkening capability comes with features such as 5.8 square inches viewing area, grind mode, lithium battery with 2000 hours life and good switching speed. Additionally, the Miller helmet is a durable product because it is made of sought-after nylon material.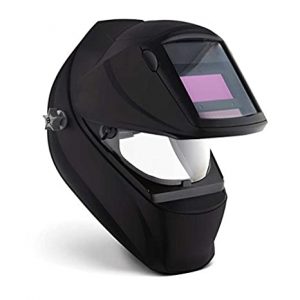 X-mode, Weight and Sensors
X-mode – the Miller helmet comes with X-mode but it is a crap according to many reviewers on Amazon. Which means you will not get impressed with the X-mode. I assume it is just a rip off.
Weight – I will say it is a heavyweight Miller auto darkening welding helmet, which weighs approx. one pound. However, you will surely get the desired comfort from this welding helmet.
Sensors – the durable welding helmet has three sensors, 1 on each side and 1 on the bottom.
Suitable for Overhead Welding
I assure you this is a suitable welding helmet for overhead welding. Which means you can easily weld T-joints, pipe, grooves and many others. The Miller welding helmet is good for most of the welding requirements. It has an integrated grind shield. Which means you can use this welding helmet for grinding too. The built-in grind shield offers clear views and it is very convenient for the grinding purposes.
Pros
Suitable for overhead welding
Built-in grind shield
Changing the battery is not problematic
It fits the Miller respirator.
Full grind mask
Handy
Cons
The head strap is not rugged.
A little over-weighted
X-mode is useless.
The pros and cons mentioned above can give an overall picture of the product. By scanning the list of pros and cons, one can understand the product briefly. According to the list of pros, this is a performance based Miller welding helmet, which is also good for overhead welding. Further, this is a handy auto-darkening hood which comes with lithium battery and built-in grind shield. Well, the welding helmet has some cons too but these cons can be ignored or adjusted as per the requirements. In fact, a good product may also have some cons.
Conclusion
In short, this is an average-rating product, which have both pros and cons; happy customers and unhappy customers. Before you buy the Miller auto darkening welding helmet, please research more. Considering the low price and popular brand, it can be a good buy. You will not only use this welding hood for normal welding, but also you use it for overhead welding and grinding.