Nesco 4656 Auto Darkening Solar Powered Welding Helmet is durable and lightweight, and is made of corrosion resistant material that is highly flame retardant. It supports variable shade from DIN 9 to DIN 13. Keeping clear visibility in mind, this Nesco welding helmet comes with outer sensitivity management feature that delivers clear visibility both before and during welding process.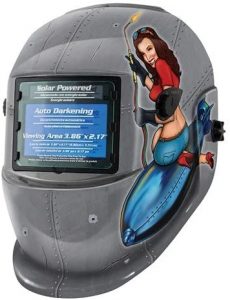 Further, Nesco 4656 welding helmet is comfort enough as it carries unique turnover hand-band technology that provides greater comfort and minimizes tiredness.
Keeping safety number one priority, this Nesco auto-darkening welding helmet is certified from many safety standards such as DIN, ISO, EN and ANSI.
Well, to be frank, this product is made in China but this is a quality product that works for the purpose and comes at an affordable price from Amazon and other marketplaces on the Internet. What's more? This lightweight welding helmet weighs 1.9 pounds and measures 14.5 x 11.5 x 8 inches. Read more…