OEMTools manufactures various industrial and household equipment. Some of their popular tools are welding helmets, fans, creeper seats, racks, oil extractors and many others. I researched about OEMTools and I found that the manufacturer is established in China. To be frank, I'm going to review this OEMTools auto darkening welding helmet, which is made in China.
From the reviews side, OEMTools is an average-quality product. Which means it is neither worst nor best. Well, price and specific requirements are also the factors for which, such average quality products are available to buy.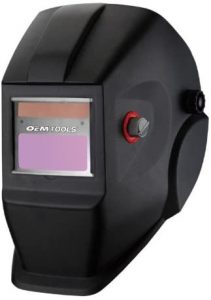 In case, you are looking for a low-price welding helmet, you can explore the features, capabilities and other factors of this welding helmet, which are detailed below.
The OEMTOOLS welding helmet is good to use by both professionals and learners. Additionally, you can use this auto darkening welding helmet for all types of welding processes such as Stick, TIG, MIG etc.
For the convenience and easy-of-use, this is a solar power battery helmet, which ensures a good battery life also. Roughly, you get approx. 5000 hours of performance from the battery inside the welding helmet. Moreover, the OEMTOOLS welding helmet has some handy settings like delay controls, various sensitivity levels and shades, which give a room of flexibility.
Replacement Shields
In case, you want to use different shields, the OEMTOOLS automatic welding helmet comes included with few replacement shields. You can take benefit of the provided shields as per your requirements.
Protection
In fact, any welding helmet is built to protect your face, eyes and neck, so this welding helmet also has all the capabilities to provide complete protection. However, apart from wearing just a welding helmet, you also need leather gloves and welding jacket to protect your hands, body and face.
Additionally, if you are a newbie, you must use dry and new electrode because it flacks off a little in the welding process.
Fitting and Performance
Well, before I move further, I would like to tell here is, please expect according to the money you have spent to buy this welding helmet. Based on several reviews and ratings on Amazon and various other websites, I can say it is an average performance auto darkening welding helmet. It is perfect for lightweight welding, hobbyists etc. According to many reviewers at Amazon, this OMTOOLS welding helmet is as good as Harbor Freight auto-dimming mask that is priced higher than this item.
If you do occasional welding at home, this is the best protective tool for you. You get good result from the auto-darkening function, I mean you will not get disappointed from its auto-darkening capability though it is a low-price welding helmet.  Additionally, you can adjust the welding helmet as per your requirements for the fitting, convenience and comfort. A reviewer on Amazon mentions that his head is a little larger than average size and this helmet fits perfectly.
FAQs
Q: Does it come with replacement shields?
A: Yes, it comes with replacement shields.
Q: For the safety at welding, what other tools do I need except a welding helmet?
A: Apart from a good welding helmet, one needs welding gloves, jackets also to protect their body, arms and face.
Q: What size cheater lens does the OEMTools welding helmet require?
A: The inner lens measures 102 x 46 mm, while outer lens measures 104 x 86 mm.
Q: Can I view an eclipse with this welding helmet?
A: It depends on the dial settings. On the darkest shade, you can look straight at the sun.
Q: Does this come with replaceable batteries?
A: No! However, it has 5000 hours life battery with solar charging.
Q: Can it fit all sizes heads?
A: Yes, unless it is larger than average. However, it comes with a strap, which is adjustable.
The FAQs listed above are for this OEMTOOLS auto darkening welding helmet. In case, you have any questions related to this welding helmet, please try reading the list of FAQs. I'm sure, you will get answers of most of the frequently asked questions.
Pros
A well-made welding helmet
Affordable
Good fitting and adjustability
5000 hours battery life
Replaceable shield included
Good for repair shop and hobbyist
Cons
Less comfortable
Not good for heavyweight projects
No sensitivity or delay settings
Uncomfortable headband
Overall poor performance
Conclusion
As I said at the start, this is not a good welding helmet for serious welding projects. If you need to buy a welding helmet for heavyweight welding projects, this is not the right auto darkening welding helmet. It is better to add few bucks more into your budget to buy a good welding helmet that passes all the factors.
The OEMTOOLS auto darkening welding helmet is only good for those who perform occasional welding or hobby projects. For an overview on this welding helmet, please scan the list of pros and cons, which surely answer most of your questions.