Optrel is dedicated to making good quality welding helmets and magnifying lenses only. It has specialization in making high-grade welding helmet. Which means we are buying a product from an industry leader. Some popular products from Optrel are auto-darkening welding helmets, air-purifying respirators, grinding helmets, magnifying lenses, auto-darkening filters and helmet bags. Optrel is based in Switzerland, which was founded in 1982.
If you are looking to buy a high-grade welding helmet then you can check Optrel VegaView 2.5. It is a feature-full welding helmet with the demanded auto-darkening capability. Optrel VegaView welding helmet is also very popular as a world record ADF welding helmet.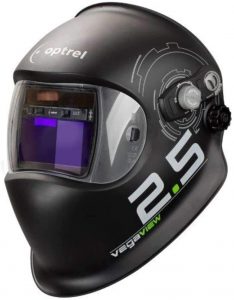 Additionally, Optrel claims that this welding helmet has up to 4 times lighter view in both light state and grind mode. With the greatest level of viewing capability, such welding helmets are perfect for both safety and efficiency in the welding environment. The Optrel Vegaview welding helmet is capable to offer a life-like view because it is based on the latest optic technology.
Comfort & Clarity of Optrel VegaView 2.5
Optrel VegaView 2.5 Auto-Darkening Welding Helmet is the best welding helmet according to many customers on Amazon. According to them, the viewing color is fantastic; they can easily see the difference on the material. When you start using this welding helmet, you feel like switching from normal to HD view.
The Optrel welding helmet gives you all the flexibilities and comfort you require at the welding place. You can also use this welding hood for overhead welding and hard-to-reach welding places. It features a grind mode also, which means this welding helmet can also be used for grinding. A blink light indicates the grinding mode. This is an awesome welding helmet, which is full of advanced features including delay setting knob, sensitivity adjustment and many others.
Pros
Super lightweight
Good lens
Flexible
Good view-color
Easy-to-use grind mode
Comfortable
Good for overhead welding
Delay setting knob on the inside
Good for MIG/TIG/Stick, Plasma Cutting and Grinding
It comes included with a front lens and a soft carry bag.
2X4 inches viewing area
Long lasting CR2032 batteries
Cons
Cheap knob
Auto-dimmer doesn't work well.
The pros and cons of this Optrel welding helmet are mentioned above. You can see it comes with several pros, which are directly responsive to the overall performance. It also has a few cons but they don't weigh much and can be ignored or adjusted. If you are looking to buy a good auto darkening welding helmet in a fair price, this is the best auto darkening welding helmet, which is produced by a Swiss manufacturer.
Conclusion
Briefly, Optrel VegaView 2.5 Auto-Darkening Welding Helmet looks good from all sides such as comfort, color clarity, flexibility, price and features. If you check this welding helmet on Amazon, you will find approx. 95% happy customers of this welding helmet. From my side, this is a buyable welding helmet, which can be used for most of the welding processes.