Parkworld 885330 Welder 50A cord  is made of PVC material on the Jacket and copper material on the conductor. The welder stranded extension cord supports maximum 40-amp overload, and the maximum rate is of 10,000 watt or 250V.
Parkworld welder 50A plug extension cord is perfect for all welding machines. It features NEMA 6-50 lighted connector right-angle with the capacity of 50-amp or 250 voltage. This product is available in four sizes such as 15 feet, 25 feet, 50 feet and 75 feet.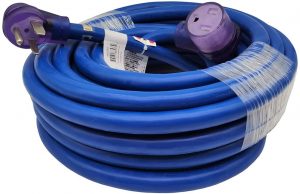 Features
The welder extension cord has copper conductor inside.
PVC material is used to make the jacket.
This extension cord is UL and cUL listed product.
Heavy-duty extension cord
NEMA 6-50 lighted connector
50AMP or 250V capacity
To avoid surface oxidation, the extension cord is molded with electroplate copper terminal.
This is a standard welder extension cord, which is applicable to most welders on the market.
If you are looking to buy a high-quality welder extension cord, please explore more on this Parkworld welder extension cord. This standard extension cord is full of features, which will surely be suitable for your diverse connectivity needs. Read more…