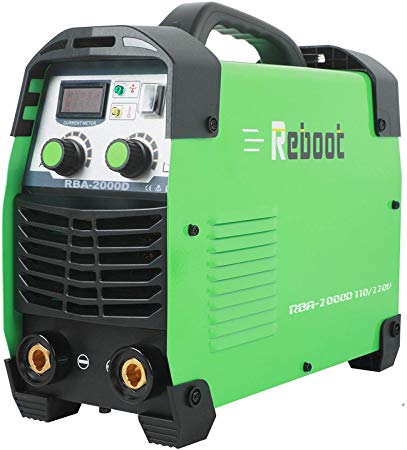 Reboot Stick Welder has impressive features and specifications. These features and specifications make it a powerful welder. It runs on automatic 110V or 220V input current and delivers 25.6A rated output for 110V and 26.4A for 220V. You will surely experience easy transformation from 110V to 220V.
Reboot Stick Welder delivers good performance with 6011, 6013 and 7018 Stick. It has output from 20A to 120A for 110 volt and 20A to 160A for 220 volt 60% duty cycle.
And this affordable welding machine has multiple functions such as MMA stick, Lift TIG, VRD with Hotstart, Arcforce and anti-stick.
The complete package includes 1 x power source RBA-2000D, 1 x 1.5m cable with earth clamp, 1 x 1.5m cable with electrode holder, 1 x 20mm 110/220V conversion line.
You shouldn't have any worries if you have bought it or you are going to buy it. Because this product comes with 30-day 100% satisfaction or money back guarantee and 1 year limited warranty.
Product Link: https://www.amazon.com/dp/B07MZNL6WZ/
Features
Work Great With 6011, 6013,7018 Stick (Size: 1/16, 5/64, 3/32, 1/8 and 5/32).Output 20-120A/ 110V, Output 20-160A/220V / 60% Duty Cycle
Package Include: 1 X Power source RBA-2000D, 1 X1.5m cable +Earth clamp, 1 X 1.5m cable+ electrode holder, 1 X 20mm 110/220V conversion line
Buy with Confidence as We Offer 30-Day 100% Satisfaction or Money Back Guarantee and 1 Year Limited Warranty
Automatic 110/220V Input / 60Hz at rated output 25.6A 110V , 26.4A 220V.Conversion line easy transfer from 110V to 220V
Multi-Function : MMA Stick / Lift TIG / VRD With Hotstart/Arcforce/Antistick.
More Images of Reboot Stick Welder, 110V/220V Portable Stick Welding Machine Multifunction 170AMP MMA Lift Tig Inverter Dual Volts Arc Welding Machine 1/16~5/32in for Home Usage Welding Equipment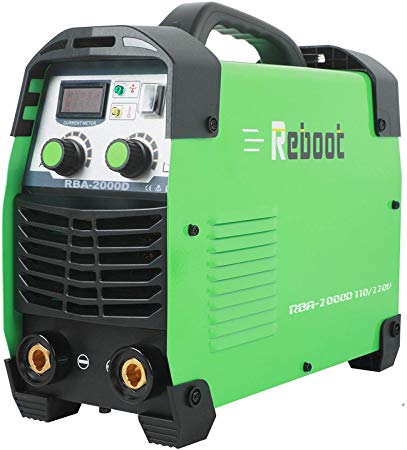 ---