Revco is a well-known brand that makes a wide range of protective wears including welding jackets, sleeves, gloves and many others. Definitely, these Revco work-wears are protective, flame-resistant and comfortable. In case, you need a good quality and protective welding jacket, please read about this Revco welding jacket, which will surely surpass your expectation.
Revco BXRB9C-L welding jacket is made of flame-resistant cotton material that provides the greatest level of comfort and protection. This welding wear features a protective collar to protect your neck from sparks and other flame based substances.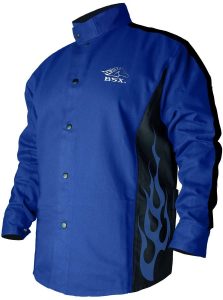 Prime Features at a Glance
Cleanable FR cotton material
Two inner pockets
Adjustable cuff and straps
Scribe pockets
Racing collar
Increased coverage on the front side
Fire retardant
Available in multiple sizes
Lightweight cotton material used
Super comfortable and cooler than a leather jacket
Lightweight Jacket Made for Heavy-duty Tasks
The Revco welding jacket is a flame-resistant wear, which is naturally very protective. Undoubtedly, you can wear to handle various welding processes such as MIG, TIG, Stick, cutting and grinding. The cotton welding jacket comes with the best fitting and air-circulation capability.
The Stryker FR jacket comes with two inside pockets; one of them is a zipper pocket to store some small items. This is a well-made welding jacket, which is good for many things such as style, fitting, protection and comfort. Absolutely, it will provide full body coverage because it has long sleeves and a collar.
As mentioned above, this is a high-grade welding wear for the daily welding tasks. In case, you are heavily involved in welding industry, this is the must-have welding cloth for you. It is naturally strong enough, which can last for a long time and is good for everyday welding activities.
Note – please make sure that this jacket runs a little small, so you need to order one size up for good fitting. In case, you usually wear an L-size shirt, please order an XL size.
FAQs
Q: Is it soft and cool to wear in a welding environment?
A: It is naturally cooler than a leather welding-jacket. You can definitely wear it in summer and warm atmosphere. One needs to order one size more than his/her usual wearing size for the comfort.
Q: Is it a good welding jacket for an MIG welding purpose?
A: Yes, you can definitely use this welding jacket for most of the welding processes such as MIG, TIG, Stick etc. This Revco welding jacket uses high-grade cotton material, which is fire resistant. However, this is not a leather welding jacket, so it will still burn a hole if heavily impacted.
Q: Is this welding jacket cooler than a leather jacket?
A: Yes, it feels cooler than a leather welding-jacket because it is made of a high-grade cotton material.
Q: Does it come in multiple sizes?
A: Yes, multiple sizes such as XL and L are available currently.
For a clarification, frequently asked questions have been answered above. These FAQs will surely be helpful to answer some of the general questions related to fitting, protection and material used. In case, you have questions, please try scanning the above-mentioned FAQs. If these FAQs are not helpful, try visiting Amazon and other market places because they also have their own FAQ section.
Pros
Provides utmost safety
Good for welding, cutting and grinding
Very thin material is used to prevent burning from large sparks
Large sleeves to fit inside the gloves
Lightweight and comfort
A high-quality welding jacket for the protection
Strong and flame-retardant material
Two inside pockets for the welding convenience
Provides good neck protection also
Cons
It runs small, one needs to order one size up for the good fitting.
The Revco welding jacket can't protect from heavy sparks because it is not a leather jacket.
Conclusion
In short, the Revco welding jacket is a buyable welding wear because it has attracted countless customers at Amazon and other market places. From the positive side, the heat-resistant jacket is very good. You can check the above-mentioned pros and cons, which will surely describe this product briefly. Because, this is made of fire-retardant cotton material, so it becomes a protective welding jacket to prevent spark-burn and other similar things. Body, arms and neck covered completely to get rid of any kind of miss-happenings. Read more…