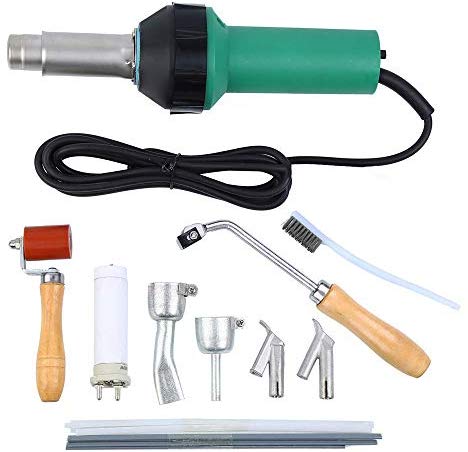 This Seaan plastic welder gun is a useful tool to weld various types of plastic. It can handle plastic materials such as PE, PVC, PP, PVDF and other type of plastics. The plastic welder is very useful to weld plates, pipeline and films made of various type of plastics.
The Seaan hot air welder gun is a handy tool, which is good for the portable use. The built-in fan provides the utmost convenience for the portable use. Amazingly, the plastic welder is made of a heat-resistant plastic, which is good for handling, ease-of-use and welding convenience. The Seaan hot air torch has various nozzles. These nozzles have heat and corrosion-resistance capability. You get various types of nozzles such as flat slit nozzle, round nozzle, triangle speed nozzle and wide round nozzle, which are good to meet diverse plastic welding requirements.
The plastic welding kit has a good heating capability. The temperature can be adjusted as per your preference for welding plastics at various melting levels. You can use this plastic welder to form and bend plastics. You can also use it to dry non-flammable wet surfaces and generate hot air in machines.
Fast Welding Performance
The machine has maximum 230L per minute hot flow, which is good to soften the joining parts. The 230L/min hot flow is an impressive speed for plastic filler rod as well. With such impressive hot flow speed, you can experience fast welding.
Impressively, it comes with an adjustable electric temperature control ranging from 104°F to 1100°F, which is also helpful in fast welding as per your temperature requirements.
Undoubtedly, this fast plastic welder is a handy tool that should be kept with you if you often need to do plastic related repair jobs. The plastic welding torch is also very good to work with a wide range of plastic materials.
Features
Adjustable temperature control
Heating protection system
Heat protection tube
Replaceable Carbon brush
Good for long lasting use
The above-mentioned features say that this plastic welding gun is a useful tool to meet various plastic welding requirements. With the help of these features, you can achieve utmost welding convenience. This product is made for a long lasting use.
Application
Useful for welding hot materials
It can take shape in the hot materials.
Unfreeze frozen water pipes.
Makes hot sleeve pipe of contracting.
Of course, this plastic welding torch is very useful because it gives you a wider scope of plastic welding. You can use it for welding hot materials, taking shape in a hot material, unfreezing frozen water pipe and fulfilling your diverse plastic welding requirements.
 The Package Includes
Welder gun
Brush
Scraper
Heating core
Pressure silicon roller
Nozzles of different sizes (4 pieces)
PE/PVC plastic rods
The package comes included with all the welding accessories so that you don't have to buy them separately. It has heating core, pressure silicon roller, various sizes of nozzles, scraper, brush etc.
Pros
The welder gun has enough heat to weld various type of plastics.
It comes with a good temperature adjustment setting that is very useful to weld according to the temperature required.
The product has received several good reviews regarding its durable use. It is made keeping quality in mind.
The plastic welding gun comes with everything you need for the plastic welding.
You can check the list of advantages. These advantages are directly related to the overall performance. According to our findings, the product is well made, which can be purchased at a low price. You can see detailed reviews on Amazon where you will find only positive reviews on this product.
Con
The product is made in China. However, this is a good quality product made in China.
When it comes to disadvantages, Seaan plastic hot air welder scores higher than other similar plastic welders on the market. The only disadvantage, I found which is related to the product origin. Since this product is made in China, so a question arises related to quality because we often see Chinese products are of low quality. However, this is not a low quality product because it has received several positive reviews and it has many happy customers.
Conclusion
The Sean plastic hot air welding torch is a good product based on what customers say about it. This is a 1600W hot air welder, which can be used for wide applications. It comes with many positives. The welder has heat resistant body that facilitates the utmost welding convenience.
For the added convenience, it also comes with a handle made of heat-resistant plastic to avoid scald. The plastic welder comes with various sizes of nozzles so that you don't have to buy them separately. This hot air tool has adjustable temperature control letting you control the temperature from 104°F to 1100°F. Using the flexible temperature option, you will be able to weld according to the melting point of different materials.
It also comes with appropriate voltage requirements, has low noise and low vibration. These are good for comfortable and high quality plastic welding. It can be operated on 110V power, which is good because 110V power outlet is available in most of the houses and shops. You will also be able to minimize the electricity bill as you are using 110V electricity to power this welder.
Video – How to Easily Fix Cracks by Plastic Welding!