You get several benefits from Servore Welding Goggle. Firstly, a welding google can be used even in tight areas. Secondly, a welding goggle is more comfortable and safer than a welding helmet. Lastly, it can be used for most of the welding applications. However, one needs to wear a cap to protect their forehead from any sort of burns.
In case, you want to buy the best welding goggle, please check Servore Auto Darkening Welding Goggle Arcshield 2. The Servore Arcshield 2 Goggle is very popular as world's first auto-darkening protective mask.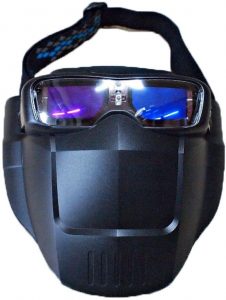 Amazingly, the Servore welding goggle has excellent color characteristics to give you the greatest level of viewing ease. It delivers fabulous performance for TIG welding because it features an RF sensor. Consequently, it withstands fogging and facilitates usages for various applications including welding, grinding and cutting.
In the toughest welding conditions, you can use the Arcshield2 welding goggle because it delivers improved protection and clear view. It will greatly protect your eyes at the time of performing TIG welding. Undoubtedly, you can perform mobile and pipe welding using this high-performance welding goggle.
Inside the Servore Welding Goggle
The welding goggle is specious from inside to hold protective glasses and respirators. Even, you can easily attach it with your regular welding helmet for the improved level of protection. It features detachable flash holder, which is good for the effortless movement and good visibility.
Welder's Favorite
This comfortable welding goggle is liked by most of the professional welders. Yes, it is a favorite protective mask because it delivers the required comfort; great fitting and it can be used in all working environments. Additionally, you will get neither neck pain nor heavyweight experience wearing it all day. Undoubtedly, you can use the Servore welding goggle for the everyday welding requirements. However, since it is open on the top side, you need to wear a welding cap to protect the head from burns.
Pros
Comfortable
Suitable for all welding processes
Auto darkening from shade #7 to #13
Classic performance
Perfect for tight spaces
Wrapped design to remove dirt
Automatic turn-off to save battery
Lightweight
No neck pain
Good fitting
Cons
You need to wear a welding cap also.
The rubber shield should be improved.
Based on the pros and cons, one can easily say that this is a good product. Yes, no doubts arise. You can definitely buy Servore Auto Shade Darkening Welding Goggle Arcshield 2 because it has too many happy customers. Please scan the list of pros, you will find all the points are directly related to its overall performance. However, you need to cover your head to protect from any sort of sparks.
Conclusion
To conclude, Servore Welding Goggle Auto Shade Darkening Arcshield 2 deserves a buy rating from my side because it has too many positives. The auto-darkening capability is too good to provide the utmost safety and comfort to the welders. You can undoubtedly use this comfortable welding goggle in hard-to-reach areas. Additionally, you will not get any fitting issues as well.