SKYTOU 1600W Heat Gun is made in a lightweight and compact size. It greatly produces a good amount of hot air that is used to soften the joining parts and plastic filler rod.
This welding gun has various applications without any doubt. It can easily repair plastic items such as tarpaulins, truck curtains, swimming pool linings, water tanks, vinyl flooring, membranes and car bumpers. SKYTOU 1600W Heat Gun comes with good power adjustment capability. Temperature is easily managed for various melting points, so you would have complete flexibility to work with various plastic materials.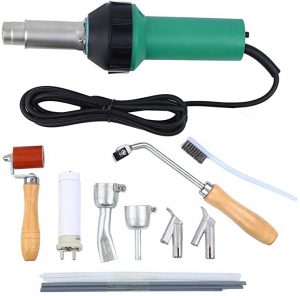 To extend the service life of the heating element, it is advised to switch off the welder gun and make sure that you turned the temperature knob back to 0 first and wait for approx. 5 minutes till the welder cool down.
The package contains 1 x 5.2mm round nozzle, 1 x 20mm flat slip nozzle, 1 x 8mm triangle speed welding nozzle, 1 x 7mm wide round speed welding nozzle, 1 x pressure silicon roller, 1 x English manual and some PE and PVC plastic rods.