VIVOHOME Portable MIG 130 Welder can be the best choice for home repairs and hobby projects. It is perfect for mild steel and stainless steel materials. The portable unit is a lightweight and compact welder that has a comfortable hand-grip providing great convenience for carrying anywhere you go.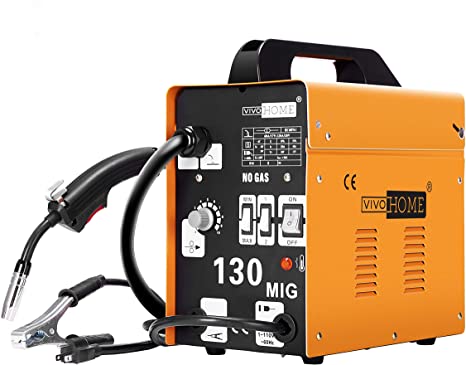 Further, the Vivohome MIG 130 welder has adjustable welding speed because it has 4 levels of current flow settings. You get 10 welding speeds by adjusting the four buttons of Min/Max, 1/2 with the variable feed control. As mentioned above, this flux core wire welder is perfect for handling thin steel, stainless or aluminum sheet metal as well as thicker steel with flux-cored welding.
When it comes to accessories, the complete package includes all the accessories for the successful welding. These accessories are: pro 1 welding gun with on/off safety control, 1 grounding clamp, 1 welding helmet, 1 welding wire brush and various small accessories.
Vivohome MIG 130 Welder
Only the highest quality materials have been used to make this portable welder. This has a black finish that looks robust in the industrial environments. The Vivohome welder also has good corrosion and rust resistance capability.
Ten levels of speed – Vivohome MIG 130 welder comes with 10 levels of speed, which can be used for many welding and cutting applications. With the variable speeds, you get the highest level of precision and use varieties of welding materials.
Specifications
110V input power
50-60Hz frequency
3.6KVA maximum absorbed power
13A fuse
0.8 – 0.9 flux cored welding wire diameter
105A maximum current output at 15% duty cycle
50 to 120A output current range
FAQ
Question: What size spool can be used with this Vivohome welder?
Answer: 2-inch spool is accepted by this unit.
Question: What type of contact tips are used with this welder?
Answer: The welder uses MIG 130 tips, please check the product description for more explanations. You can buy these contact tips on Amazon as well.
Question: What AMP outlet is required for this Vivohome welder?
Answer: You can use a 20-amp outlet, which should work perfectly.
Question: Do you have any recommendations for the wire?
Answer: You can use wires from any brands; there is not much difference. For the wire, you may go with Lincoln as well.
Question: Does it require an air compressor?
Answer: No
Question: Can this welder be used to weld an aluminum sheet metal?
Answer: You may need a different spool of wire to do so.
Pros
Portable and lightweight
Competitive price
It delivers excellent welding performance.
Free welding helmet: you receive a high quality protective helmet with the purchase.
Overheating protection: the unit is fully protected from the overheat because it comes with two air vents for the heat dissipation.
Storage space to store small welding tools such as small widgets, nails, screws and many others
Cons
Some customers complain that the welding mask is cracked.
According to some customers, the DC connection is faulty.
It received complaints regarding the wire feed doesn't work well.
Conclusion
Vivohome MIG 130 Flux Core Welder is highly recommended to buy because it comes with too many advantages and a few disadvantages. The price of this welder is very good. You may not find the same quality welder in the same price range. The excellent flux core welder welds a wide range of metals smoothly.
The Vivohome MIG welder also comes with required accessories for the welding convenience. You get protective helmet and other useful accessories with the purchase.
However, the product has received some complaints; please inspect those complaints very well before buying. These complaints may not disturb the overall performance. They can be ignored or there are many alternatives to these issues.
Video – TESTING The Cheapest Welder On AMAZON