If you are looking to buy a dual-voltage welder, you can check YesWelder TIG205DS. The 200Amp welder comes with a high-frequency TIG torch. The unit uses IGBT technology for the impressive Arc stability. You get good welding current output from 15A to 200A.
The YesWelder TIG welder has good protection capability. It has an automatic compensation feature for voltage fluctuation, over-voltage protection, under-voltage protection, over-current protection and over-load protection.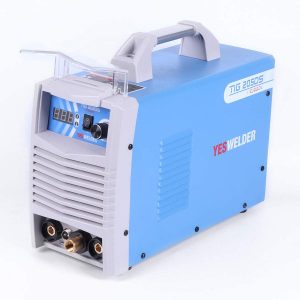 The important features are:
TIG, Stick, Arc and MMA processes
110V/220V (one phase) input power
15 to 250 Amps DC output range
60% duty cycle for 220V/205A
The Package Contains
YesWelder TIG205DS welder
TIG torch – 1 piece
Welding gun with 13-foot cable – 1 piece
Electrode holder – 1 piece
10 feet cable – 1 piece
Work clamp – 1 piece
Transfer plug (110V and 220V) – 1 piece
Set of consumable that consists of 2 x collet – 1 piece
Collet body – 1 piece
Aluminum ceramic cup – 1 piece
Long back cap – 1 piece
Short back cap – 1 piece
The above mentioned list contains all the required accessories, which are good to start welding instantly. It seems all the required tools are available with the package, which means you don't have to buy them separately.