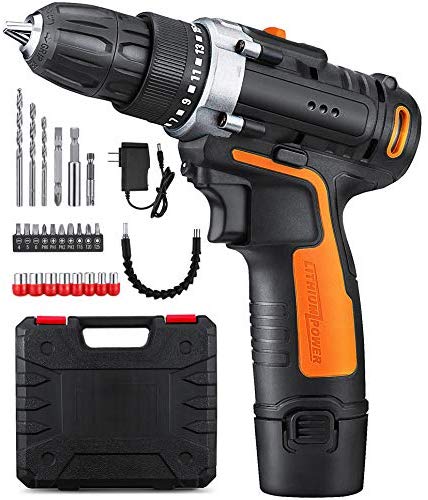 If you are looking to buy a high torque and variable speed drill driver kit, please check YIMALER 12V Cordless Drill Driver Kit Handheld Drill as well. This drill uses a high capacity 12 Li.-Ion battery. It has 265 In-Lbs of maximum torque. The two speeds are 0-550-rpm and 0-1300-rpm.
This low-price drill by Yimaler features electric drill options that allow for high/low speed drilling.
YIMALER 12V Cordless Drill Driver Kit Handheld Drill has 15+1 clutch settings that are good for reliable control of torque that results in good accuracy for screw driving and drilling. Amazingly, the cordless drill also comes with 26 popular accessories, which are often used by professionals. These accessories will surely give improved performance at the time of drilling and screw driving.
Further, YIMALER 12V Cordless Drill Driver Kit Handheld Drill comes with a battery charger that has fast charging capability. The lithium-ion battery of 1500mAh can fully be charged in just 60 minutes and the battery will last for approx. 3-4 hours in just one charge. Also, the powerful lithium battery produces various ranges of voltages from 100V to 240V without any voltage changes.
This lightweight drill set carries an ergonomic design that weighs just 2.86 LBs. Since it has a lightweight and portable design so it provides the utmost comfort at the time of drilling. It is perfect for various household applications including drilling into wood, plastic, metal and screw driving also. Further, it has a silicon handle with anti-slip profile that is good for extra comfort and the grip is very reliable, very tight in hand so it remove the changes of slippage from your hand. And the LED light is good for drilling performance in even low-light environment.
With the purchase of YIMALER 12V Cordless Drill Driver Kit Handheld Drill, you also get 2000-mAh lithium-ion battery (18650), 26 accessories, a high quality carrying case, a user manual and one year of limited warranty.
Product Title: YIMALER 12V Cordless Drill Driver Kit Handheld Drill 1.5Ah Li-Ion 26 Accessories 3/8″ Chuck Max Torque 265 In-Lb 2 Speed Fast Charger LED light for Household Jobs Battery Included
Features
HIGH TORQUE & VARIABLE SPEED: 12V Cordless Li-ion Battery Drill drives 265 in-lbs of maximum torque,2 speed transmission (0-550 rpm and 0-1,300 rpm) .Electric drill options allows for high or lower speed drilling
YOU WILL GET: YIMALER 12V drill driver, 2000 mAh lithium-ion 18650 battery, 26 professional accessories, PE blow-molding carrying case and user instructions,1 YEAR WARRANTY.
1 HOUR FAST CHARGE: Rechargeable 1500 mAh lithium ion 18650 battery can be fully charged within 1 Hour, last working for 3-4 hours. Provide a wide voltage range from 100-240V without causing any additional mess about voltage change.
ERGONOMIC DESIGN: Only 2.86 lbs,Lightweight and compact make drill gun cordless easy to handle. Ideal for most any household jobs,such as drilling and screw driving tasks into wood, metal, plastic and more. Anti-slip soft silicone handle provides extra comfort and make it hand in tight. Bright LED light enables high performance in low-light settings.
15+1 Clutch Settings, Ensures precise torque control for accurate screw driving and drilling. 3/8 cordless drill come with working with 26 professional accessories will greatly improve the working efficiency.
More Images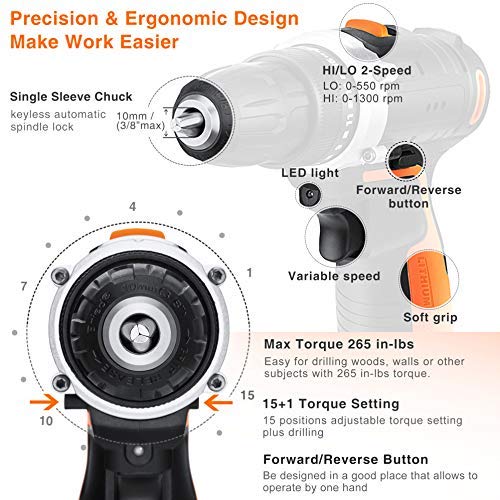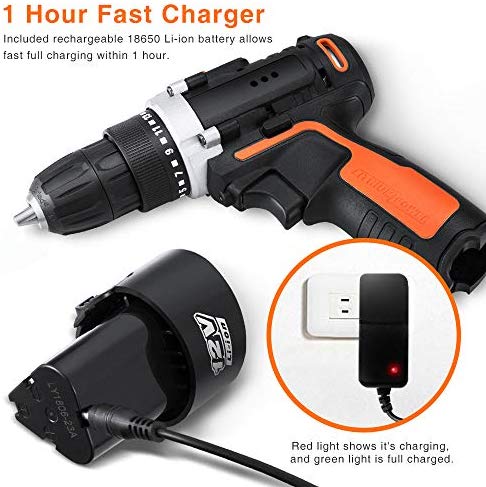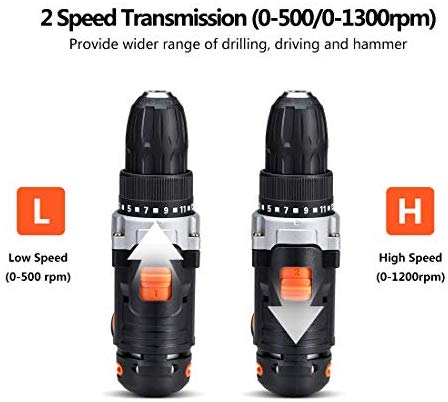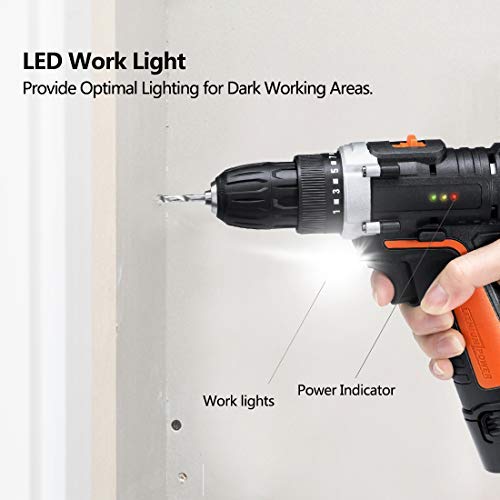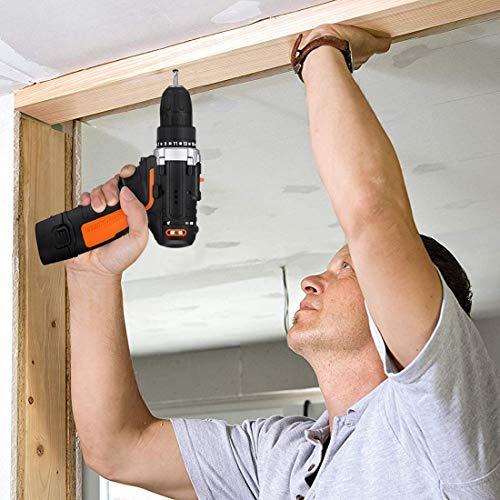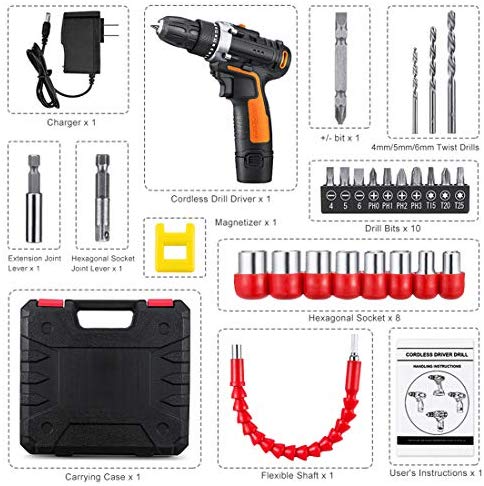 Product Link: https://www.amazon.com/dp/B005NNF0YU/