The MTS-205 welder is a perfect representation of the fantastic Amico Brand welders. It was capable of delivering 0.5-inch welding in several metals such as aluminum alloys, mild steel, stainless steel, copper, and the cast iron. This Amico welder is a great welder that can work with the aluminum welder, solid wire, and the flux cord wire.  Most Amico welders will work with several processes, such as the TIG and the stick processes.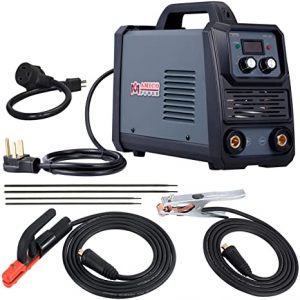 The advanced IGBT technology is a comprehensive technology that keeps the Amico welders going! It features a wave form control system, the complete waveform of the volt, and the amp. You will also admire the short circuits burning cycles of this great welder. The Amico welders have synergic controls, the clear wire melting droplet transfer, and few spatters! If you are looking for a fast, precise, clean arc ignition and the arc ends, then the Amico well will be an excellent welder for you.
The Amico welders use a high-quality wire feeding machine so that a smooth arc is obtained. When using aluminum wire, for instance, the automatic control gas solenoid valve installed inside accords the convenience. You will also admire the automatic compensation for voltage fluctuations. This ensures that there is protection against over-voltage, under-voltage, and even the overcurrent issues.
Amico welders are stunning welders that improve productivity and delivers quality welds all the time.