If you are looking to buy the best Hobart welder then this review page will be very helpful to you. It contains best 9 Hobart welders, which are not only affordable, but also popular on the market. Most of these Hobart welders are from the Hobart Handler series, which are considered performance-oriented welders.
All type of welders have been included in the best Hobart welder reviews. The reviews consist of welders, which are suitable for various welding projects such as household repair, farm, auto body repair, DIY and hobby related welding projects.
Hobart 500559 Handler 140 MIG Welder 115V
Hobart Handler 140 MIG welder is a popular unit. It has gained popularity because of the features it carries and the performance it delivers. The single-phase welder requires 115V input current. Since it is operated on only 115V, you should expect the performance accordingly because it is not a 230V welder. The Hobart welder is good for light-medium level welding activities.
If you are looking to buy a versatile welder, this Hobart MIG 140 will not disappoint you. You can easily deploy this welder for many welding activities. It is the perfect welder for farm projects, DIY, auto-body repair, art related welding projects and household welding activities.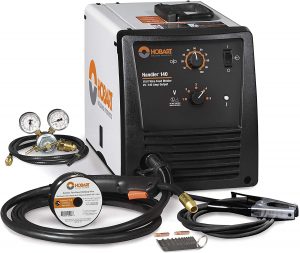 The best thing about this Hobart 500559 welder is the stable arc. It has a 5-level of voltage control, which is good to manage the arc according to your desired result. Since you can greatly manage the arc coming from this welder, you will be able to weld on all the thicknesses.
Further, Hobart Handler is a robust-built welder because it has an industrial-grade drive system made of cast-aluminum material. It also features a sturdy clamp for all your welding convenience and the ease-of-use. If you stuck in setting up this MIG welder, a user manual is there to guide you step-by-step to understand all the features and functionalities. A 5-year of warranty is also attached with the purchase of this Hobart handler welder for the peace of mind. Read more…
Hobart 500554 Handler 190 MIG Welder 230V
If you need to weld stainless steel, mild steel, aluminum and flux core steel, you can check this Hobart 500554 welder. This unit comes in the Hobart Handler series is also a popular unit. The portable unit is a wire feed welder that delivers impressive welding performance. In a single pass, you will be able to weld 24 ga. to 5/16-inch steel because it is a powerful welding machine.
From the versatility side, the welder scores high because you can deploy Hobart Handler 190 for many industrial, household and DIY projects. You will be able to perform welding on auto-body, farm projects and other small repair related tasks. The MIG welder comes with the power for those projects that require heavy-duty uses.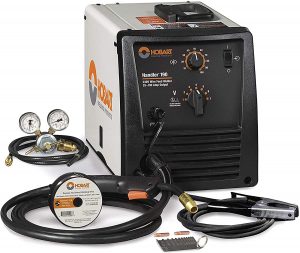 Specifications
25 – 190A amperage range
230V input voltage
30% duty cycle @ 130A
62"/1.95" spool radio diameter (inner/outer)
24 ga. 5-16-inch mild steel thickness range
11 LBs spool capacity
6 feet power cord
Features
7-level of voltage selections
Advanced wire feed speed control
Defined initial settings for gases, wires, thickness and materials
Three grooves – 2 for different size wire and 1 for flux-cored wire
Thermal overload protection
Pros
Simple and easy to use
Great for professionals and beginners
240V NEMA 6-50 male plug included
Preset voltage settings
5 years of limited warranty
Well-built unit from the outside and inside
Cons
The welder received a complaint regarding wire feeding stopped after a couple of month.
Some users complain that they didn't get an adapter plug.
Considering the above-mentioned advantages and disadvantages, Hobart Handler 190 MIG Welder is an impressive unit. The welder has safety feature to protect from the overload. It is very easy to use so a new user can use this welder without wasting too much time. For the smooth welding performance, it has defined voltage settings to use a particular voltage setting as per the work demand. This is also a sturdy-built unit from both inside and outside. However, there are two disadvantages mentioned above, which may be user specific problems or universal problem. You need to research more on this to get the correct answer. Read more…
Hobart 500551 EZ-TIG 165i AC/DC TIG Welder 230V
If you are looking for both AC and DC voltage in your welder, you can check this Hobart EZ-TIG AC-DC welder. The Hobart welder is also very popular for the unique features and capabilities it comes with. You can experience easy welding with this 230V welder.
This is an easy-to-use welding machine because it comes with a simple interface. To start the welding, you just need to work on selecting the material type and setting the thickness range. Since this is a simple-to-use welder, perfect for beginners also.
As mentioned above, the welder comes with some special features. These special features are HF start, infinite amperage control and fan-on-demand. With the help of the HF start feature, the unit is capable for a non-contact arc start, which is very helpful to get rid of tungsten and material contamination. You can use the infinite amperage control for the wider applicability. Lastly, to reduce dust related stuffs, you can use the fan-on-demand feature. You can run the fan only when you need it.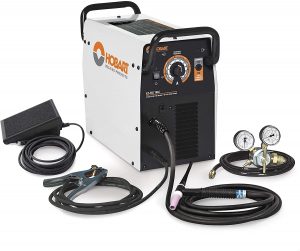 Features
Unit Dimensions: 9.87 W by 23.87 L by 17 H (inches)
Simple to understand settings, easy interface
Input voltage: 230V
Material thickness: 3/16 inch (steel)
Amperage: 10/165A
12.5 feet long torch (WP 17)
13AMP plug
High frequency start (scratch start technique)
Infinite amperage control (good accuracy with wider operating range)
Fan-on-demand (use fan when needed to reduce dust/debris)
With the features mentioned above, the Hobart welder is the quickest and easiest welder. The 230V welder also comes with a 13AMP plug and a WP-17 torch to start the welding instantly. For simplifying the welding process, it carries useful features such as 230V input power, HF start technique, an infinite amperage control and a fan-on-demand feature.
Pros
Very competitive price
It comes with all the required accessories such as a regulator, pedal, torch, ground strap and a welding torch.
Compact size
A good welder for many welding works related to home, art, hobby and DIY.
Cons
The unit has received a complaint regard the HF start stopped working after few days.
Some users have issues with the side fan.
Customers complained that after few hours of use, it stopped working.
Considering the pros and cons of this Hobart 165i welder, the unit gives good welding performance. It comes with all the required accessories to start working instantly. The Hobart welder has many advanced features, which make it a useful welder for both professionals and beginners. However, you also have to consider the cons, which are listed above. Well, these disadvantages are taken from users' reviews on Amazon; these cons may be a user-specific problem but not a universal problem. Read more…
Hobart Handler 125
If you are looking to buy a portable MIG welder, you can go for this Hobart Handler 125 welder. It comes with a bunch of features that make welding very easy. Additionally, the lightweight and portable welder is good for those welding tasks that need frequent movement of the welder from one place to another.
Apart from the portable capability, the Hobart Handler flux core welder comes with useful accessories to ease the welding activities. It comes included with an 8 feet welding gun. You can use this H100F2-8 welding gun for .030-.035 inches diameter wire. Other included accessories are: work cable with clamp, contact tips in different sizes, a power cord, a welding set-up chart and an owner's manual. The owner manual is very useful to understand maintenance of this welder, operating the welder and it carries other useful information.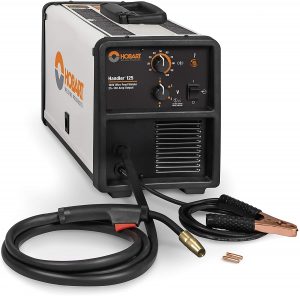 Included components
8 feet welding gun for .030 – .035 wire
Power cord
Work cable with clamp
Weld set-up chart
Power cord with molded plug
Two contact tips
An owner manual
A 5-year warranty card
With the above-mentioned components, you will be able to start welding instantly. You will not face any issues for the installation because it comes with a user guide that explains all the things in an understandable language. Additionally, all the required accessories are available with the package, which means you don't have to spend more money to buy them separately. Read more…
Pros
A good price welder
You can weld thicker material as well.
Portable and lightweight welder
It comes included with all the required accessories
The Hobart handler 125 can be used with or without shielding gas.
It delivers reliable welding performance.
Cons
It comes with a low-quality ground clamp; you may have to buy a good quality ground clamp.
Plastic wire feed system
As per users' reviews, flimsy materials have been used to make this welder.
Hobart 500570 Stickmate 160i
According to the product description by Hobart, this is a reliable and rugged welder. The Hobart Stickmate 160i is made in a portable size, which is very easy to move from one workplace to other workplace. A compact-size welder weighs just 20 Lbs.
If you are looking to buy a dependable and portable welding machine, you must explore the features of this Hobart Stickmate 160i welder. Apart from various useful features, the welder is very easy to operate. You get quick and reliable arc from this welder because the unit is based on an advanced hot-start technology. Additionally, this is a lightweight welder in its category compared with many similar welders on the market.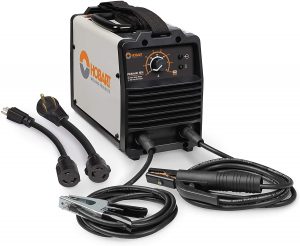 Stickmate 160i comes included with:
Heavy-duty holder
10 feet work cable with clamp
6.5 feet power cord with MVP adapter
10 feet electrode cable
With the above-mentioned features and components, the dual-voltage welder delivers good welding performance. It is also a low-price welder, which is operated on both 120 or 240V input power. It has amperage range between 20-160 amps. Read more…
Pros
Portable welder
The welder is good for longer working hours
It is good for 7018 electrodes
Competitive price
The lightweight welder is good for household and farm use.
Impressive duty cycle with appropriate cooling
Strong hardware is used to make this welder.
Cons
Some customers complain about the clamps.
Electrode clamp is missing according to some customers on Amazon.
Hobart 500559 Handler 140 MIG Welder 115V
Hobart 500559 Handler 140 MIG Welder with Cylinder Rack
If you often need to perform MIG and Flux-cored welding, you can give a detailed look at the Hobart handler 140 MIG welder. The 115V single-phase welder is good for its smooth arc, which can handle various welding thicknesses.
The Hobart welder can impressively handle a wide range of materials like stainless steel, aluminum and steel. It can comfortably weld 24-gauge mild steel. The unit comes with two welding processes such as MIG (GMAW) and Flux-cored (FCAW).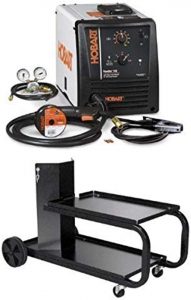 You get 20% duty cycle at 90Amps, which is an impressive capability of this Hobart welder. It offers 25-140A welding amperage range. This 115V welder is good for standard household outlet. You receive 40-700 IPM speed range for the wire feed, and 50-740 IPM at no load.
The price of Hobart Handler 140 welder is neither too high nor too low. Which means it comes at an appropriate price, which is considered a competitive price seeing the prices of similar welders on the market.
The Included Components Are:
10 feet MIG gun
Power cord
10 feet work cable with clamp
Dual-gauge regulator
.030 inch contact tips
Easy-to-select drive roll
Flux-cored wire spool
Material thickness gauge
Pros
Competitive price
A great welder for the beginners
Smooth weld
A little portable welder
It can run on generator 10000 watt or above.
Very easy to use
Various application for household, farm, repair, DIY projects
Cons
It doesn't come with a heavy hose for the gas gauges.
Low quality welding gun according to some customers
Hobart 500553 Handler 210 MVP MIG Welder
The Hobart Handler 210 MVP MIG welder comes in four styles. These styles are MIG welder, MIG welder with gel and plier, Welder with gel and Welder with pliers. You can choose a style depending on your welding needs.
Like other Hobart handler welders, this is also a popular welder in its class. The price of this welder is a little higher compared to other models of Hobart welders. However, if you compare the price of this welder from similar welders from other brands, the price is appropriate, neither too high nor too low.
Well, price is just one thing. Many other factors make a product successful or unsuccessful. Apart from the competitive price, the Hobart welder boasts a wide range of useful features, which facilitate easy welding and great welding performance.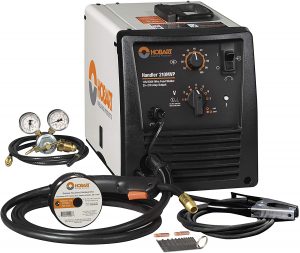 Additionally, the Hobart Handler MIG welder comes included with the required accessories. Which means the purchase includes Hobart 500553 MIG welder, 10 feet welding gun (H100S4-10), 10 feet work cable, dual-gauge regulator with a gas hose. With all these components, you will be able to start welding instantly because you don't have to buy them separately from the local store.
The Hobart welder measures 10.62 inches wide, 19.5 inches long and 12.37 inches high. It weighs 79 LBs. The dual-voltage welder that runs on 115V or 230V input power. The dual-voltage MIG welder is good for the large-scale welding tasks. You can deploy this welder on a wide range of welding projects. The unit is suitable for both lightweight and heavyweight welding. Read more…
Features
Portable welder (10.62 W, 19.5 L, 12.37 inches)
Weight: 79 LBs
Material Thickness: 1/4 inch to 3/8 inch
Improved arc performance
For the safety, it keeps the wire cold until trigger is pulled.
Dual voltage: 115V or 230V
It allows to weld 24-ga to 3/8 inch steel in a single pass.
A multi-purpose welder for various projects related to auto body, household repair and heavier farm projects.
3 years of warranty
Pros
Good arc stability
Solid performance
Strong metal drive roller system
Good welding performance for aluminum
The 120/240V input power is good with easy change capability.
A solid welding machine on the budget
Most of the settings are very easy.
Cons
Heavyweight machine (approx. 80 pounds)
It is a little difficult putting wire in the spoolgun
The voltage setting is a little difficult.
This is not a good welder for industrial/commercial purposes.
Hobart 500564 Airforce 12ci Plasma Cutter with Built-In Air Compressor 120V
If you are looking to buy a plasma cutter with an integrated air compressor, please check Hobart 500664 Airforce 12CI plasma cutter. The unit comes with the features, which are good for medium-level of metal cutting tasks. Since this is a 120V unit, please don't expect the performance of a 240V plasma cutter.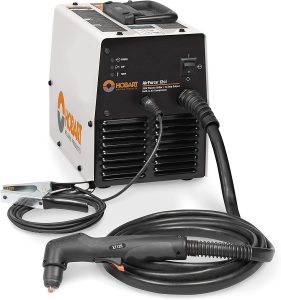 The Hobart Airforce plasma cutter works perfectly as per its 120V capacity. If you are looking to buy a plasma cutter for larger cutting requirement, this Hobart Airforce plasma cutter is not for you. It can cut mild steel up to a 1/8-inch thickness at 10-inch per minute speed. With this cutting capability, you can calculate your cutting tasks.
The Hobart 12CI portable plasma cutter is based on an inverter technology, which is good for the impressive cutting result. The compact machine weighs just 27 lbs, which means it is a lightweight unit for many metal cutting requirements.
Features
Built-in air compressor
Easy to use
Pre-set pressure
Advanced inverter technology
Portable and lightweight (31 pounds item weight)
120V input power
Less noise
Pros
It can greatly handle 3/8-inch steel without any problems.
Compact, lightweight design
Cons
It is not good for heavy tasks
Low cutting performance (it runs on 120V input power only)
According to some customers at Amazon, it has pressure issues.
It is not recommended to use with a CNC cutting table.
Based on the advantages and disadvantages of this Hobart plasma cutter, I will not advise to buy this machine for the large-level of cutting needs. This machine is good for the light to medium level metal cutting works. In case, you are with a tight budget, you can go for it because it comes at a cheap price. Otherwise, please look elsewhere. Read more…
Hobart 500572 Handler 100
If you are looking to buy a low-price welder from popular Hobart brand, you can check this Hobart 500572 welder. It has all the features that ease welding.  It delivers good welding performance because it allows you to weld up to 3/16 inch steel with the flux-core wire.
The Hobart handler 100 comes with wider operation capability for different type of wires. The unit is very good to adjust based on the thickness. You also have the flexibility to use small or large spools of wire as per your welding requirements.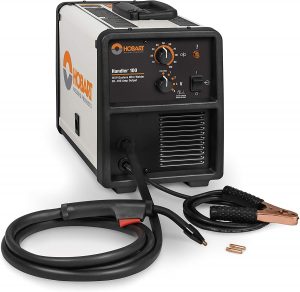 The portable Hobart welder is very safe to use because it has all the features, which work on the safety part. The welder can aptly make the wire cold until the time trigger is pulled. It also comes with positive feed with adjustable tension and accessibility to thread new wire.
This is an impressive wire feed welder from the popular Hobart brand, which is also good for beginner or personal use. It runs on a single-phase 115V so please expect the welding performance accordingly. This is not a 230V welder.
Features
Integrated contactor to keep the wire cool until trigger is pulled.
The spool hub assembly has a good capacity to hold 4-inch or 8-inch spools.
Broader welding output range from 30A to 100A
Four output voltage settings for the easy arc adjustment
It can weld up to 3/16-inch mild steel.
Pros
Portable and lightweight welder
It can run on a smaller generator
Low price
Nice weld and smooth wire feed
Minimal spatter
A good quality welder
No overheating problems
Easy to setup
Cons
This is not for a large welding project because it runs on only 120V input power.
Hobart Welders
Many welder brands are available. All the components of the Hobart welders are excellent. We love the way it welds the heavier metals ranging from 24 gauge. It can be used to weld the 0.25 mild steel. Hobart welder will also be used for a variety of processes, including the MIG and TIG processes.
Hobart welders will weld a variety of metals such as iron, copper, brass, titanium, magnesium, and many other minerals. It will also weld the flux-cored aluminum, the cast iron, and the other magnesium alloys. The Hobart welders will be able to operate in a variety of power sources! One hundred fifteen volts to 220 volts will be sufficient for the Hobart welders.
The wire speed range of the Hobart welders may range from 40 to even 700 RPM. The amperage output will range between 25-140, which is a better performance for both substantial duty performance and moderate performance.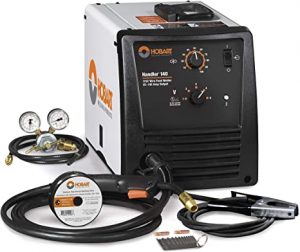 Hobart welders are the amazing welders from the brand that always delivers quality and high-performance welders. We love the majority of these welders, for they accord a five-position voltage control selector. The results are a smooth and very stable arc under all welding thicknesses!
If you are looking for an inexpensive, highly rated welding appliances, then the Hobart welders will be the perfect choice for you! They are cheap, versatile, and more so offers quality performance! It's an ideal choice for professional welders who wish to increase their productivity!
Conclusion
To conclude, the best Hobart welder reviews include only those welding machines, which score high for many factors such as price, performance and ease-of-use. Most of these Hobart welders are under the Hobart handler series. The review also includes a plasma cutter.
I had to explore users' reviews on various market places to find advantages and disadvantages of these Hobart welders. Since Hobart is a popular brand name, there shouldn't be problems with their products as well. However, not all the products are good; some may be built with low quality. Therefore, you may have to research on your own before make the buying decision.
Video – Hobart 140 Welder Review