One of the best brands that you can depend on for perfect welders is the Weldpro brand that has been in the market for quite some time now! We love the Weldpro flagship 200 amp MIG welder that goes beyond MIG and flux core welding! Weldpro welders will deliver several processes, including TIG and stick welding.
Weldpro welders have an optional spool gun and possess an intuitive synergic model that makes it a perfect welding machine. Its compact design makes it a space-saving welder that operates in a limited space! The reviews from the best-selling platforms such as Amazon give credit to the excellent features and performance.
These welders excel in durability, portability, and affordability! Weldpro welders will undoubtedly be a smart choice if you are looking for a perfect weld. It delivers a very stable arc, and the welds will last for decades! It works with heavy metal and moderate gauged metals such as mild steel, aluminum, and many other types of metal alloys! Weldpro welders also have a great design that makes it compact and durable! Weldpro means choosing a cost-effective welder that will accord the convenience and high performance! You need to acquire one of the welders from the reputable Weldpro manufacturer that has never compromised with quality and excellency!
Weldpro Digital TIG 200GD ACDC 200 Amp Tig/Stick Welder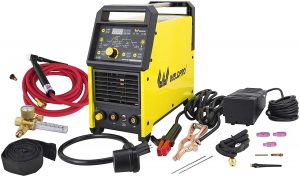 For the affordability, this Weldpro welder can be the best choice because it comes at a low price with good TIG welding capabilities. Because, Weldpro is not as popular as Miller, Hobart etc., so these Weldpro welders come at good prices.
Well, a low-price is one factor. However, many factors are in the favor of this welding machine. Firstly, this is an IGBT inverter based welder, which creates a greater level of welding efficiency. Secondly, the Weldpro welder is a small-size unit because it uses IGBT circuits with PWM technology. Thirdly and more importantly, the portable welder comes with easy-to-understand settings for TIG/Stick welding processes because it uses an improved electronic circuitry.
Duty Cycle and Materials
At full amperage, the AC/DC welder has 40% duty cycle for DC TIG welding and 60% duty cycle for AC TIG welding. Because, the Weldpro welder is capable for both AC and DC current, gives you the flexibility to weld a wide range of metals. With the DC current, you will be able to weld stainless steel, carbon steel, copper and many other metals. Impressively, you can easily switch from the DC mode to AC to weld aluminum and aluminum alloys.
The Included Accessories Are:
Foot pedal
Gas hose
Flow meter
Power adapter
Trigger button
Torch protection shield
CK17 super-flex torch
Electrode holder
Cable, connector and Ground clamp
Collect and collect body
Weldpro TIG200 AC/DC welder comes included with all the accessories that you will require for AC and DC TIG welding. You can see; the accessories include a foot pedal, gas hose, flow meter, cable adapter and many others for all your welding convenience. Because, the package includes all the accessories, you don't need to buy them separately. Which means you save some money spent on buying these welding accessories.
Pros
Good for both DIY and professionals
Low price (one fifth of a Miller)
It comes with all accessories.
Small size
Dual voltage
AC/DC TIG welding capability
Cons
No lift TIG start
Dinse 9 plugs
Bulky torch
To sum up, the TIG/Stick welder is solidly built comes with all the required accessories to start welding instantly. This machine is good for both DIY and professionals because it has easy-to-understand settings, dual voltage and portability. In case, your welding job requires welding a wide range of metals, the Weldpro welder is good for such requirements. From the pros and cons, I can say this is a high quality welder, which is made with the focus on good welding capabilities. Read more…
Weldpro 200 Amp Inverter Multi Process Welder with Dual Voltage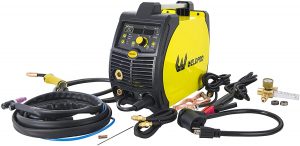 For wider applications, one needs a multi-process welder. You can check the Weldpro multi-process welder, which comes with all the capabilities to make it a versatile welder. Because, this is a dual voltage unit, it can be used for many projects related to decoration, hardware, car repair, factory maintenance and many others.
The compact Weldpro 200Amp welder weighs approx. 30 lbs and provides impressive welding current, thanks to the IGBT inverter technology. For the versatile use, the 3 in 1 welder has MIG, lift TIG and Stick welding processes.
The Included Components Are:
ErgoPlus15 MIG torch
13 feet TIG torch
Electrode holder
Earth clamp
Power adapter
Gas hose
Flow meter and
Contact tips
For all your convenience, the above-mentioned accessories are included with the purchase. This is very helpful for saving both time and money. However, some consumables you have to buy because it is not possible to include the consumables also in such a small price.
Digital Display
The Weldpro welder features a dual digital display, which is good to read, set welding current and speed. With such easy settings, it is convenient for the repeatable welds. You also get overload protection related information with adjustable settings to protect the welder.
Pros
Multi-process
Welding parameters are clearly defined.
Excellent quality flow meter & spool gun
Low price and high performance
Dual voltage for wider applications
Solid build quality
Considering the pros and cons, the Weldpro multi process welder is a good buy because it gives you a lot in such a small price. Because, it is a dual voltage welder, you would be welding on your preferred voltage settings as per the job requirements. Most welders come with weaker accessories but this is not the case with this Weldpro welder. It comes with a high quality flow meter and spool-gun for the welding ease. Read more…
Weldpro MIG155GSV 155Amp Dual Voltage MIG/Stick Arc Welder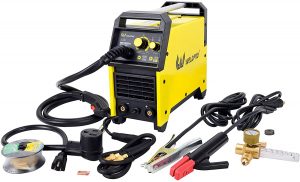 The 155Amp welder comes in a compact size that undoubtedly eases welding. The Weldpro portable welder is a dual voltage machine, which can be operated on either 115V or 230V input power. Because, it has a combination of both dual-voltage and portable profile, it is capable to handle the workload with the greatest level of flexibility.
For the affordability, I have selected this Weldpro welder, which is not a popular brand but makes quality products at low prices. In case, you buy the same quality welder from Hobart or Miller, I'm sure you would be paying 4X more than what it costs.
It is not only an affordable welder, but also a high amperage welder. Yes, the MIG/Stick welder is capable to deliver 30 to 155Amp welding current in the MMA mode. Because, it comes with good amperage capability, the machine can be used for the impressive TIG welding purposes with the help of the optional accessories.
Welding Capacity
The Weldpro 155Amp welder can weld mild steel up to 1/4-inch thickness because it is a dual-voltage welding machine. The unit has an infinite wire speed control and heat settings for the welding ease. Because, it doesn't have tapped controls, it is good for the greatest welding ease.
Moreover, the unit is based on the popular IGBT inverter technology, which is good to protect the unit from overheat and over-current. An IGBT inverter technology is also very helpful to get welding precision and ease of settings.
2T/4T modes – you can use the 4T mode for the longer weld because you don't have to hold the trigger all the times. Consequently, the 2T/4T welding modes are very helpful to reduce fatigue and to ease welding.
Pros
Small size/portable machine
A low price MIG welder
Dual voltage
Great penetration and smooth weld
Excellent tech support from Weldpro
Cons
Leads are short.
Plastic wire feed housing
To start with, the cons are ignorable because they are not directly related to the overall performance of this machine. In case, you receive short leads, buy longer leads by spending few bucks more. Because, it is a low-price welding machine, our expectation should also be according to the price paid. Apart from the two cons, it has pros and pros. It is like win-win buying the portable MIG/Flux core welder in such a low price. Read more…
Conclusion
In case, you are with a tight pocket, please check the above-mentioned welders. These Weldpro welders are super cheap welders, which deliver the greatest level of welding performance. I assume, Weldpro is not very popular on the market but it makes impressive welders, which are sold at pretty low-prices at various market places. You can easily buy these Weldpro multi-process welders from Amazon or Walmart. To get an overview on these Weldpro MIG/Stick/TIG welders, please check reviews on Amazon. You will be able to find too many positives of these welders.
Apart from the low price, the Weldpro welders are based on the leading IGBT inverter technology, which is very good for précised welding, overheat and overload protection. Their settings are very easy to understand so they are great for both beginners and professional welders.