SunGoldPower is an established brand for manufacturing industrial products such as solar panels, welding equipment, inverters and plasma cutters. The only downside of the SunGoldPower is its origin. Yes, Sun Gold Power Co. Ltd. is based in China. Being a Chinese manufacturer, SunGoldPower makes only solid industrial products, which are not only sturdy from the outside, but also powerful from inside.
For affordable prices, one can explore the below mentioned SunGoldPower welders and plasma cutters. I promise, you will not get disappointed from the performance they offer. Because SunGoldPower welders score high according to Amazon customers, so these welders are strongly recommended here.
Sungoldpower 140A MIG Welder – 110/220V  Dual Voltage Welder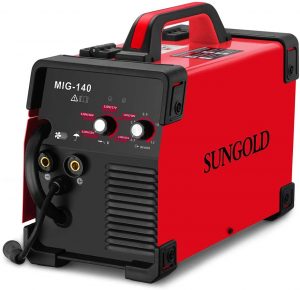 The dual-voltage Sungoldpower welder is built with the prominent IGBT inverter technology that makes it a powerful welding machine. An IGBT inverter equipment is more advanced than several others are on the market. Because of the leading technology it uses, the Sungoldpower welder delivers high welding accuracy and removes the guesswork.
The IGBT based welder lets you perform MIG welding process with gas or without the gas. Therefore, you will be using both solid and flux-cored wired for the gasless and gas-shielded MIG welding. For the high welding requirements, the welder is capable to provide up to 140Amp welding power. Besides powerful output current, the dual-voltage input current makes it a perfect unit to use for both lightweight and heavy-duty welding tasks. For the wire spool compatibility, you can use either a 2lb or 10lb wire spool. The MIG-140 welder is well suitable for numerous materials like mild steel, stainless steel and other materials.
For a customized wire feed circulation, the MIG welder has an inbuilt feature to fine-tune wire feeding movement and the welding amperage. Because, it lets you change the wire feed speed as per your preference, the unit is suitable for a host of welding applications and material thicknesses.
Additionally, the Sungoldpower welder is perfect for numerous welding applications. You can conveniently use this machine to weld tarnished metals, road stuffs, repair/maintenance shops, farms and many others. For an increased flexibility, this is an MIG welding machine, which can be operated by either a professional or beginner with no difficulties.
The highly rated Sungoldpower MIG welder comes included with:
SunGoldPower MIG-140 welder
MIG torch (78.7 inch long)
59-inch cable with an earth clamp
Mask & Brush
Flux-cored wire sample
The dual voltage welder comes included with the prime accessories. You can see the above-mentioned list. Without these accessories, one can't start welding. Because, all the required tools are included in this package, you will start welding soon after you receive the shipment. Additionally, these included accessories means saving some money too.
Pros
Main accessories included
A well-built welder
Versatility
110/220V adapter included
Delivers industrial-grade performance
A great welder for the price
Lot of power even at 110V
Stable arc
Smooth weld
Wire feed works well.
Lightweight and portable
Timely shipping of the product
Dual fan for improved cooling
Cons
Low quality cables
Less convenient MIG gun
Surprisingly, the Sungoldpower MIG-140 is the best welder, which is not only affordable, but also lightweight & portable with a long list of advantages. Friends, if you don't have faith in my writing, please read all the reviews posted on Amazon. These reviews are by the genuine customers who have bought it and used it. At the current price, which is around $250, these Sungoldpower welders are a steal!
Sungoldpower 200Amp Aluminum Welder – AC/DC Dual Voltage 220V/110V Welding Machine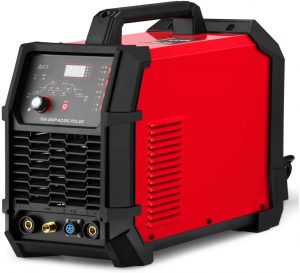 Personally, I like a multi-process welder because it can be used for a wide range of welding applications. If you are a welding professional looking to buy a multi-function welder, please read about this multi-process welder.
Because, three welding processes are available in this SunGoldPower 200A welder, so it can definitely be used for numerous applications. Whether you want to deploy it on an industrial project, DIY project or use it for other miscellaneous welding activities, this is an ideal welding equipment to help you achieve the result.
Moreover, if I can say that it is a feature-rich welder, I'm not wrong. You are going to enjoy a host of welding features and capabilities, which are hard to come in such price range. The inverter-based welder is equipped with AC and PULSE function with a foot pedal control. Other important features are 2T-4T touch control, upslope/downslope, start amps and AC balance.
TIG Welding Process
The Sun Gold Power dual-voltage welder is the best TIG aluminum welder in its class. I'm sure you wouldn't be complaining after using the TIG function because it is voted impressively for its impressive TIG welding capability.
As mentioned earlier, the dual voltage welder delivers 200Amp welding current both AC and DC, which means it offers the greatest welding flexibility to weld on your own preference. With such impressive welding output current, you will be able to weld on a wide range of materials including stainless steel, cast iron, aluminum and others.
The Stick Process
Besides the TIG functionality, the Sungoldpower welder hasn't received any complaints for its stick welding process. Which means the welder is also good for its stick welding process. For the stick welding, the heavy-duty welder delivers 180A DC welding output. Impressively the MMA welding current has characteristics such as stable arc, smooth welding, arc hot start and a numerous electrodes handling.
As said earlier, this is a feature-rich welding machine by the established Sungoldpower brand. Apart from so many useful features, it also comes with a digital control, which provides the greatest control of the welding stuffs. Definitely, you can use this welder to achieve the higher welding precision and weld on a wide range of metals including aluminum too.
The TIG/MMA welder comes included with
The Powerful AC/DC welder
TIG torch
Pack of tips & nozzles
Earth clamp
Electrode holder
Protection mask
Brush
Hammer
Gas tube and
Foot pedal
The Sungoldpower TIG200ACDC welder comes included with all the accessories. Please give a look at the above-mentioned list of accessories. For the safety, it also includes a protective mask and other small accessories such as clamps, tips and nozzles for the convenience and saving the money a little.
Pros
Competitive price
Dual voltage
Packed with the accessories
Good adjustment capability
Smooth weld
Multi-process
Huge 200A output current
Feature-rich
Cons
Front panel is hard to see.
Consumables not included
Actually, the list of pros and cons speak itself. By seeing these pros and cons, one can judge this welding machine and of course, it is a high quality welder because it has a long list of advantages. There are some advantages also but these advantages don't have any direct contact with the performance.
Sungoldpower CUT50 Plasma Cutter  – High Frequency 50A Air Plasma Cutter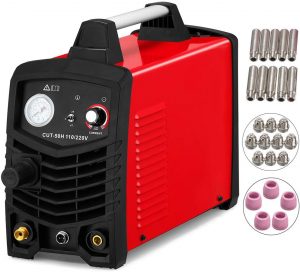 Apart from Sungoldpower welders, I decided to write on plasma cutters also. I have included this dual voltage Cut50 plasma cutter. This Sungoldpower plasma cutter is powerful because it comes with a 50A output current, which is enough to cut numerous metals.
The Sungoldpower cut50 air plasma cutter uses a leading technology, which is the IGBT inverter technology. In fact, an IGBT inverter technology equipment becomes very good for many factors such as low-weight, portability, power efficiency and easy operation.
Well, an IGBT inverter technology is one thing. One other thing is directly connected with the performance, which is the dual voltage input power. Yes, this is a dual-voltage plasma cutter, which is good to cut thin to thick materials. Because, it can be operated on either 110V or 220V power supply, it is capable to deliver output power from 10A to 50A DC, which looks promising. You can comfortably cut up to half-inch thick metals such as stainless steel, alloy, mild steel, carbon and aluminum.
Prime features of Sungoldpower Cut50
60% duty cycle
50Amp full amperage
IGBT advanced inverter technology (high frequency)
2T/4T function
Half-inch cutting thickness
Leading German cooling system
Perfect to cut metals such as stainless steel, aluminum, carbon and copper
Gas regulator with pressure adjustment
Wider application in industries such as manufacturing, construction and automobile
From the list of features, I can say this Sungoldpower dual voltage plasma cutter is powerful. It is powerful because it has all the features and capabilities, which facilitate in the easy and accurate metal cutting process. Additionally, this is an IGBT based machine, which means an advanced mechanism used to reduce the overall size and make it a portable unit. Impressively, the plasma cutter uses an advanced German cooling system, which does a great job for the cooling.
Pros
Provides quick and clean cut
Half-inch thick metal cutting capability
Easy to adjust
Simple to setup
Dual voltage input power
50amp full output
Cons
The unit received a complaint regarding fitting on the backside.
Seeing the plus and minus of the Sungoldpower plasma cutter, I strongly recommend buying Sungoldpower Cut-50. You get numerous positives in this plasma cutter, which are directly related to the performance. You can't ignore its half-inch clean cut capability and the easy adjustability. Moreover, the dual-voltage input power is very good for deploying this on numerous metal cutting tasks.
Sungoldpower Plasma Cutter – Pilot Arc CUT50L Dual Voltage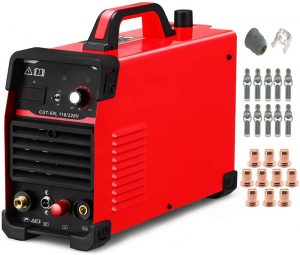 In case, you need to cut those metals, which are rusty or painted, you can try Sungoldpower Cut50L non-touch pilot-arc plasma cutter. This plasma cutter uses a leading technology, which is very helpful to cut metals without touching the tip to the metal. Of course, you wouldn't complain about its performance, quality and the accuracy.
Most importantly, this is a dual voltage plasma cutter, which means you can comfortably run this cutting machine on both 110V and 220V power supply. For an impressive cut, it delivers 50A output current, which is enough to cut up to half-inch metals precisely.
Because, it can cut painted and rusty materials, this pilot-arc plasma cutter is very useful for many applications. You can undoubtedly use this metal cutting equipment to get an industry-grade cut on your desired metals. No problems, if you have to deploy it for industry grade cutting, construction site, home-related cutting tasks and for the hobby projects. The Sungoldpower cut50l plasma cutter lets you cut materials like copper, mild/stainless steel, alloy, iron, aluminum and a bunch of other metals.
To setup of this machine, you will not face too many issues like other plasma cutters do. For an easy set-up, the Sungoldpower plasma cutter comes combined with an air regulator and water trap, which are mounted at the backside. With this mounted regulator, the machine will not take much time in the setup.
The Sungoldpower Cut-50L Plasma Cutter Comes Included with:
50Amp plasma cutter
Air regulator
10 x tips
Electrode
Ground clamp
With the included accessories, you will be able to cut metals as soon as you receive this plasma cutter. You don't have to buy them separately, you can see all the required accessories are included with the package. Because, main accessories are packed, you will not find any difficulties for the setup also.
Conclusion
In short, four Sungoldpower machines have been reviewed. Two of them are Sungoldpower welders and two are plasma cutters. Each unit is with its pros and cons. in reality, the pros and cons of a product tell a lot. Which means by just scanning a list of pros and cons, you will have an overall picture in your mind. Additionally, these Sungoldpower welders and plasma cutters come with the prime accessories; you don't have to buy them separately. Surprisingly, these multi-purpose welders are highly rated on Amazon. We can't ignore the reviews that are posted on Amazon because they are from the genuine customers.
One common thing I found in these Sungoldpower welders is the lowest price. Yes, they come with good prices, which beat the leading welder manufacturer. However, there is just one downside, which is the origin or these products. Sun Gold Power Co. Ltd. is a Chinese manufacturer, which means these are made in China products but they are with the exceptional quality.