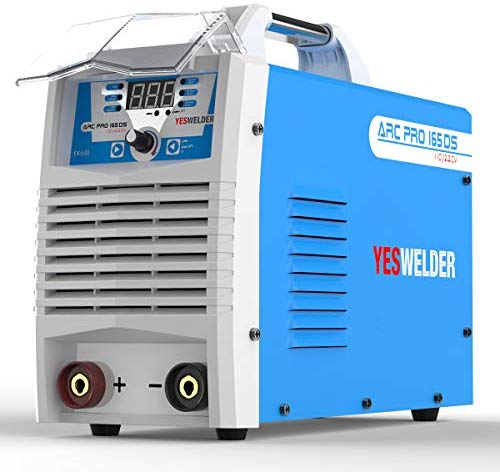 YESWELDER ARC Welding Machine is good for various welding electrodes. You will be able to adjust welding current according to your welding preference. This high quality welding machine by YesWelder will surely make welding very easy without any doubts.
The portable 160AMP unit delivers good welding performance on various electrodes. It features hot start and delivers smooth weld. The unit is very powerful to weld 0.25-inch steel at 220V current and 5/32-inch steel at 110V current.
The YesWelder unit is a lightweight and portable machine that delivers reliable welding performance. It is a good machine for DIY, professionals and new welders. Taking the benefit of its portable and lightweight profile, you can easily carry it anywhere you go.
Available in multiple styles
ARC-125DS Stick Welder
ARC-205DS TIG Welder
TIG-205DS TIG Welder
Digital ARC-165DS Stick Welder
Digital MIG-205DS MIG Welder
The IGBT Inverter welder is available in multiple styles. You can give a look at the above-mentioned styles. Please choose a style, which is suitable to your welding requirements. The welder has styles for all the welding processes such as MIG, TIG and Stick.
Digital Control
YesWelder Arc IGBT welder is digitally controllable. Taking the benefit of the digital control feature, you will be able to select diameter of welding electrodes. The machine lets you adjust welding current as per your welding requirements. With the addition of the digital control feature, the machine is capable to deliver desired welding result, utmost comfort and ease-of-use.
Operation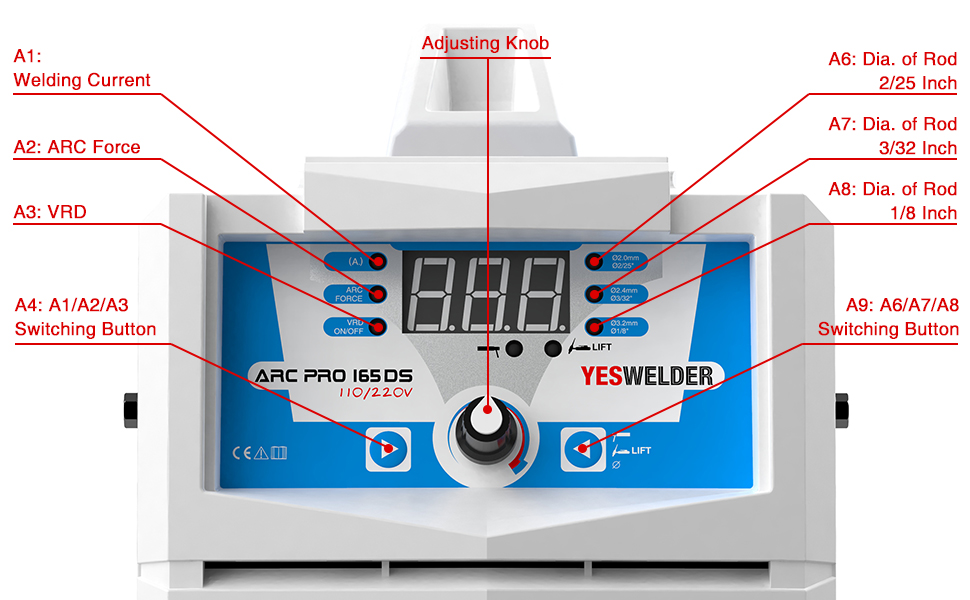 High Welder Power & Dual Voltage
The YesWelder IGBT inverter welder lets you perform stick welding on a wide range of electrodes including 6011, 6013, 7018 and many others. On the other hand, the unit comes with ARC-165DS, which means it has also a DC stick function. It is good for cellulose electrode welding.
This is a dual voltage welder, which comes with an 110V NEMA 5-15P plug, which is good for 128AMP powerful welding output current. The 220V capability is good for 165AMP welding current output.
Pros
Very smooth welding performance
The hot start feature works impressively.
It is good for a wide range of electrodes such as 6011, 6013, 7014, 7024 etc.
Lightweight machine
A good unit for a new welder
It can also work on generator power.
This is a small size welder so takes up very less space.
The portable and lightweight welder from YesWelder is a powerful unit. The welder has received good reviews from its users, so it is recommendable here. The portable welder delivers smooth welding performance and can handle varieties of electrodes. This unit is also good for a new user.
Cons
Defective item sent to many customers. However, upon customer request they were replaced.
I tried finding disadvantages of this YesWelder digital welder but couldn't find many. There is just one disadvantage regarding defective item shipped to some customers.
Conclusion
To conclude, the YesWelder portable welder is a high performance unit. It comes with a wide range of features that deliver the ease-of-use, comfort and quality. The unit has earned impressive reviews on many shopping websites including Amazon, Walmart etc.
The lightweight 165AMP unit is also a space saver. Because, it comes in a small size. It will not take up much space anywhere you use it. In case, you want to use this welder on the generator current, you can use it very comfortably. Many customers at Amazon.com say that they are using this machine on generator power. Lastly, the price is also very reasonable, to buy a similar machine from other top brands, you may have to pay more than what you pay to buy this welding machine.
TIG Welding Tips and Techniques