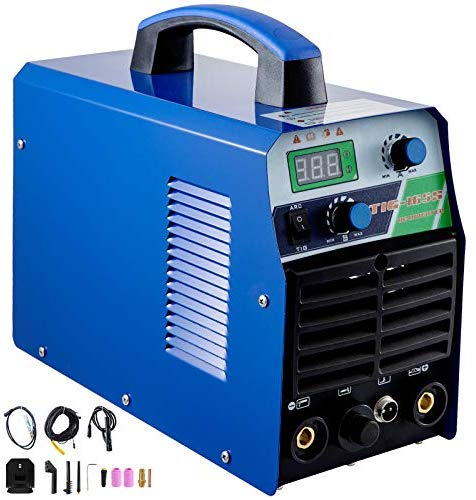 You can check Mophorn Tig Welder 140 Amp Tig Stick Welder that comes with impressive features and delivers good welding performance. This is a combo 2-in-1 welding machine that has both Arc and Stick welding functions.
You can adjust the output current with the help of a knob. The output current for TIG welding is from 20 to 140A and 20 to 120A for Arc welding.
This welding machine by Mophorn works with maximum 3.2mm acid and alkaline electrode. It can be used for maximum 3/8-inch steel, stainless steel, copper brass and titanium welding.
Further, Mophorn Tig Welder 140 Amp Tig Stick Welder has dual voltage capability. Yes, it accepts 110V or 220V input current with voltage compensation for voltage function. It features Arc stick welding/argon welding switch.
Mophorn Tig Welder 140 Amp Tig Stick Welder can be used for wider application without any doubts. It is perfect for sheet metal processing, machinery manufacturing, automotive maintenance, home decoration, iron processing, larger projects, shipyard, factory and construction as well.
This is a lightweight welding machine with strong steel construction. The welder is compatible with both 110V and 220V current. And the output current is very easy to adjust from minimum 20 to maximum 140A with 60% duty cycle.
Specifications
Input Voltage: 110V/220V (Auto Switch)
TIG, MIG, Stick Function
DC 20-140A output current
60% duty cycle
0.3-4.0mm TIG welding thickness
Weight: 16LB
93% power factor
This Mophorn TIG stick welder comes with good specifications, which will surely be helpful for the good welding performance. It delivers up to 140A output current, which is considered an average welding output current. Since it comes with TIG, MMA and Stick welding processes, make it a multi-process welder. This multi-process welder will be good to meet your diverse welding requirements. It also comes with auto-switch dual voltage capability, gives you the flexibility to operate the welder based on your required power input.
Package Contains
2-in-1 TIG 165S welder
Arc electrode holder
Work clamp
TIG torch gun
Mask
Brush
User manual and
Accessory kit
Mophorn  2-in-1 TIG 165S welder comes with accessories and tools, which you require to successfully perform welding. All the included items are listed. Please give a look at the list of included items. The list contains an accessory kit, a user manual, a mask, TIG torch, brush, an electrode holder and a work clamp.
Pros
The machine looks protective, built in protect mode.
Setup of this machine is very easy so it is good for a new user as well.
The unit is good for small, DIY and home based welding tasks.
It comes with longer lead, approx. 10 feet.
Considering the advantages, the machine comes with, it is an average performance welder. Such machines are good for small welding tasks but not helpful for heavy industrial works. The machine has protective body and it doesn't have complicated setup. If you are buying this welder for DIY and home use, this machine is good for such tasks.
Cons
The machine support 220V AC NEMA L6-30, which is hard to find in the local store.
Users complain that the owner manual is not helpful understand settings very well.
This is a DC welder so it can't weld aluminum.
Users complain that they didn't find the TIG torch in the package, finding the specific TIG torch and other accessories in the local store is very hard.
According to the reviews posted on Amazon and other shopping websites, the Mophorn welder has some drawbacks, which should be kept in the mind at the time of purchasing this machine. The machine doesn't come with performance issues, but it has minor issues like the accessories are hard to find in the local store. The user manual lacks proper instruction. It is a DC welding machine, which is not helpful for welding aluminum.
Conclusion
Mophorn 140-Amp TIG Stick welder is an average quality and performance welder. Since the machine delivers DC output current, not helpful for aluminum welding. The machine also received many complaints regarding user manual, extension cable and accessories. According to the reviews, this inverter TIG welder doesn't come with all the accessories, which are mentioned in the description.
Video – What is TIG Welding? (GTAW)