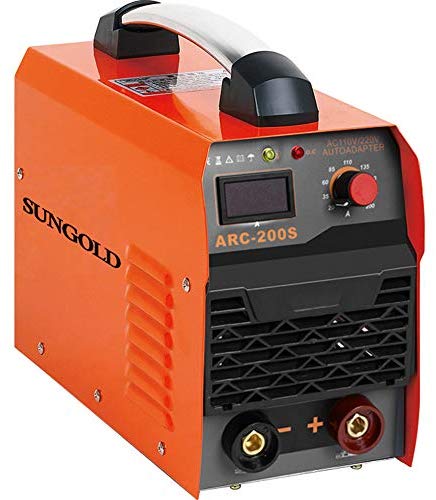 SUNGOLDPOWER ARC MMA 200A Welder is a performance oriented machine, based on the an advanced IGBT technology. IGBT inverter technology is popular for good and consistent welding performance. More importantly, this welder comes from SungoldPower, a popular brand for a wide range of welding machines. Since the
Sungoldpower ARC MMA 200A welder
is based on an advanced control module so it greatly enhances the performance and satisfies your diverse welding requirements.
The welder has good safety feature that includes over-voltage protection, under-voltage protection, over-current protection, over-load protection. It also features auto hot-start and anti-stick profile for an impressive welding convenience.
The complete package includes 1 x MMA 200A welding machine, 1 x English user manual, 2 x cable joint, 1 x inner hexagon spanner, 78.7-inch AC cable wire, 98.4-inch electrode holder and cable and 59.5-inch ground clamp and cable.
Product Details
Advanced 110/220 volt IGBT welder to improve the overall welding performance
Adjustable Arc force
Automatic hot start
Anti-stick technology
Impressive control capability for the multi-process welding requirements
ARC-2005 model number
110/220 AC rated input voltage
50/60 Hz frequency
1.6-3.2mm 110V and 1.6-4mm 220V welding electrode
1-20mm welding thickness
20-200A output current (85% efficiency)
60% rated duty cycle
No-Load voltage: 62+-5V
Approx. 15 LB weight
With the above-mentioned features and specifications, the Sungoldpower welder is capable to deliver good welding performance. The 15-LB net weight makes this unit a lightweight welder without any doubts.  In addition, the 200A dual voltage welder is a portable unit that is good for storage and movement from one jobsite to another. Amazingly, the unit is based on an advanced IGBT inverter technology, which is directly translated into good welding performance.
Pros
Dual voltage (110V/220V) portable welder comes at a low price.
The little welder is good for larger welding projects because the unit uses an advanced IGBT inverter technology.
Lightweight and portable welder facilitates easy carrying and convenient storage. It is good for moving from one workplace to other.
According to many users, the unit delivers beautiful welds so they are delighted having owned this machine.
This portable welder also comes with a digital display, which is good to keep you informed about the settings and output current you are currently using.
The machine worth the money you spent because it delivers good welding performance with steadier arc.
With the above-mentioned positives, you can learn that this is a performance-oriented machine because it comes with too many pros. All these advantages are indications of a good welder without any doubts. The unit has a good lightweight and portable profile. It gives you a good quality weld on varieties of metals. Finally, the Sungoldpower welder has many happy customers, who have expressed their excitement on Amazon.com and other shopping websites.
Cons
The leads are too short; they should be longer for the maximum reach.
Ground clamp is of low quality.
The unit is a little sluggish on starts.
These are the disadvantages found in the SungoldPower inverter welder. Well, these cons can be ignored because they don't directly disturb the overall welding performance. If the leads and ground clamp are not good, you can spend few bucks more to buy them.
Conclusion
If you are looking to buy a welder within your tight budget, this Sungoldpower welder is for you. Because a similar welder from other manufacturers will cost 3x more than what you pay to acquire this welding machines.
Most importantly, the unit has earned many happy customers and so this machine is recommendable here. Before you buy SUNGOLDPOWER dual-voltage ARC MMA 200A welder, please read the above-mentioned pros and cons. These positives and negatives will surely give you an overall picture of this machine.
STICK WELDING for Beginners – SMAW 6010 & 7018