To be frank, you can find both pros and cons of these Hitbox welders. However, many good things are available in these welding machines, which can't be found in low price welders. Since price is a major factor to make a product successful or unsuccessful, these Hitbox welders are well applicable in this regard.
Table of Content
Dual Volt Hitbox Welder – Portable ARC Welding Machine with IGBT Inverter Technology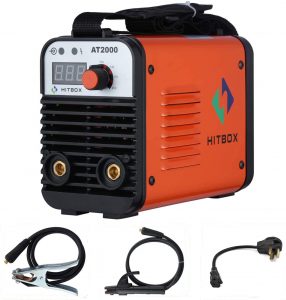 Primarily, I have selected Hitbox AT2000 because it is a dual-voltage welder that comes in a $100 price range. It seems impossible to purchase a good welder in such a low price.
Besides a low price, the mini welder has several positives such as a convenient design, longer duty cycle, 1-year warranty and prime accessories.
Duty Cycle
Well, the Hitbox welder offers a 60% duty cycle, which is not too bad. Such level of duty cycle seems impressive in a cheap welder. The rated 60% duty cycle will surely provide an extra protection to the machine from any serious damages.
Lightweight and Portable Design
Impressively, this is a low-weight welder, which comes with an integrated handle for the carrying purpose. You can easily move the welder with the help of built-in handle and a lightweight design. Such portable and elegant welder is very easy for the transportation.
Dual-voltage Stick Welder
In case, you prefer stick welding or your welding activities revolve through stick welding, Hitbox AT2000 is an ultimate welding engine for you. Because, this is a 140Amp stick welder with a dual-voltage input power, it is very easy to strike an arc. Additionally, the welder grants output current stability with the utmost welding performance and less spatter.
Pros
Fair price
Easy to learn
Nice weld
Heavy-duty use
Handy to use
Accurate Amp dial
Cons
Crap accessories
Made in China
Basing the pros and cons, I can say it is a good welder that comes in a super-cheap price. Since this Hitbox welder is made in China, many customers have the negativities about these Chinese products. However, being made in China, the Hitbox portable welder delivers remarkable welds. According to the cons, the welding machine has crap accessories, it is better to buy these accessories if they are not suitable to you. Because, it is a cheap dual-voltage welder, our expectation should also be according to the money spent to buy this welder.
HITBOX MIG250 MIG TIG ARC Welding Machine (3 in 1 Gas/Gasless Welder, 220V)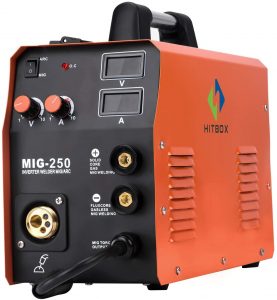 To meet your versatile welding requirements, you need a multi-process welder. You can explore features and capabilities of the Hitbox multi-function welder, which comes with MIG, TIG and Arc welding processes. The 3-in-1 welder grants you countless benefits, which can only be expected from a high-price welder.
This is both gas and gasless welder, which is made in a straightforward design. The multi-process Hitbox welder is a small-size unit that has a low-weight and easy-carry simplifications. From an economical view, all the required accessories are bundled with the package. Since it comes with the prime accessories, it is ready to use instantly just after you receive the product delivery. To safeguard the money invested to buy this welder, the Hitbox 220V welder carries a full one-year warranty. In case, you encounter any problems, please connect with the quick-response customer service to get a solution to your problems.
For DIY and high workloads, the Hitbox multi-function welding equipment is well preferred. Remarkably, the welding device is perfect for both hobbyist and experienced welders.
Undoubtedly, you can buy this Hitbox welding machine to meet your varied welding demands. The 3 in 1 welder can be operated with gas or without gas. To use the MIG function, you can use the optional flux cored or solid wire. The welding device is naturally very performative because it enables you to perform MIG, TIG and Arc welding functions with a maximum 4.0MM welding diameter. To give you an extended flexibility, the Hitbox machine is generator friendly, which is also good to operate by a beginner.
Pros
Good price
Easy to use
Smooth weld
Easy to setup
Compact and lightweight
Cons
Difficult to understand voltage & amp combination
Lack of proper information
On Amazon, I found mixed reviews on this Hitbox multi-process welder. Based on all the reviews, I can say this is not a good welder for serious welding projects. It is good for learners, hobbyists and lightweight welding stuffs. Because, there are various unhappy reviewers on Amazon, this is not recommendable to buy for high welding loads. Since this is a cheap welder, it is only good for those who are with a tight pocket.
HITBOX MIG ARC Lift TIG Welder – HBM1200 Multi-process Hitbox Welder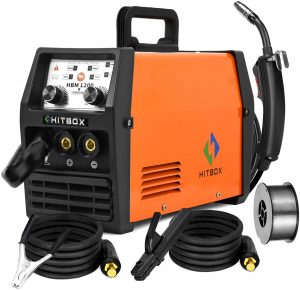 Hitbox HBM1200 is the next exciting welder in the best Hitbox welder review. The multi-purpose welder is equipped with good features to let you achieve good welding outcomes. In short, the welding machine boasts an elegant duty cycle of 40%, which can be considered an appropriate duty cycle in this low-price welder. It has a simple-to-understand control panel, which is good for a novice user. For the safety of this machine, a high-level of safety feature has been used to make this machine. Finally, you also get a one-year of warranty, which gives an assurance towards the money invested.
The MIG/TIG/Arc welder is suitable for materials such as carbon steel, stainless steel and iron. Please note that the 3-in-1 machine doesn't come with a TIG torch. Well, you can buy a TIG torch by spending few bucks more. Since the Hitbox welder is very good at welding with 0.8mm flux core wire, it can handle various materials.
Pros
Good welding capability
3-in-1 MIG/lift TIG/stick welding
110/220 input power (dual voltage)
Novice friendly
Countless pleased customers
Cons
Short cables
No instructional manual for the settings
Well, the afore-known pros and cons speak that this is a low-price welder with intelligent characteristics and proficiencies. Additionally, you will be using three welding functionalities in one unit, even in a small price. To me, it seems a super deal because a same attribute welder will cost 5X more than this welder costs. Lastly, I don't give much weightage to the cons; they are ignorable or require few bucks more to buy them separately.
HITBOX ARC Welder (110V/220V Dual Voltage 200A MMA Welding Machine)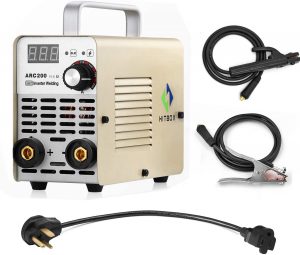 Most Hitbox welders come in an orange color but this Hitbox 200A welder has a different color that makes it more attractive than others do. Well, I give less weightage to the color of an equipment because a color doesn't have any relation with the performance.
For the good outcome, the Hitbox dual voltage welder combines numerous factors including portability, duty cycle, easy striking proficiency and the included accessories.
A 60% duty cycle is not bad!
Of course, a cheap welder that has 60% duty cycle is not bad because such a duty cycle level is good for the welding flexibility. The Hitbox arc welder becomes protective to shelter from the ongoing harms. Because, this welding device comes in a $100 price range, it becomes more economical with the 60% duty cycle. None of the welders can be purchased in such a low price with a 60% duty cycle.
In case, you want to understand and calculate duty cycle of a welding machine, please refer to this link. I'm sure, all of your questions regarding the welding duty cycle will be answered very clearly.
The portable Hitbox welder
We know how it is easy to weld with a portable welding machine. Because, portability is the sought after factor in a welder, this Hitbox arc welder has been designed portable. The low-weight, small size and a carrying handle make it more portable than others do. The portable dual-voltage welder has a 6.3lb weight, 4x9x4.9 inches overall size and a comfort handle to move the machine restfully.
After all, the high performance welder has not only a portable design, but also a good welding competence. Yes, it is a performance house because it uses dual voltage input power. Which means the Hitbox welding device is very useful to handle both lightweight and heavyweight welding tasks.
Pros
A small size welder with a small price
Lays down précised bead
Spatter-less weld
Lightweight and portable
Heavy-duty welding efficiency
Better than expected to countless reviewers on Amazon
Just to sum up this Hitbox arc welder, I give it a "strong buy rating" because the little welding equipment passes all the tests regarding the performance. Moreover, one can have a good understanding of this welder by just reading the advantages and disadvantages written above. The small welding equipment is not only popular for the lightweight and popular design, but also popular for light to heavy-duty welding purposes.
HITBOX MIG Welder – 200Amp Inverter MIG ARC Lift TIG Gas/Gasless Multifunction Welding Mahcine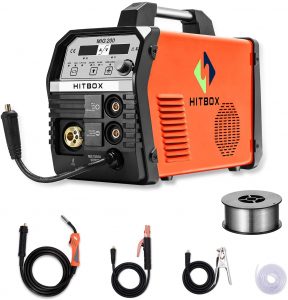 This Hitbox multi-function welder is priced a little higher than other Hitbox welders are because it is a 4-in-1 welder. To meet varied welding requirements, this is a vital Hitbox 200Amp welder. As said already, you will be using this powerhouse for the multiple welding processes that include gas-MIG, gasless-MIG, lift TIG and arc/stick welding processes.
As per the product description, this is tagged as a lightweight welder but I don't consider it a lightweight welder. It weighs approx. 21 lbs, which is heavier than other Hitbox welders are. However, the welding equipment let you enjoy four welding processes so the 21 lbs weight is considerable.
For the wire spool handling, the 4-in-1 welding equipment requires 1KG and 5KG wire spools. It allows you to use both solid and flux-core wire from 0.8mm to 1.0mm thickness. Of course, you need to use solid wire to weld iron and flux-core wire to weld stainless steel and carbon steel.
I will also through light on other things such as warranty and prime accessories. The multi-function welder comes included with components like electrode holder, gas tube, MIG gun, earth clamp and the consumables. Yes, it comes with one-kilogram flux-core wire, which provides a little economical relief too. For the assurance, you get one-year warranty on the product. I see Hitbox customer service is not bad because you will be instantly connected with the team anytime you encounter any problem. It offers a 24-hour online customer support to help you fix issues in the welding equipment.
Pros
Great value for the money spent
Quick set-up
Lacks wire feed controls
Sturdy feel from the outside
Adjustable voltage/amp
Cons
User manual is not very helpful.
It lacks feeder speed adjustment.
It lacks a button to deactivate the feeder.
Short ground cable
In case, you need to buy such powerful machine, you can buy it but it comes with both pros and cons. I researched more about the cons and I found that they are not directly related to the overall performance. However, these cons are not related to the overall performance but they doesn't provide good flexibility. It lacks some adjustment features. On the other side, it is very hard to find such 4-in-1 welder in the below $400 price range.
HITBOX 40A Plasma Cutter – 220V Air Plasma Cutter DC Inverter Cutting Machine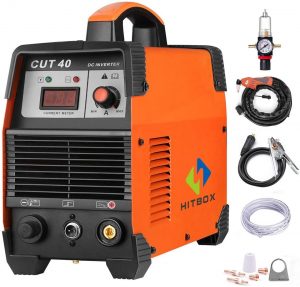 Besides several Hitbox welding devices, I decided to review a Hitbox plasma cutter. Please learn more about the Hitbox 40Amp plasma cutter, which is operated on the standard 220V input power. You have to spend approx. $200 to acquire this machine, which does wonderful metal cutting jobs. For the best cutting results, the DC air plasma cutter is based on the famous IGBT inverter technology.
While reading the product description, I found it is tagged as a high-efficiency and energy-saving plasma cutter, which is true. Well, duty cycle and cutting thickness can be the major factors. Impressively, this plasma-cutting machine delivers a nice cut on up to 1/2-inch thick metals.
Because, the Hitbox plasma cutter uses a leading IGBT inverter mechanism, it is influential in many aspects. These aspects are longer duty cycle, half-inch cutting thickness and the leading IGBT technology. In fact, the IGBT inverter technology is very helpful for reducing overall weight, delivering stable cutting performance and saving energy.
Solidly designed for numerous applications
Firstly, the 220V plasma cutter is a portable unit because it comes with an easy-carrying handle. Secondly, because of the portability, the machine is suitable for do-it-yourself and common maintenance cutting works. Which means, you can perfectly deploy this powerful cutting tool on a workshop or home DIYs. Finally, you can use the Hitbox plasma cutter to deliver an accurate cut on metals such as steel, copper, iron, alloy and many others.
Moreover, only strong materials have been used to make this Hitbox cutting equipment. Because, heavy-duty materials used, the machine is capable to grant reliability and longevity. Additionally, the 220V air plasma cutter is very protective because it has an electro circuit to protect from over-voltage, over-current and low-power supply.
Pros
Electro circuit for protection
Wider applications
Heavy-duty material construction
Energy saver
High efficiency
Low price
Cons
Cheap air regulator
You need extra tips.
To summarize, the Hitbox 220V plasma cutter is strongly recommended to buy because it comes with several pluses in a small price. You can't ignore its half-inch clean cutting capability, the powerful inverter technology and wider applications. The portable plasma cutter also has some negatives but these negatives can be ignored. Because, we are paying a low amount to buy this unit, we should expect accordingly.
HITBOX 50 Amp IGBT Plasma Cutter, HBC5500 Air Inverter Plasma Cutting Machine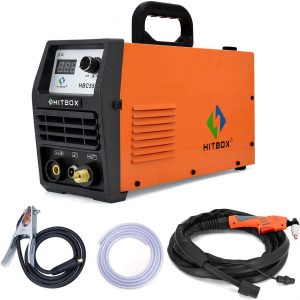 The Hitbox 50amp plasma cutter is the next cutting tool in the best Hitbox welders review. Well, there are many pluses for which, the inverter-technology plasma cutter is being recommended here. Apart from the leading IGBT inverter technology, the high power metal cutter is portable and comes with an LCD display. It also has good protection attributes because it uses an electric circuit to safeguard the unit from insufficient voltage and over/under output current.
Because, the Hitbox HBC5500 plasma cutter delivers 50Amp output current, it is the best suitable unit to cut a host of metals. You can comfortably cut metals such as mild steel, stainless steel, carbon steel, aluminum, alloy and several others with the greatest level of precision. The high-grade plasma cutter is well suitable for automotive, maintenance, manufacturing, repair and jobsite.
Pros
IGBT inverter based plasma cutter
Energy-saving capability
Electric circuit for the utmost protection from voltage fluctuation
One-year warranty
Lightweight and portable
Up to half-inch cutting capability
Cons
Instruction manual is not helpful.
Low-quality plug
Not good for heavy-duty uses
In short, the 50Amp plasma cutter is an average performance unit. It is suitable for light-to-medium cutting tasks. In case, you need a plasma cutter for the commercial use, this is not the right product for you. Additionally, the Hitbox plasma cutter has both pluses and minuses, please give some time for reading reviews on the largest selling platforms such as Amazon before buying it.
HITBOX MIG Welder (180A 220V Gas and Gasless Inverter Welding Machine)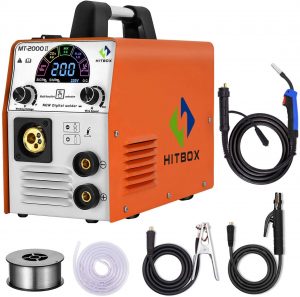 For a modest price, if you like Hitbox welders, you can check this Hitbox 180A MIG welder. This is an average performance welder, which can be purchased at an affordable price. For an economical relief, this Hitbox welder is being recommended because it boasts many capabilities, which seem rare in a budget welder.
Well, Hitbox has a great proficiency for making gas and gasless welder. This 220V MIG welder is also a gas and gasless welder that grants a stable 180Amp welding current. Apart from the remarkable amperage, the multi-process welder has MIG, Arc and Lift TIG welding processes. You can say, it is a 3-in-1 welder that is also a budget friendly unit.
Excitingly, the DC inverter welder has a handy design, which facilitates effortless carrying with the help of an integrated handle. Additionally, this is not only a portable Hitbox welder, but also a low-weight welder for the easy handling. At the end, the multi-function welder comes included with important accessories and one-year warranty.
Pros
Little lightweight welder
Gas or gasless welding feature
Multiple functionalities (MIG/TIG/Arc)
Good for both beginners and professionals
Budget friendly
Cons
It uses just 2lb wire spool.
No wire-speed adjustment
Considering the pros and cons, the Hitbox multi-function welder is an average quality welder. All the highlights are mentioned in the pros list. Because, you will be paying a low-price to acquire this machine, you should expect accordingly. It also comes with some cons such as just 2lb wire spool, no wire-speed adjustment, which don't have much weightage; they can be ignored either.
Conclusion
To sum-up, I tried finding the best Hitbox welders and plasma cutters mentioned above. I focused on including varieties so I have included all types of welders and two plasma cutters. If you have seen all the above mentioned products, you would have noticed that the are combination of a host of welding machines. You can easily find a Hitbox welder for beginners, professionals, DIYs and heavy-duty welding tasks. Additionally, each welding machine have their unique pros and cons that are mentioned with each machine.