VEVOR Welding Extension Cord has 50 feet length. It is a high quality welding cord that has the capacity of 30A current.
The extension cord has 0.04 inch insulation thickness. This high quality Vevor welding cord is made for outdoor and indoor use. You can easily use it with any welding machines. It is also water and abrasion resistant.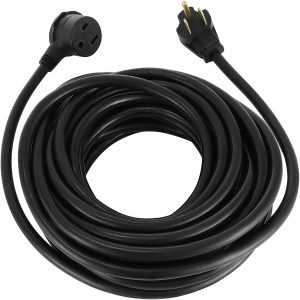 Heavy Duty
This product is a heavy-duty welder extension cord. The STW jacket is also good for the heavy-duty use. It is 50 feet long and approved from ETL. Only high quality materials have been used to make this welder extension cord, that makes it solid and performance oriented.  It is designed very well for the heavy-duty use. The extension cable is very easy to roll up, good for storage and portable use. The welder cord is also corrosion resistant for a long time use.
Compatibility
It is well compatible with most welding machines. Undoubtedly, you can use this extension cable with welders from top brands like Miller, Lincoln, Hobart and Century MIG welders.
Well, compatibility is the main thing to consider before buying a welder cable. This Vevor brand has no issues in regards to working with any type of welders that match the voltage for which the extension cable is made.
Specifications
50 feet cable length
NEMA 6-50 plug type
250V rated voltage
68°F to 140°F operating temperature
10AWG wire gauge
The Vevor welder extension cord comes with the good specifications. Please check the list of specifications above. These specifications are directly related to its performance, fitting capability, ease of use and flexibility with the voltage requirements.
Pros
Safer and cheaper without compromising the performance and ease-of-use
This is an ETL approved product.
Very flexible cable
Heavy-duty, tough outer jacket
Built with quality
Easy to roll up
The product has received good 5-star ratings from most of the customers on Amazon.com
50 feet long cable is very impressive in a small price; it is a win-win deal!
Cons
The product has received a complaint regard miss-information in the product description (According to a customer on Amazon.com, it is not 600V STW cord as mentioned in the description; this is made with 300V SJT cord).
Please note that it doesn't come with a lighted end.
Some customers say that this is not for 250-amp welding, but good for average home projects.
Conclusion
To conclude, this Vevor welder cable is a highly rated cable. It has many happy customers on the market. This welder cord is recommendable to buy because it is a good extension cable according to many factors such as price, ease-of-use, flexibility, heavy-duty capability, length and many others.
You can read more reviews on this Vevor extension cable on Amazon, where you will be able to find too many 5-star ratings. On the downside, it doesn't come with a lighted end and some customers say that this not good for 250-amp welding. However, from the reviews of many customers, it is well compatible with most welders on the market. It is very flexible to use also.

Video – How to Make Your Own Welding Leads and Cable Extensions