Miady 25ft 50AMP Welding Cord is rated at 50A, 250V current. This is a 25 feet long welding cord, which is also resistant to moisture, oil and abrasion. This product comes with the utmost flexibility for the fitting to extend the welding machine.
The Miady 8-gauge extension cord is made keeping the utmost safety in mind. This is a high quality product that has clear lighted end receptacles that provide a power indicator.
This is a heavy duty product because it features an STW jacket, 8 AWG, 3C all-copper wires with 6-50 NEMA plug and connector, which is perfect for heavy duty performance.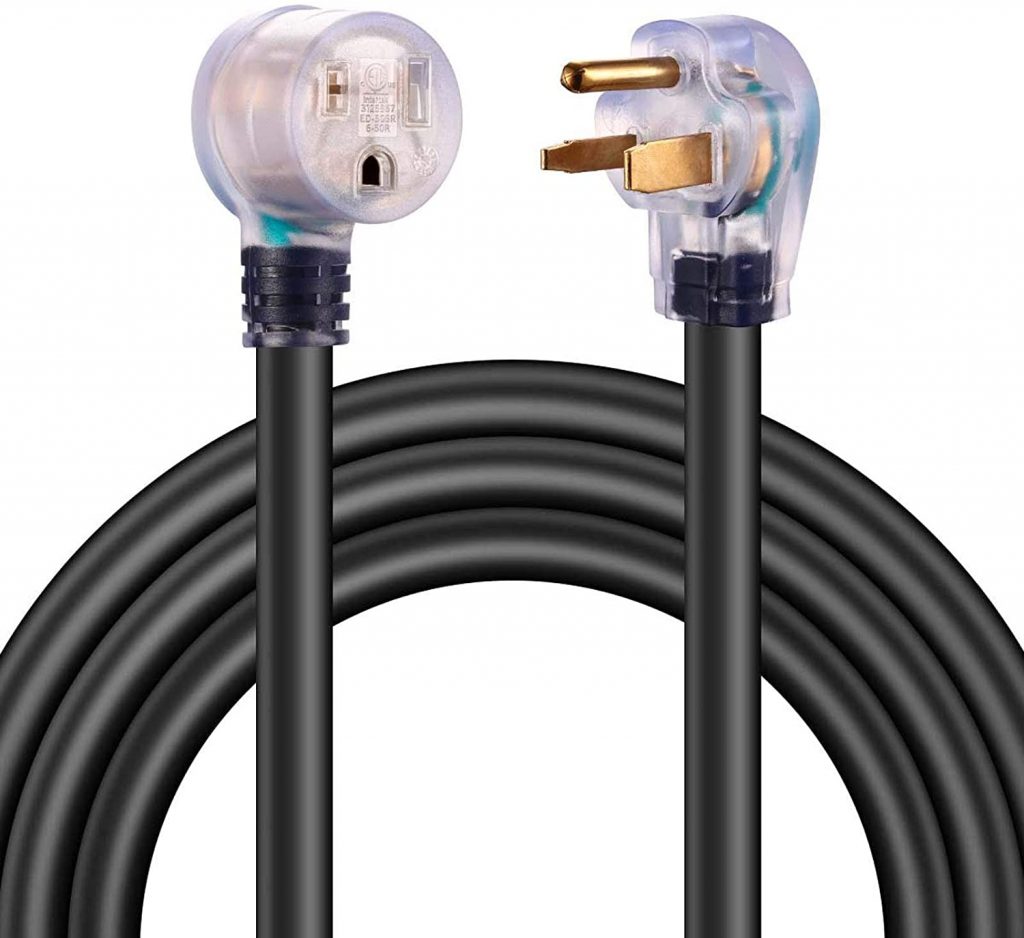 Miady 25 feet 50-amp welding cord is perfect for heavy duty industrial use and compatible with most welders on market. You can easily use it with welding machines from top brands such as Miller, Lincoln, Hobart etc.
Specifications
ETL certification
50A 6-50P plug
50A 6-50R receptacle female
8/3 American wire gauge
250V input voltage
25 feet lengths
Compatibility
Miady 25ft 50AMP Welder Extension Cord is made for industrial use and compatible with most welders on the markets. This is a highly rated product in regards to the compatibility. The product is also made keeping safety in the mind. In addition, this is a strong extension cord, which has 8-gauge awg x 3c wire, an STW jacket and 6-50 NEMA plug and connector.
Highlights
The Maidy welder extension-cord comes with lighted end. It is flexible for the fitting and a good source to extend the welder. Additionally, the cord has impressive resistance capability, which can resist from oil, abrasion and moisture.
The combination of an STW jacket, 8 x 3C copper wires, 6-50 NEMA plug and connector is perfect for good performance and can be good for any welders. Since it comes with a lighted end so it is good to show power is on or not.
Length – the Maidy extension cord is longer enough to move your welder around the working areas for the greatest welding convenience.
Pros
A decent price extension cord (the Maidy 25ft welder extension cord is a low price product with high quality)
It features a lighted end, which works as a power indicator.
Heavy Duty Capacity
Good for 240V 50-amp stuffs with many welders and plasma cutters
The product has received impressive reviews from its customers on Amazon and other shopping websites.
The extension cord can also work with an RV with 50-amp service.
Cons
Some customers at Amazon complained that the female end comes with some fitting issues.
Conclusion
To conclude, the 8-gauge heavy-duty extension cable is a good priced product. The same quality extension cord will cost 2X more than it costs. Further, the Miady extension cord has received good appreciations from the existing customers, which you will be able to see on any shopping websites including Amazon.com. This welder NEMA 6-50 cord has just one complaint related the female end. Other than this, you will not find any other problems. The female end problem may also be corrected by the manufacturer.