ALEKO Heavy Duty Welder Extension Cord is an ETL listed product. It provides good flexibility to extend your welder reach. The welder cable can be a great tool to get some extra length for the heavy-duty equipment. More importantly, the corrosion resistant cable is made specially for welders and other industrial use. This ETL listed welder extension cord is durable, easy to store and transport when not in use.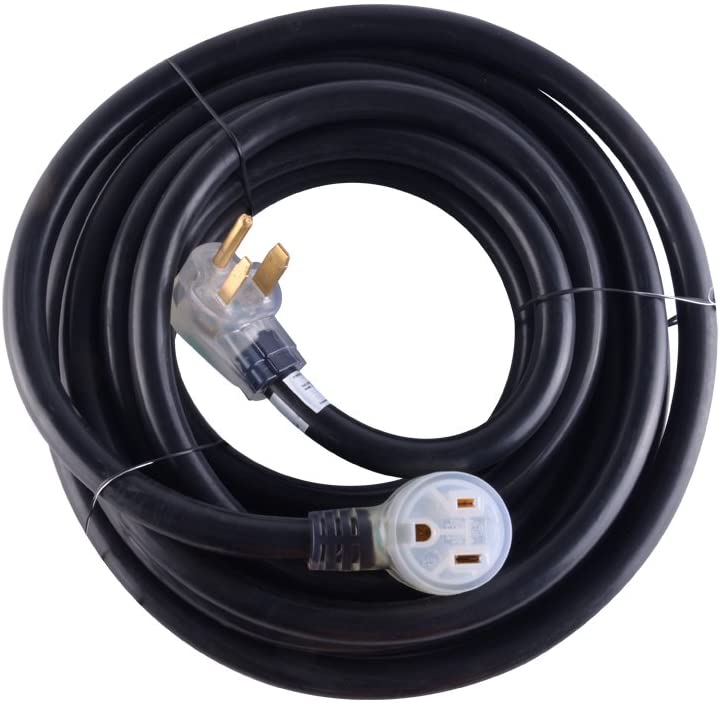 Specifications:
8AWG, 50A, 250VAC, 60Hz.
3-prong
50 feet long
8-gauge cord with STW jacket
A lighted receptacle to indicate power
Features
Aleko heavy-duty extension cord has all the features, which are good for performance, compatibility and flexibility. The 25-feet welder cable has an STW jacket, corrosion resistance capability, an ETL approval, 3 prong cord with 3-prong socket and the 8-gauge cord.
More importantly, the Aleko welder cord is a low-price product that comes with impressive quality. The same quality and same feature welder cable will cost 2X more than its price. Additionally, the heavy-duty extension cord is made tough using the highest quality materials.  This cord is very easy to handle, roll up and storage.
Lighted End – the welder coble comes with a lighted end, which is a good power indicator.
Usage – the extension cord can be used for indoor or outdoor applications, heavy-duty welders because it is a flexible, performance-oriented and easy-to-handle welder cable.
FAQ
Can I use this welder extension cord with any welder?
Answer – if the prongs in the picture match your welder's plug, it is well compatible with that welder.
The ground prong hole is very tight, is this normal?
Answer – yes, most users experience the same. It is normal. You may use a screwdriver to remove the welding plug as well.
What is the diameter of the Eleko welder extension cord?
Answer – it is approx. 0.75 inch, the cord diameter is a little smaller than 0.75-inch.
Can I use this welder extension cord for the outdoor usage?
Answer – yes, you can use this cord for indoor or outdoor applications. It is a heavy-duty corrosion resistant cable.
Pros
Many customers say that it is a long and heavy-duty cable, which is good for AC/DC TIG welder and CNC plasma cutting table.
According to many customers at Amazon.com that buying the extension cable means saving 100s of dollars.
Low price and high quality
It is good for up to 240V service.
A heavy-duty cable with molded plugs is good to weld all around the shop or the work place.
Cons
The product has received some complaints regarding the power indicator doesn't work.
Some customers complain that the male-end is very tight to plug or unplug.
Conclusion
The Aleko 50-amp 220V extension cable is built heavily for the heavy-duty applications. The extension cable is good for many factors such as price, flexibility, performance, compatibility and wider voltage coverage.
However, the Aleko welder extension cable has received some complaints too. Well, these complaints can be ignored depending on the situations. It has received complaints from few customers that the male end of this extension cable is very tight. Therefore, some customers face difficulties plugging and unplugging this cable. Other than this, the product is good from all the aspects.
The heavy-duty extension cable is well compatible with most of the welders, plasma cutters and other machines. Additionally, this is a cheap product, which has good quality. Therefore, the product is highly recommended to buy.
Video – How to Do Arc Welding in an Easy Way