Most of the Forney welders in Easy Weld series are powerful in many aspects such as low-price, easy settings, powerful amperage and many others. For a good look, Forney welders come in a green color that gives an attractive look. In fact, the green color has become a recognition sign for Forney welding machines.
To let you know of Forney plasma cutter also, I have also included a plasma cutter, which also falls in the Easy Weld series. At the end, you well be able to read about the Forney plasma cutter, which is a powerful unit and comes with various advanced features.
At a Glance
Image
Product
Features
Our Rating

Forney Easy Weld 261

Infinite voltage control
Up to 140A output
Lightweight, just 19lbs
Rugged metal case

4.5

Forney Easy Weld 140 MP

3-in-1 Multiprocess welder
Wire feed speed control
140A output
1-year warranty

4.7

Forney Easy Weld 298

90-amp output
1/8-inch rod capability
TIG welding capable
Inverter power system

4.4

Forney 291 Easy Weld 180 ST

120/230V (dual voltage)
DC stick & TIG welding
Sturdy metal exterior
Portable unit weighs 14lbs

4.5

Forney Easy Weld 251

120V input power
Clean cut capability
Generator friendly
Built-in regulator

4.6
 Forney Easy Weld 261, 140 FC-i MIG Welder, 120V, Green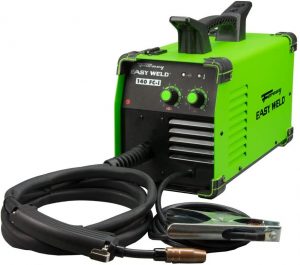 At the first position, Forney Easy Weld 261 has been selected because it comes at a low price and delivers 140-amp output. For MIG welding, you can check this 120V Forney welder, which is good from most of the sides. The portable welder delivers up to 140-amp output current and comes with most of the accessories.
Strong Metal Body
It has rugged metal case for the heavy-duty uses. Since it is solid enough from outside, you can easily move it without any fears of damages. Such strong and portable welder is good for the daily welding use. Additionally, the Forney welder can accept 2-pound and 10-pound wire rolls.
Portability
The portable welder weighs less than 20 lbs, is very useful for carrying, moving. Undoubtedly, you can use the Forney Easy Weld 261 MIG welder for DIY, repair workshop, metal welding and many other small welding projects. Since it operates on 120V input power, may not be very good to work with large welding projects.
Specifications of Forney Easy Weld 261
Dimensions: 16.75-inch, 8.12-inch, 12-inch
Weight: 19lbs
Flux-core welding only
Torch-wrap feature
Infinite voltage control
Wire-feed speed control
140-amp welding output
120V input current
.030, 0.35-inch wire capability
30% duty cycle at 90A
According to the specifications, the 19lbs weight and 16.75 X 8.12 X 12 inches dimensions make it a compact and lightweight welder. Amazingly, the little Forney welder comes with good flux-core welding capability because it delivers 140A welding current.
The Package Includes
MIG gun (8 feet)
Ground clamp (8 feet)
Built-in handle with embedded torch
20A-15A adapter
1-year warranty
The above listed items come with the purchase. You can see; all the required tools like MIG gun, ground clamp and adapter come included with the welder. However, you may have to buy some items separately, which are not included with this package. You have to buy contact tips, welding nozzles, diffuser, flux core wire, nozzle gel and spray.
Pros
Lightweight (19lbs weight)
140-amp welding output
Perfect for handy use
Foot pedal control
Beginner friendly
Great for lightweight welding
Good price
Cons
Not for heavy requirements
120V input power only
A little hard to set
Slow wire feed speed
To conclude, Forney Easy Weld 261 140 FC-i MIG Welder is a lightweight unit that has been highly rated on the positive side. From its users, the welder has received impressive reviews on various shopping places. For a new user, Forney Easy Weld is a good unit because a new user can easily operate it.  To get nice weld on various metals, it features foot pedal control, which can be very useful to get the desired outcome. Read more…
Forney Easy Weld 140 MP, Multi-Process Welder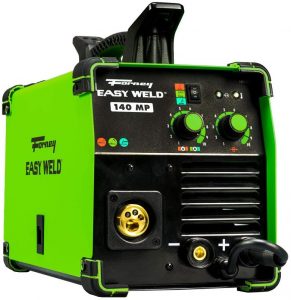 After Forney Easy Weld 261, I have selected Forney Easy Weld 140 Multi-process Welder. This welding machine is also includable in the top Forney welder reviews. In case, you are looking to buy a Forney multi-process welder, Easy Weld 140 is the best welder to buy.
Because, it is made for multiple welding processes, you can undoubtedly use this Forney welder for MIG, TIG and Stick welding processes. The machine not only comes with a multi-process capability, but also comes well covered in a sturdy body, which is good to work with 2- and 10-pound wire rolls.
To control voltage, the Forney multi-process welder features an infinite voltage control, which becomes a good assistant for the nice welding outcome. Also, it features a wire feed speed control, which is good to achieve high weld quality.
MIG, TIG, Stick Welding Capability
MIG welding – the unit is capable to deliver up to 140-amp welding power, which is good to handle 1/4-inch mild steel in one pass. By default, the multi-process welder is set up to perform flux-core welding and it is very easy to switch to run mild steel with gas setup.
DC TIG – because it is a multi-process unit, it comes with the capability of DC TIG welding. To perform DC TIG welding, you have to buy the required accessories like a compatible torch, regulator, hose, electrodes and gas.
Stick – since the Forney multi-process welder comes included with a stinger and a ground clamp, it can easily perform stick welding. It can handle up to 1/8-inch electrodes.
In case, you need to handle welding tasks that require a multi-process welder, you must go with this affordable Forney welder. All the processes have been explained above, which will make it easy to understand what the machine offers. You can see; all the components are there for the multi-process use. However, you have to buy some components separately to perform the TIG welding process.
Pros
Smooth beads
Multiple welding process
Portable
Low price
It can weld up to 1/4-inch metals.
Gas or gasless
Cons
Difficult for aluminum TIG welding
120V input power only
Regulator and hose not included
In short, this is an average performance multi-process welder, which is one of the good Forney welders. Because, it works on only 120V input power, it is not suitable for large welding projects. In case, you are looking to buy a multi-process welding machine in a low price, this can be a good buy. However, it comes with some limitations like those that difficulty for aluminum TIG welding, not good for heavy projects, some accessories are not included and many others. Read more…
Forney Easy Weld 298 Arc Welder 100ST, 120-Volt, 90-Amp,Green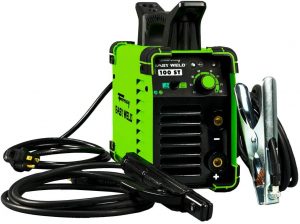 For a lightweight welding project, Forney Easy Weld 298 is a good welder. In fact, the portable welder is good from many aspects like low-price, lightweight and nice weld. Because, it is a lightweight and portable welder, it is very easy to take anywhere you go. Additionally, the 100ST 120-volt welder is based on an EasyStart technology, which delivers improved arc performance.
Moreover, the Forney welder is based on an inverter power system, which results in high performance and easy operation. The 120V inverter welder delivers 90A welding output, and it is intelligently made to handle up to 1/8-inch electrodes. The portable Forney welder can be used for automotive, household and other welding projects. Amazingly, it comes with the TIG welding capability also. However, you need to buy some accessories to perform the TIG welding.
Pros
Smooth arc
Good price
Perfect for small jobs
Portable
Perfect for learners
Cons
Not good for big projects
TIG components not included
To conclude, Forney Easy Weld 298 Arc Welder 100ST is good for learners and lightweight works. This Forney welder is not recommended for heavy welding requirements. In case, you want to perform TIG welding, you have to buy the required components separately. The Forney arc welder delivers smooth arc and it comes at a super low price.
Forney 291 Easy Weld 180 ST 120V/230 V Welder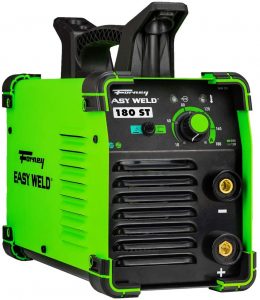 For stick and TIG welding, Forney 291 Easy Weld 180ST is a good welder because it does for what it is made. This machine is recommended to buy for TIG/Stick welding because it comes with many positives. Firstly, it is a TIG/Stick capable welder. Secondly, the Forney welding machine is made in a lightweight profile that facilitates easy handling and carrying. Finally, the generator friendly machine gives you the flexibility to weld anywhere you go.
The small-size welder is good for the large-size performance. Because, it is naturally a powerful Forney welding machine, you will be able to weld up to 1/2-inch mild steel at the full 180A output. Apart from the powerful nature, the machine is durable because it comes with an all-metal case.
Additionally, this is a dual voltage Forney welder, which means it can be used for various applications. Forney Easy Weld 291 can easily be used in a garage, shop and backyard.
Included Accessories
230V – 120V adapter
8 feet ground clamp and cable
8 feet electrode holder and clamp
6 feet power cord
With the above accessories, you can start welding instantly. You don't have to spend much time in setting up the machine because it is very easy to setup. You can check the accessory list that contains all cables and adapter for all your welding convenience.
Pros
Compact & straightforward unit
Good to handle heavier materials
Long duty cycle
Stable welding current
Portable, small-size unit
Cons
Some accessories are not included.
Generator friendly
Based on the pros and cons, I can say all the advantages are related to its overall performance. In case, you need to work mostly on large welding projects, Forney 291 Easy Weld 180ST is the best welder for you. However, you need to buy some accessories such as chipping hammer, gloves, which are not included with the package.
Forney Easy Weld 251 20 P Plasma Cutter, Green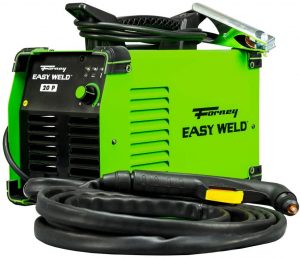 In case, you are looking to buy a lightweight plasma cutter, please check Forney Easy Weld 251 20P plasma cutter, which comes with many positives. Firstly, this is a low price and powerful plasma cutter, which is also from the reputed Forney brand. Secondly, it is based on the powerful Drag Torch Technology, which is very helpful in getting precise cuts. You are able to get smooth and precise cuts because the tip is dragged onto the surface of the material. Lastly and more importantly, Forney Easy Weld 251 is a generator friendly machine, which can be connected with a widely used 120V outlet.
For cutting numerous metals, Forney Easy Weld Plasma Cutter is very powerful. Of course, you can cleanly cut various metals such as mild steel, stainless steel, galvanized steel, aluminum, brass, copper and many other metals up to 1/4-inch size. With the versatility, the plasma cutter is very useful for farm, auto body, ranch contractor, DIY, metal art and many others.
Pros
Easy to use
Clean cut
Good for learners
Portable
Generator friendly
Low price
Cons
Hard to cut thicker than 3/16
Short extension cord
To conclude, you get high cutting performance from this Forney plasma cutter in a low price. According to the pros and cons, the machine is good for cutting various metals cleanly. However, you would face a little hard time cutting thicker than 3/16-inch material.
Conclusion
Best 5 Forney welders including a plasma cutter have been reviewed with their features, advantages and disadvantages. While writing the review, I found many common factors in the Forney welders. These factors are: low price, green color exterior, portability and impressive ratings on various shopping websites.
In this Forney welder review, you can find both double-voltage and single-voltage welders. Each welding machine comes with its own pros and cons. Please look at the listed pros and cons to get an overview of the product. By just checking pros and cons, you will be able to take your buying decision.