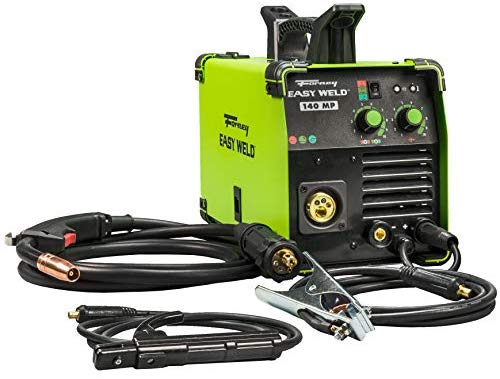 Forney Easy Weld 140 MP, Multi-Process Welder comes with many features for the ease of welding. This multi-function welder comes with impressive control capability and it is a rugged welder without any doubts.
This Forney easy-weld 140 MP welder provides easy switches among MIG welding, DC TIG and Stick welding. This is a sturdy welding machine that carries all-metal case and metal wire drive assembly. And it is a large-capability welder to handle 2 and 10 pound rolls of wire. It also features infinite voltage and wire feed speed controls for the ease of welding.
Forney Easy Weld 140 MP, Multi-Process Welder comes included with 10 inches MIG gun, 8 inches electrode holder, 8 inches ground clamp, integrated handle with torch wrap, 20A to 15A adapter and one additional 0.30 inch contact tip.
This machine is solidly built with a metal case and metal wire assembly. This 3-in-1 Forney welder is good for the easy switches from MIG to DC TIG to Stick welding processes.
This is a powerful machine to handle heavy workload. An impressive sped control capability is also available in this Forney multi process welder for the welding perfection and accuracy. The unit allows you to use either gas or gasless wire up to 0.035 and 1/8 inch stick electrodes.
Additional Features
10 inches MIG gun
Built-in handle with torch wrap
8-inch ground clamp
Electrode holder
20A – 15A adapter
Additional .030-inch contact tip
Up to 1/4-inch plate thickness range
With the above-mentioned features, multi-process welding will be very easy. You can use the 8-inch electrode holder and ground clamp for the greatest welding convenience. The 3-in-1 welder also has an additional .030-inch contact tip for the welding simplification.
Pros
All the welding accessories you get are of good quality and well made.
Many users say that they are happy with the result the unit delivers.
For many users, this Forney Easy Weld welder is good for the price they paid.
Since it is a multi-process welder, you can use this machine on plenty of welding projects. Which means the machine opens the door for a wide range of welding applications.
Forney multi-process welder comes with both positives and negatives. Many users are happy with the capability the machine comes with. Many users at Amazon say that they got all the welding accessories with the purchase. Many users are happy with the welding performance the machine offers. However, before you buy the machine, please check the cons also.
Cons
Forney Easy Weld 140 MP welder is a DC output unit only. This means you will not be able to TIG weld aluminum.
This unit can't be operated on 240V power supply, only 120V input power.
The welder cannot be helpful for the spattering.
Forney Easy Weld welder doesn't come with a gas hose or regulator.
It isn't good with 1/8 rods; it works with 3/32 rods for light duty repairs.
Some users complain that they had to buy contact tip for the MIG welding.
According to some users on Amazon, the setup is complicated.
There are too many disadvantages attached with this multi-function welding machine. So many doubts arise before taking the buying decision. Users at Amazon have posted their reviews, so to take the buying decision; you need to read all the reviews posted on Amazon. The machine has problems related to welding capability, setup, accessories, voltage etc.
Conclusion
To conclude, this is an average performance multi-purpose welding machines. It is neither the best nor the worst. You get what you paid for. Forney Easy Weld multi-function welder has too many features. However, it has received too many complaints on Amazon regarding the capability, accessories and setup. Since this unit has too many above listed cons, I can't directly recommend to buy this machine. What is above mentioned is according to research. Please make your own research before taking your buying decision.
Video – Welding with the Forney Easy Weld 140