Hobart is a leading manufacturer of welding and cutting equipment. It produces industrial grade welders and cutting machines with 5/3/1 industrial warranty. Hobart welders and cutters are used in many industries such as maintenance, auto repair, farming, fabrication and many others. Also, their customer service is very good. You can easily contact Hobart if you get any problems in your products.
The model numbers selected in the top Hobart welders reviews are: 500559, 500554, 500570, 500551 and 500573.
The Best 5 Hobart welders are:
Hobart 500559 Handler 140 MIG Welder 115V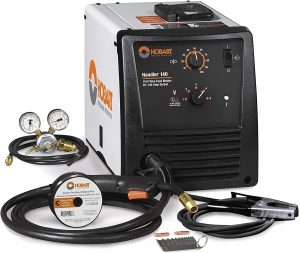 The Hobart Handler 140 MIG welder features an advanced voltage control selector, which has 5 levels. And so, it is capable to give smooth, stable arc to handle all welding thicknesses.
It supports good welding amperage, which ranges from 25 to 140 AMPs. You get 20% duty cycle @ 90 Amps. This 500559 model is good for MIG and Flux Cored welding processes.
This Hobart welder is very versatile, which is good for many applications such as household, DIY, farm projects etc. It comes with a 5-position voltage control selector letting you fine tune your arc at your desired level. You will surely experience smooth and stable performance from this welding machine.
Hobart 500554 Handler 190 MIG Welder 230V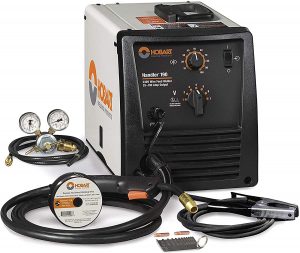 Hobart 500554 Handler 190 MIG Welder is also included in the top Hobart welder reviews. Because it is a feature-rich welder that is also good from the performance angle.
This Hobart welder can greatly handle thicker mild steel because it runs on 230V. It supports 25 to 190 Amps where duty cycle is 30% at 130 Amps.
Handler 190 has 7 voltage selection options with good wire feed speed control, which is very helpful in fine controlling the output parameters. And so, it is capable to offer improved arc performance with less spatter. It also lets you reference the initial settings for many things such as gases, materials, thickness and different wires.
If you are looking to buy a portable welder, this Hobart Handler is perfect for you. Because it is a great MIG and Flux core welder to weld flux core steel, mild steel, aluminum and stainless steel as well.
It comes with good operating capabilities that allow you to weld 24 ga. to 5/16 inch steel in a single pass.
Hobart 500570 Stickmate 160i Welder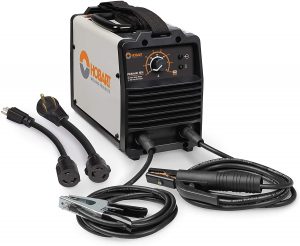 Another good Hobart welder is selected in the top Hobart welder reviews, which is Hobart 500570 Stickmate 160i. This is a reliable performance welder, which comes in a portable size letting you carry and store very easily. Because it weighs less than 20 LBs. And it comes included with associative tools such as a 10 feet cable with holder, a 10 feet cable with clamp and 6.5 feet power cord with MVP adapters for 120V and 240V.
Other good thing about the Stickmate welder is the hot-start technology. Yes, it is powered by hot-start technology that lets you experience easy and reliable starts. And it delivers approx. 160A output, welds 5/32-inch mild steel. The input power supported is 120/240.
Hobart 500551 EZ-TIG 165i AC/DC TIG Welder 230V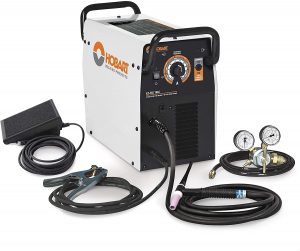 The top Hobart welder reviews also include Hobart 500551 EZ-TIG welder. This is an AC/DC TIG welder that requires 230V input power. The best thing about this EZ-TIG welder is the easy-to-use interface. You just need to connect this welder with the power outlet, choose the material and set the thickness.
It handles 22.00 ga. 3/16 inches material thickness. And the amperage is 10A min and 165A max.
Also, the EZ-TIG welder is supported with an HF start technology, which is good for a non-contact arc start. This way, it is capable to get rid of tungsten and material contamination.
This welder is also equipped with an infinite amperage control, which is good for extensive operating range with fine control. And it features Fan-On-Demand, which means the fan runs automatically to get rid of dust and debris.
Hobart Handler 125 Welder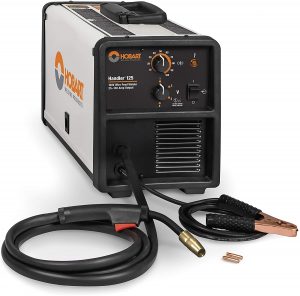 Hobart Handler 125 is also a popular welder that comes with impressive welding capability. Some top features are 4 output voltage settings, 25 to 130 Amps, built-in contractor and durable feed head.
The Hobart Handler 125 welder has an extensive output amperage range, which is 25 AMP min and 130 AMP max. The amperage range is good to weld up to 1/8-inch steel with flux cored wire.
It comes with an integrated contractor which provides the ease-of-use and adds an additional safety level. Yes, it is safer than other welders, because it makes the wire electrically very cold until gun trigger is pulled. And please don't forget the sturdy feed head. The feed head features fast-release drive roll tension lever.