Hobart Handler 125 offers impressive output range from 25A to 130A. So it is capable to weld up to 1/8-inch steel with flux-cored wire. It has factory-installed gas solenoid that makes it easy to change from flux-cored wire to MIG welding. The portable welder also comes with integrated contactor for the ease of use and safety. Consequently, it makes wire electrically very cold until gun-trigger is pulled.
Impressively, Hobart Handler 125 welder comes with 4 x output voltage settings. So it is capable to provide a broad operating window for each wire with quick and easy adjustment for different thickness and joints.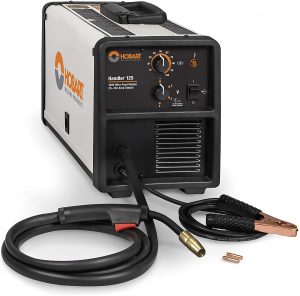 Included components
The portable Hobart welder comes with an 8-ft H100F2-8 gun with liner to handle .030-.035 inch diameter wires.
A power cord with a built-in plug
Contact tips
The owner manual comes with all the guidelines to operate this machine successfully.
A chart for setting-up the weld
The Hobart wire-feed welder comes with all the components, which provide great convenience for the welding. You can see the above-mentioned list of components. The list contains a wire cable, an owner manual and an 8-ft gun.
Pros
This is a good welder for the price. It can weld thicker material.
The welder delivers good welding performance.
Hobart Handler 125 welder allows easy selection of speed of the wire and metal thickness.
It can handle up to 1/8-inch material thickness.
Four output voltage settings for the wider welding flexibility
Cons
The provided ground clamp is of low quality. It is suggested to buy a better quality ground clamp.
Not consistent with the plastic wire feed system
The Manufacturer
Hobart has decades of experience in producing industrial machines. It has been on the market since 1917. The company is not only dedicated to manufacturing, but also designing and testing a wide range of welding and cutting products. All the products from Hobart are with industrial standards.
The Hobart products are very popular in many industries such as farming, maintenance, repair, workshop, DIY and many other metal related works. Buying a Hobart product means buying a quality product at the best price.
Recently, Hobart introduced many new products such as welding accessories, welding helmets, rod and wire, hardware and many other tools. Which means you can be able to buy anything you want for industrial use.
FAQ
Is Hobart Handler 125 gas or gasless welder?
Answer: this unit can be used with or without shielding gas.
Is it 110V or 220V welder?
Answer: the Hobart Handler 125 runs on 110V normal input power.
Can the unit use #10 spool of wire?
Answer: yes, the spool hub assembly works with 4-inch or 8-inch spools so it can use #10 spool of wire.
What is the main difference between 100 and 125 Hobart Handler models?
Answer: the 125 model is larger than 100 model. The Hobart Handler 125 is capable to do solid wire with gas as well as flux core gasless wire. The100 model can only use flux core gasless wire.
Conclusion
The Hobart Handler 125 welder has scored high on the users' reviews. It is good for the price you pay. The unit covers the output range from 25 to 130 AMP, which is good for wider welding applications.
This machine has received impressive reviews from the existing customers so it is recommendable here to buy. For the peace of mind, please read reviews on Amazon and other shopping websites. You will be able to find most of the reviews in the favor of this unit.
The portable Hobart welder is built durably. Therefore, it is a solid machine from both outside and inside. It comes with four output voltage settings for the broader operating scope. It can handle material thickness up to 1/8-inch steel with flux-cored wire.
Hobart Handler 125 Wire Welder Test