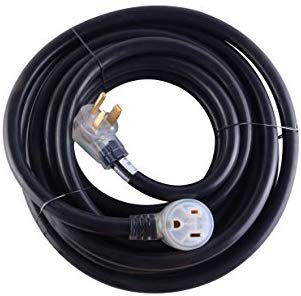 MaxWorks 80703 Heavy Duty 40 Foot Welding Cord
is also available in 20 feet size. It is a good heavy-duty 8 AWG, 3C all-copper wire with 6-50 NEMA plug and connector. This welding cord is made to use with various welding machines.
The current compatibility is 40 Amps at 250 volts. It features a molded 50-amp plug and a connector for added safety. On the other hand, the contractor-grade STW jacket will easily hold up with industrial applications.
Safe and Time Saver
MaxWorks 80703 Lighted Welding Cord is made keeping safety and the best performance in mind. The Nema R Plug welding cord has a neon light at the end, which is to indicate the working status. It also features a high-grade STW jacket insulation for the extra safety.
The MaxWorks welding cord is good to move your welder around the shop and other work stuffs for the added convenience.
Flexibility
This MaxWorks welding cord is flexible to use. This is a heavy 8-gauge 220V extension cord, not a weak 110V cord. You are able to run 2 x 20-amp circuits and 3 x 15-amp circuits. Since the welding cord comes from a reputed brand, so it is made keeping high quality and flexibility in mind.
Precaution
This is a thick and heavy cord, don't use it outside. There are many reasons to save it from water and wet weather conditions.
Pros
Inexpensive compared to the competitors
40 feet long for the flexible use
Many happy customers have been using it for more than one year without any issues.
Thick and well-insulated cable
It nicely fits the standard NEMA 6-50 plug.
Very tight fitting for the connection reliability
Many customers say that this cord has exceeded all the expectations.
The neon light on the connector is also very good to keep you informed about the working status.
The product has received good appreciation for the affordable price it comes in.
Cons
The female end is a little tight according many customers complained on Amazon.
Conclusion
The MaxWorks heavy-duty welding cord is a thick and durable product. The 40 feet welding cord has received good appreciations from its users, so it is recommendable to buy. From the above pros and cons, it seems a high-quality product. From the fitting size, this well insulated cable greatly fits a NEMA 6-50 plug. Amazingly, the price is awesome. You can't find a similar quality welding cord with 40 feet cable in the same price range from other manufacturers. The product has just one disadvantage, which is related to the female end that fits a little tightly. Other than this, you won't find any problems.
How to Replace and Upgrade Welder Cables for under $5.00