Hitbox welders are available in many varieties to choose from. These welding machines come at very low prices so they are able to attract most of the customers. However, I read reviews on these welders and found that the Hitbox welders have received mixed reviews. Since the origin is China, so we should not expect too much.
Since Chinese products are very popular as low-quality products, so this Hitbox welder is also in the same category but with some improvements.
The Hitbox stick welder has dual voltage capability so it can run on 110V or 220V current. This is a an average performance 140-Amp welder that delivers reliable welding performance.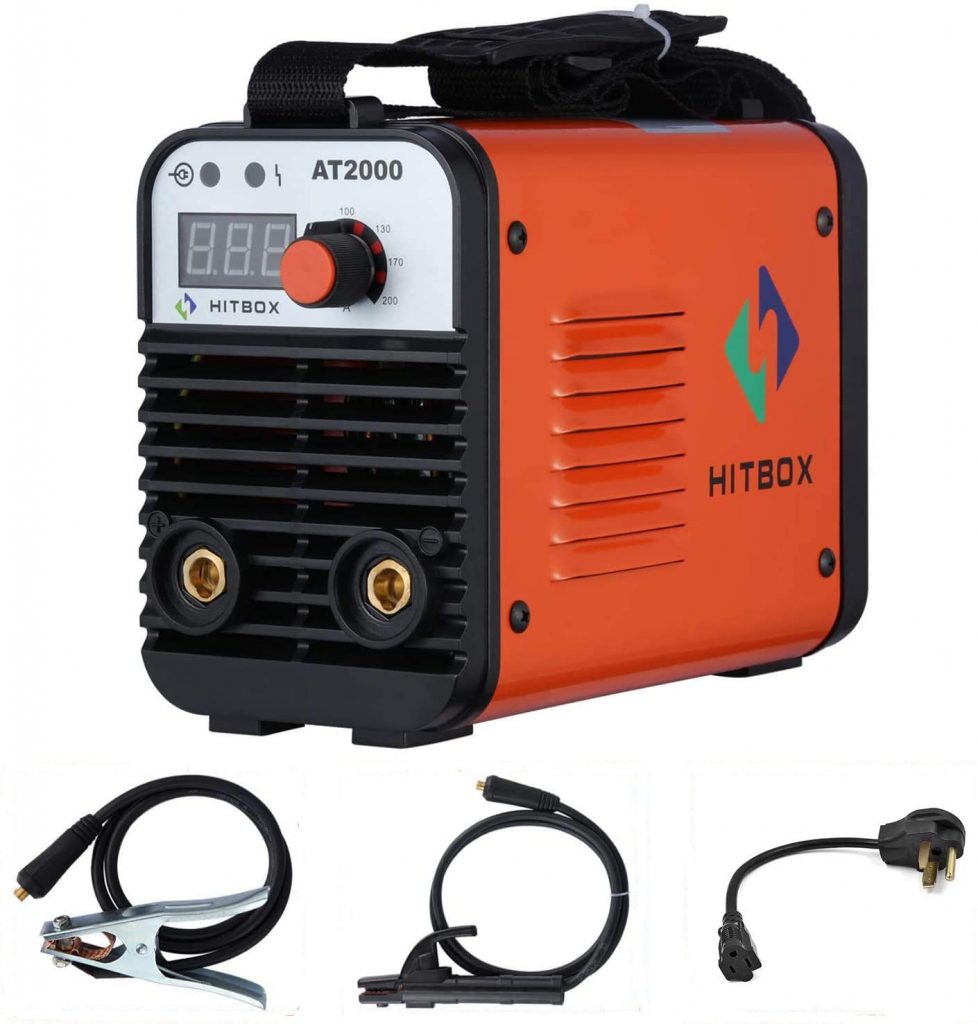 HitBox AT2000 Portable Welder
This portable welder is good for the price you pay. It has received mixed reviews from the existing customers. However, most of the reviews are in the favor of this product. Since it is a low-price welder, so it performs accordingly.
Portability – the Hitbox stick welder is made in a portable design. The shipping weight is 8.33 pounds and the size is 22.44 x 16.54 x 21.26 inches. It also comes with an easy carrying handle, which is good for handling, storage and transportation. This portable welder provides welding convenience because it can easily be carried anywhere you go.
Durability – the dual-voltage welder is built solidly using quality materials. It comes with 60% duty-cycle that increases the unit's life by protecting it.
Features – small size, dual voltage (110V/220V), stick welding process, suitable for indoor decoration, easy-to-start arc, stable current and high welding performance.
FAQ
Is Hitbox AT2000 AC or DC welder?
Answer – This is a DC stick welder.
What is the length of the Welder's lead?
Answer – The lead length is 1.2 meter.
Does this welder come with the 110V plug adapter?
Answer – Yes, the product comes with an 110V adapter and other components.
Does this unit come with a 220V/240V plug?
Answer – The dual-voltage welder comes with a standard 240V plug with an 110V adapter for the household receptacle. Many users are using this machine on this standard adapter happily.
Pros
Small size welder in a portable design
Good for learners because stick welding is easier for learners
This is a good handy welder for the light welding works… it is not made for heavy-duty welding stuffs.
Very low price
According to many users, the AMP-dial is very accurate.
Cons
According to some complaints, the lead clamps and plug are of low quality. Consequently, they had to purchase new ones to use with this machine. Additionally, the other included accessories are also of low quality.
Some customers are not happy with the performance it delivers. They say that it is a Chinese low quality product.
It is not suitable for the heavy-duty use.
Conclusion
The Hitbox dual voltage welder is not suitable for heavy welding processes. Since it is a low-price welder, so it is good for light welding tasks, beginners etc.
The product has received mixed reviews, half of them are positive and others are negatives. I usually don't recommend such products, which have too many disadvantages. Rather I recommend those products, which come with too many advantages.
This Hitbox stick welding machine is not recommended for heavy applications. Additionally, this is a Chinese product, which is proven as a low-quality product. In case, your budget doesn't allow to buy a good welder from the top brands, you can go for it.