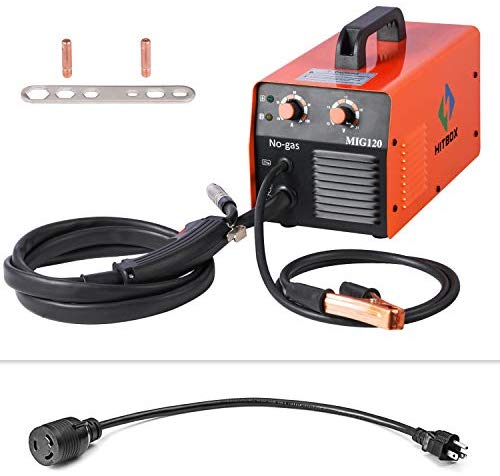 HITBOX MIG welder has great welding features including an easy control panel, 40% duty cycle, overload safety protection, and portable design. This Hitbox welding machine is also protected with one year of warranty for the peace of mind.
With this welding machine, you will be able to perform gas shield arc welding, MMA welding and self-shield arc welding. Further, this Hitbox welder is based on IGBT technology that greatly enhances the reliability of the welding machine.
In addition, it features a closed-loop feedback control, a constant voltage output. The welder can work under network voltage fluctuation with 15% high or low. It has 35-KHz inverter frequency so it can greatly minimize the volume.
Amazingly, a dynamic characteristic control circuit is used in gas shielded arc, stable arc for less splash and efficient welding. And the switching frequency passes audio-range to eliminate noise pollution. This welder by Hitbox is perfect for home, auto repair shop and other welding shop.
The Hitbox welder has an adjustable heat capability to handle carbon steel metal. It has integrated cooling fan, thermal overload protection and a torch with on/off safety control. The inverter welder is also a CE approved unit.
Important specification are: 110V / 120V rated input voltage, no-gas operation, 40% duty cycle, 10-120-amp welding current, 210V max open voltage.
Included components are:
HBM1200 MIG welder
Earth clamp – 1 piece
MIG torch – piece
0.5KG flux cored wire
Product details
IGBT inverter technology
35% duty cycle
220V input voltage
85% efficiency
50/60Hz frequency
1.5-6m per minute feeding speed (adjustment range)
2LB 0.6/0.8mm welding wire diameter
4.6KG net weight
340 x 136 x 248 mm packing dimension
Welding Recommendations
MIG – 0.5 – 6 mm iron and mild steel plate
TIG – 1-4 mm stainless steel plate
ARC – 2.5mm acid electrode
Pros
Dual voltage such as 120V and 240V supported
The portable welder is good for storage and transportation.
This high quality and high performance welder comes at a low price.
Hitbox UW-MIG120JP is a good little welder for beginners and hobbyists.
Cons
The Hitbox welder doesn't come with a setting chart for many metal thickness.
The lead and ground cables are a little shorter.
It lacks an instruction manual.
If you want to weld thicker materials, this Hitbox welder is not for you!
For some users, it didn't work on 120V but worked on 240V.
Conclusion
The Hitbox 3-in-1 welder has multi-process welding capability, which comes at a low price compared to other similar welders on the market. The IGBT inverter technology welder (HBM1200) comes with convenient features such as easy-control panel and impressive welding capabilities. Hitbox welder has 40% duty cycle at 120 AMPs and gives a long lasting performance. The multi-function welder also comes with good safety capability. The welder will automatically turn off, when it gets hot or voltage fluctuation.
Video – Interesting Welding Video, welding thin wall square tube with stick welder