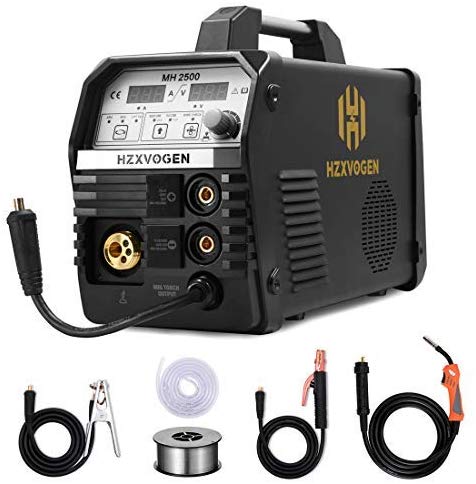 HZXVOGEN MIG Welder is a 220 volt gas or gasless welding machine. This machine is based on IGBT inverter technology to offer the greatest welding ease. Also, this is a 3-in-1
multi-function MIG welding machine
that works with 0.8/1.0 mm flux cored wire.
Does It Weld Aluminum?
Yes, it can weld aluminum as well but you need .035 wire from a small spool and the correct gas mix. You can use the stick option but you need to use proper stick for welding aluminum. First, you need a spool gun. Since it is a multi-process welder, gives you the option to use MIG, TIG and Stick welding processes. While MIG can also be used for aluminum welding but TIG is the better option to weld aluminum.
Features
The TIG/MIG/Stick welding processes are good for many materials like stainless steel, iron and aluminum.
For MIG welding, it has solid flux cored wire.
3-in-1 multiple welding functions such as MIG, TIG and Arc
You require gas for stainless welding and no-gas for iron welding.
The HZXVOGEN 220V welder is a good unit for beginners and professional alike because it comes with an easy-to-operate design.
The machine comes with all the required accessories to start welding instantly.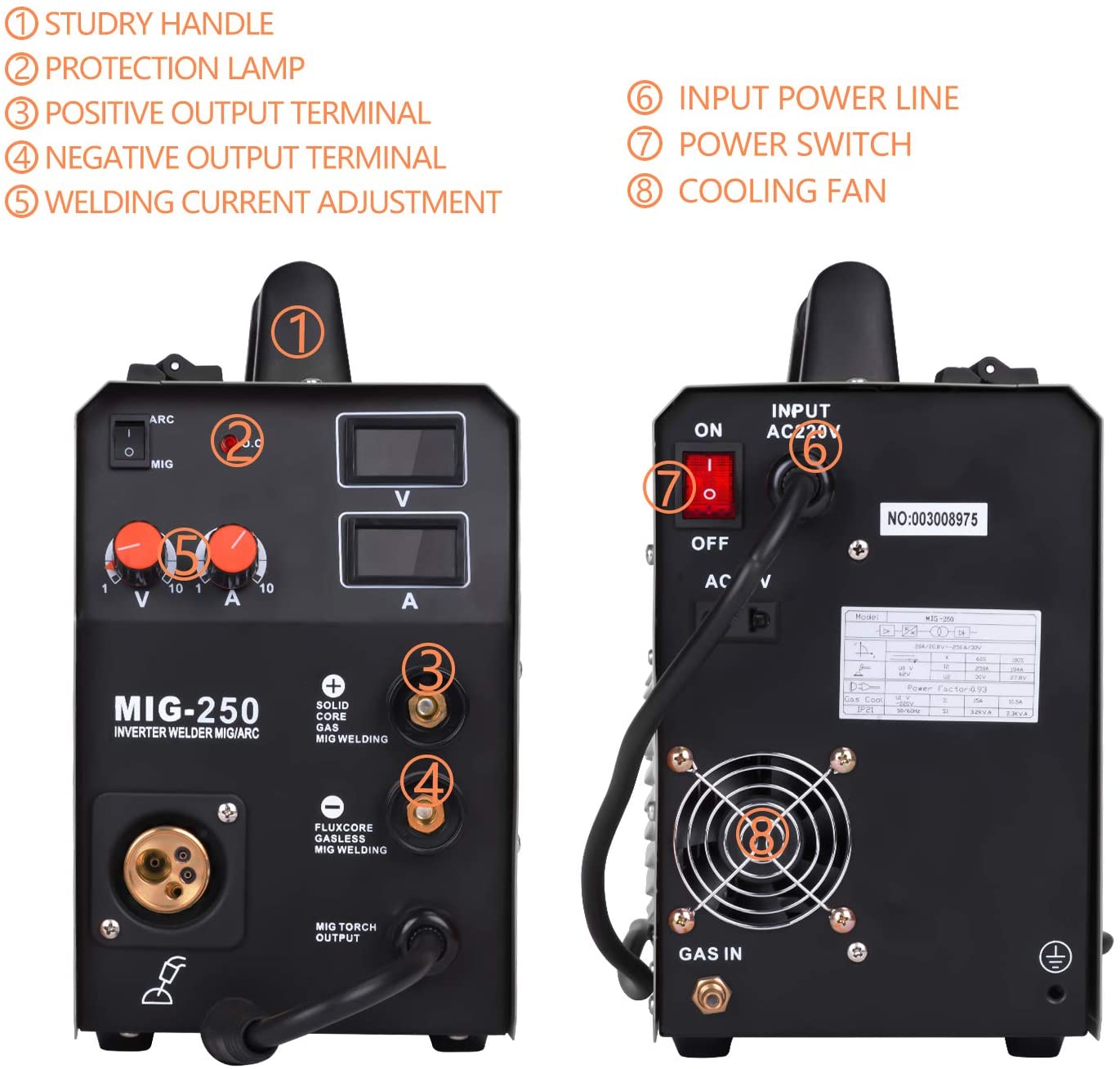 The 3-in-1 HZXVOGEN multi-purpose welder has all the features that make it a good welder. However, this unit may not be as powerful as welders from top brands such as Licoln, Miller, Everlast etc. This welding machine is good to handle stainless steel, iron as well as aluminum. In addition, the average performance welder is good for beginners and experienced welders.
Specifications
Manufacturer: HZXVOGEN
Model number: MIG250
IGBT inverter technology
AC220V input voltage
B type insulation grass
Frequency: 50/60HZ
Rated working voltage: 16.5 – 23
One phase
6.6 KVA rated input
60% duty cycle
Wire diameter:0.8MM
Color: black
Package dimensions: 20 x 14.25 x 11 inches
Item weight 23.6 pounds
All the specifications are mentioned in the list above. With such specifications, a welding machine is considered to give an average welding performance. The 60% duty cycle is not bad in such a low-price welder. The 23.6 pounds weight is neither too heavy nor too light. Therefore, it comes in the middle range in regards to the weight.
Pros
For many customers, the welder is much better than expected.
The MIG functionality of this welder is very good.
It has some specifications, which are only found in highly priced welders.
Considering the low price, the welder delivers good performance.
HZXVOGEN welder doesn't look a high performance welder considering all the above mentioned points. Yes, this welder is good for newbie, small welding tasks, home usage etc. The good thing is the price. It is a low price welder so if you need a welder for ordinary welding tasks, you can go for it.
Cons
Some users complain that they didn't get the digital gauges to work. The red lights come but stay on 00 or 66.
It received some complaints regarding broken plug and other components.
Many users complain regarding the digital display doesn't work properly.
The unit misses warranty information also.
It is difficult to adjust the speed of your wire.
There are some negative reviews for damaged item shipped.
Considering all the cons of this HZXVOGEN multi-process welder, this is not for larger welding projects. As per the users, the welder has many disadvantages, which are directly related to the overall performance. Warranty information is also not available, some users complained that they received damaged item while some users complain about the digital display. There are many other disadvantages attached with this welder.
Conclusion
HZXVOGEN MIG/Stick multi-process welder has received many complaints. Therefore, it is not recommended to buy for larger welding projects. If you need to perform small welding tasks, this HZXVOGEN welder is good because you buy it in a low price. Since price is also a major factor, so this product is for people with tight pocket.
Many users on Amazon have complained about the performance, broken item shipped, digital display and low quality product also. Since this is made in China, so we should adjust our expectation accordingly. As we often see that Chinese products are of low quality. However, there are many good manufacturers in Chine, who make good quality products.

Video – Welding Basics for Beginners