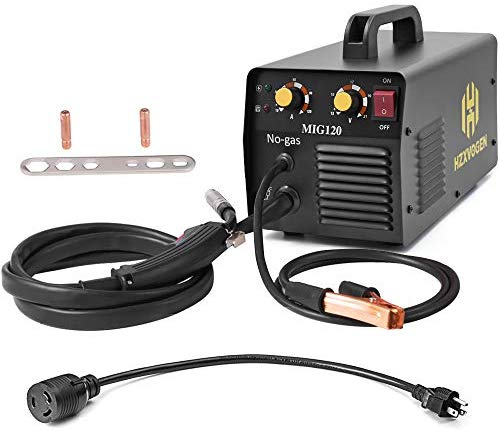 HZXVOGEN 110/220V MIG Welder
comes with 40% duty cycle at 120 Amps. Since it has the capability of 40% duty cycle so it becomes very protective. It protects you and your welding machine from any serious damage. This is a durable welding machine that will deliver the best performance years after years.
The 40% duty cycle gasless welding machine works with dual voltage such as 110V and 220V for all your welding convenience. It also comes with easy control panel and has various impressive features. The unit has a simple control panel that makes it easy to operate. It allows adjustable wire feed speed and power settings. You can easily adjust it to work according to your requirements. For the good quality welding work, HZXVOGEN MIG Welder gives smooth arc. The 110/220V MIG Welder comes with impressive safety capability. Yes, it has the capability to automatically turn-off at the time of current fluctuation. The integrated fan is very helpful to cool the machine if it gets hot.
Amazingly, HZXVOGEN MIG Welder has a lightweight and portable profile. This portable welding machine weighs just 17.6 lbs. So, the unit is very convenient to be used for various welding applications.
Also, HZXVOGEN dual voltage MIG welder comes with one year of warranty and after sale service. In case, you get any problem with this welder, you can contact the manufacturer for fixing it. If the problem is not solvable then it can be replaced with a new unit.
Features
40% duty cycle
Durable
Easy control panel
Smooth welding performance
Overload protection
Portable
1-year warranty
Gas or gasless welding functions
IGBT inverter technology
Advanced control circuit for the gas-shielded arc that has less splash and efficient welding performance.
With all these features, the HZXVOGEN MIG welder is capable to deliver smooth welding performance. The machine also comes with good safety protection features to protect from over-voltage, under-voltage and short-circuit. Impressively, the 40% duty cycle welder is based on IGBT inverter technology, which is good for reliable welding performance.
You are able to perform gas shield arc welding or MIG welding using this affordable MIG welder. Based on the features and welding capabilities, the unit has received good appreciations from its customers. You can read more reviews on this welder by visiting Amazon.
Pros
Lightweight & portable unit, easy to operate
Lower price compared to other similar welders
It comes with a safety protection feature.
IGBT inverter technology for good and reliable welding performance
Good for occasional use
Cons
The flux core feed speed is constant so it can't be adjusted.
It has received some complaints regarding missing components.
Not helpful for large-scale welding requirements
Conclusion
To conclude, the HZXVOGEN 120/220V portable welder is good for light welding use. It is not much helpful for larger welding projects. Many customers on Amazon.com say that this machine is good for amateur use.
Considering the lightweight profile, low price, IGBT inverter technology and the 120/220 voltage, machine is capable to provide good welding performance. Since it is an affordable welder, so good for those with tight pocket.
The First Lesson of Welding – Learn to Run a Straight Bead