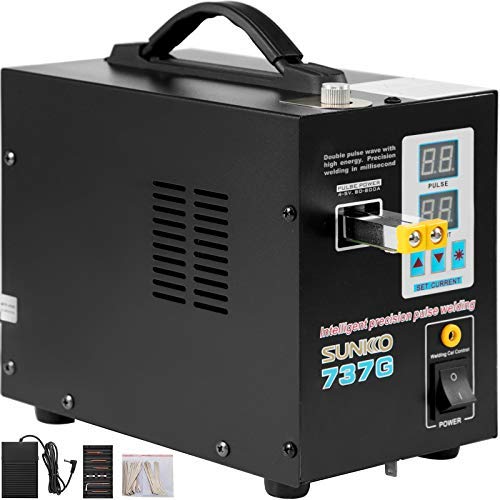 Mophorn 737G Pulse Spot Welder works with welding nickel strips within 0.05 to 0.2 mm thickness and it can make the spot more reliable.
It comes with the combination of fixed welding head and foot switch, which can fulfill different welding requirements. It is perfect for various small battery packs welding.
Mophorn 737G Pulse Spot Welder is compatible with 18650, 14500 and any other rechargeable lithium batteries. It features LCD display to show current and pulse so that you can easily see the welding settings of the machine. It supports 50A to 800A welding current. Yes, it lets you adjust welding current within 50A to 800A and pulse quantities through three buttons on the panel to work with various materials.
Important specifications are 110V AC input voltage, 2A to 15A primary current, 0.05 to 0.2 mm welding thickness, 200g to 700g welding pressure, 0.05 to 0.12 mm nickel plated one pulse welding, 0.12 to 0.2 mm nickel plated 2 pulse welding, 18650 / 14500 lithium batteries.
The included components are 2 x fuse tube, 1 x hex wrench, 2 x welding needle, 1 x battery holder, 1 x foot pedal control and 30 x 0.1 x 4 x 100 mm nickel plated.
Pros
This spot welder is good for 0.15-nickel strips with 18650 batteries capacity.
The foot switch comes with good control, which eases welding.
Foot switch is also made of high quality metals.
Since the spot welder is very cheap, so it works for the money you have invested. You can't compare it with other high-performance machines that cost 3x more than this.
It works well on 12-gauge, 20-amp breaker and 110V settings.
Seeing the pros of this Mophorn welder, this seems an average performance welder. It has received appreciations regarding many features and capabilities. Users say that it comes with good quality foot pedal with good control and it is a good spot welder for up to 0.15-nickel strips. In addition, affordability is attached with this welder so it is good for those who are tight with the budget.
Cons
The product has received a negative rating regarding the spot welder is not from actual manufacturer but it is from a third party.
According to many reviews on Amazon, the machine doesn't work with some nickel strips.
The spot welder is underpowered and only good for .15 pure nickel max.
Customer service is not very good. They have problems related to understanding customer issues and they don't reply timely.
The product has received many negative reviews regarding the fuse blown. It doesn't work for longer hours, you need to give break so that the unit will not get hot.
It doesn't work according to claimed in the advertisement/product description. It is only good for small welding tasks.
The foot cable is shorter than normal.
Considering the disadvantages of this Mophorn 737G pulse spot welder, the unit is not suitable for high workload. It has received many complaints that it gets hot after longer hours of use. In case, you are using it for too many hours in one go, please give it a break to cool down. According to many reviews, the machine is only good for 0.15 pure nickel maximum.
Conclusion
To conclude, this Mophorn spot welder is a low-performance welder that can be purchased at a low price. If your budget doesn't allow, you can go for this machine but you have to expect the performance in the same ration, you have invested the money. The spot welder has received mix reviews. The disadvantages are more than advantages so it is not a good machine for high workload in an industrial work environment.
Video – DIY Spot Welding Machine