Handhold YaeCCC 737G Battery Spot Welder comes with dual pulse mode selection and 0 ~ 99 level current setting that can allow the machine to weld nickel strip within 0.05 ~ 0.2 mm thickness. Consequently, it is capable for more reliable spot. Since it has both welding head and foot switch so this combination will surely meet your different welding requirements.
It works with 0.05 to 0.2 mm welding thickness, however for pure nickel strip the welding thickness is 0-0.15mm. The spot welder has work cycle of less than 20 times in one minute for intermittent welding.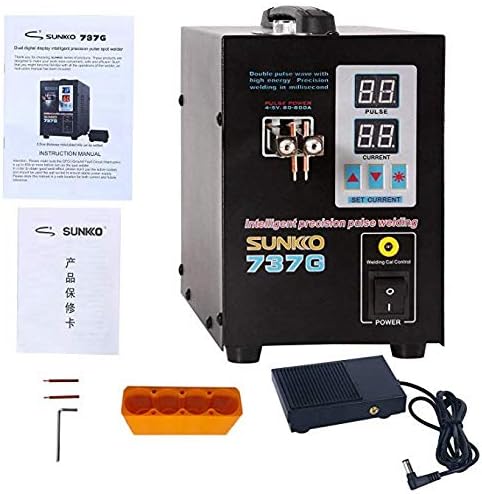 The 737G lightweight spot welder is good for  rechargeable battery lead, assembling, welding lithium battery, mobile power, repairing battery packs, welding lead sheets and hardware parts.
 Features
Microchip for controlling precision current for higher welding accuracy
LED panel shows welding settings.
You can select welding current at 1/2 pulse increment for the greatest welding convenience and accuracy.
The portable spot welder is suitable for charging a battery, button cell leads and hardware to process.
YaeCCC 737G is controlled by a microcomputer.
The YAECCC welder is a feature-rich machine. It runs on AC 110V input voltage and comes with dual-pulse mode selection. For the welding accuracy, it comes with 0-99 level current setting, which is good to weld nickel strip from 0.05 to 0.2 mm thickness. You will be able to see the welding power on the display panel.
Specifications
AC 110V input voltage
2A to 15A primary current
4.3KG net weight
0.05 to 0.2mm welding thickness (0-0.15mm for pure nickel strip)
Work cycle: less than 20 times in one minute for intermittent welding
The 110V AC spot welder has 2A to 15A primary current; it can handle welding thickness from 0.05 to 0.2mm. This portable 737G spot welder weighs just 4.3KG for the handy use. You can easily carry the spot welder anywhere you go.
The package contains
YaeCCC 737G Handhold battery spot welder
Foot pedal (1 piece)
Hex wrench (1 piece)
Fuses (2 pieces)
Welding pins (4 pieces)
User manual (1 piece)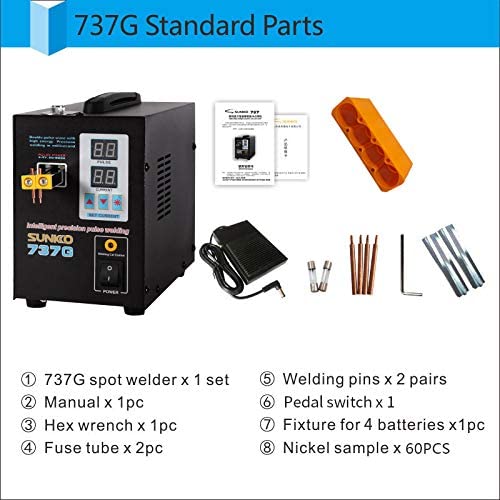 The affordable 737G battery spot welder comes included with all the components. You can check the above-mentioned component list that contains a foot pedal, a hex wrench, two fuses, four welding pins and a user manual. With a wide range of specifications, features and components, the YAECCC 737G spot welder seems very affordable to buy.
Pros
The spot welder delivers consistent welds.
The spot welder is also good for making 18650 battery packs for DIY power-wall.
For many, this is an affordable spot welder.
It is a handy welder so good to move from one place to other places.
The build quality of the machine is good. A similar machine will cost you 2X more if you buy from other brands.
Seeing the above-mentioned advantages, this is an average-quality spot welder. However, you pay less than the price of other similar welders. In case, you have a large spot welding project, 737G spot welder may not be very helpful. It is good for DIY, learners but not professionals. The handy spot welder is good for small spot welding requirements and it is good for the frequent movement from one place to other places.
Cons
Some users experienced problems related to the welding point holder.
According to some users at Amazon, the spot welder needs a dedicated 40amp breaker.
Some reviewers say that it is good for a learner, not for a professional.
According to some customers at Amazon, the product was not as advertised.
Considering the cons mentioned above, the spot welder is a little problematic. It is not good for large-scale welding requirements. If you can't afford to buy a spot welder from popular brand that costs more than this, you can buy it. It is good for trial works, learning, experiment, DIY and small spot welding repairs etc.
DIY Battery Spot Welder – Demonstration & Explanation
Conclusion
To conclude, handy YAECCC 737G spot welder delivers an average spot welding performance. It can handle welding thickness from 0.05 to 0.2 mm. So, please buy this spot welder if you need to perform welding within the welding thickness range mentioned above. The portable spot welder has received mixed reviews on Amazon. According to the reviews, the handy spot welder is only good for those who don't want to spend much money. Please read all the reviews, which are mentioned on Amazon.com before buying this welder.
Apart from all its pros and cons, they 737G spot welder has maintained its popularity level because I found many top blogs have reviewed this product with too many advantages and a few disadvantages. So, to know the fact, please read reviews on major shopping websites. These reviews are posted by those customers, who have already purchased and used this machine.